World Has Another Plastic Pollution Problem: From Tyres
As the World hurtles towards its plan to make electric mobility global, one of the least discussed form of plastic pollution lies ignored- tyres.
Electric vehicles (EVs) are being touted as one of the most promising solutions to the air pollution crisis, especially in cities. But while they can significantly reduce tailpipe emissions, they won't tackle the effects of non-tailpipe emissions from the likes of tire waste.
Every month, the UK exports "thousands of tonnes" of used tyres to India. It suggests that most of these tyres are used by pyrolysis plants to produce fuel. Several of these plants flout regulations on pollution.
Pyrolysis is the thermal decomposition of tyres in the absence of oxygen. Shredded tyres, at temperatures between 250º C and 500º C, produce liquid oil and gases. Recovering energy in this process was deemed safer than traditional methods of burning.
Tyres are very sophisticated products and have undergone constant improvements in terms of efficiency, safety and environmental impact. However, tyres have not been designed for recycling and material reuse. They need an overhaul especially as the tyres due to wear and tear on road, are a major source of Particulate matter , Microplastics and consume large amounts of fossil fuels in production.
Between 5 and 10 gallons of petroleum oil are used to make a single tire. Making synthetic rubber is also hard on the environment, leading manufacturers to try to cut synthetic rubber usage in half. Carbon black is also used as filler for treads. Companies are attempting to replace rubber with a synthetic blend, often incorporating silica. Silica can not only help replace rubber in the treads, but reduces road friction.
Drawbacks
Rubber is a very durable material, and this hampers the re-processing and re-use of rubber. Nonetheless, there is a variety of recycled rubber products on the market: granulate, powder, reclaim and devulcanizate. However, the fact that tyres are built from different types of compounds containing different polymers and fillers limits the quality of the recycled material.
Peter Bakker, President and CEO of World Business Council for Sustainable Development (WBCSD) said in 2017 summit "The tyre industry consumes around 70 percent of natural rubber and demand is growing. This throws into sharp relief the social, economic and environmental opportunities associated with this important commodity."
Since rubber is a limited natural resource, one key sustainability issue for a premium tire maker is material compounding; meaning – redesigning new rubber mixtures that provide the tire with the best levels of performance and eco-compatibility.
Did You Know? 200 Million Tyres are Scrapped Each Year, the equivalent of the weight of 200 Eiffel Towers
Tyre Recycling
Only a small amount of tyres is truly recycled, as opposed to downcycled, and material recycling of tyre rubber could play a much more significant role in the treatment of end of life tyres. According to Professor Veena Sahajwalla, Director, Centre for Sustainable Materials Research and Technology at University of New South Wales (UNSW) Australia, globally around only 7% of waste tyres are recycled on site, 11% are burned for fuel, 5% are exported for processing elsewhere. The remaining 77% were sent to landfills, stockpiled, or illegally dumped; the equivalent of some 765 million tyres a year wasted.
The U.S. is the largest producer of waste tyres, about 290 million a year, although increases in new vehicles sales in China and India are rapidly contributing to waste tyre volumes. India's waste tyres account for about 6-7% of the global total. With the local tyre industry growing, waste volumes are rising. India has been recycling and reusing waste tyres for four decades, although it is estimated that 60% are disposed of through illegal dumping. Despite this, India is the second largest producer of reclaimed rubber after China.
In India, tyre production has been on the rise and is expected to grow at a rate of 7-9% over the next five years. If guidelines on recycling the tyres continue to be ignored, the air pollution crisis in India will only become worse. Used tyres can be recycled through cleaner processes than pyrolysis. Through a technology called CRMB (crum rubber modified bitumen), rubber from used tyres is added to bitumen with crushed stones to lay roads. While this process was implemented by the Centre until 2010, it has been neglected since.
It should be noted that more materials-focussed recycling could decrease the environmental footprint of tyres throughout the life cycle.
Enabling Sustainable Mobility
Future sustainable tyre factories will have to manufacture tyres economically and efficiently, while protecting employees and consumers and minimizing negative environmental impacts. Here automation can help tire makers. For example, Cimcorp's Dream Factory solution, which is based on lean methodology, minimizes waiting times, reduces inventory (WIP) and ensures maximum availability of components at process machines. Automation enables higher capacity with less equipment and a smaller investment. Energy consumption can also be reduced by choosing eco-friendly handling equipment.
More sustainable plant-derived materials are also making headway as substitutes for a variety of tire components, such as sunflower oil in lieu of petroleum and flora-derived latex replacing rubber. Even oil derived from orange peels has been used in place of more toxic chemicals.
Other Solutions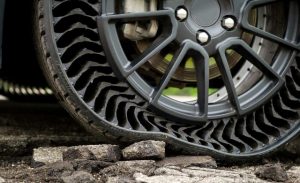 Kordsa and Continental have co-developed an environmentally friendly adhesion system for bonding textile reinforcement materials to rubber based compounds without resorcinol or formaldehyde. A pioneering approach for the tire industry has been taken to reach this goal: the companies are sharing their adhesion technology via a royalty-free licensing concept.
Another solution has come from Michelin and GM in the form of Uptis, which is an assembled airless wheel structure technology made accessible to passenger vehicles. Airless technology makes the Uptis prototype resistant to flats and blowouts. When applied to large-scale production, Uptis reportedly can offers significant potential for reducing the use of raw materials and waste. Michelin and GM plan on introducing Uptis on passenger models as early as 2024. The Uptis Prototype represents a major advancement toward achieving Michelin's VISION concept: airless, connected, 3D-printed and 100% sustainable (entirely renewable or bio-sourced materials).
The two companies are talking up passenger safety as one of the primary potential benefits and motivators — especially in markets such as India and many Asian companies, where road conditions cause much higher rates of tire blowouts than in North America and Europe.
Though there have been headways, more tyre companies are required to innovate. They have to cut down on materials harmful to the environment, while reducing friction, thus increasing fuel efficiency. As a result of less fuel used, CO2 emissions will also be reduced, and the cars (ICE or electric) will automatically become greener. If there is less wear on the tire, durability and longevity is extended, the tire manufacturers will not produce as many tyres, saving materials and the energy needed for production. In the end, manufacturers will be able to provide high-quality, eco-friendly tyres.
(Visited 1,558 times, 1 visits today)