EIA US Energy Outlook: Fossil Fuel production to see high growth till 2050
The U.S. Energy Information Administration (EIA) today released its Annual Energy Outlook 2019 (AEO2019) gave projections of a significant increase in U.S. shale and tight oil and natural gas resources, as well as continued growth in the use of renewable resources.

EIA's Annual Energy Outlook 2019 maintains that in 2020, for the first time in almost 70 years, the United States will export more energy than it imports, and will remain a net energy exporter through 2050. U.S. energy export growth will be driven largely by petroleum exports including crude oil and products, and by additional liquefied natural gas exports. These trends have become clearly established after the recent administration push to open the Alaskan Arctic to oil and gas drilling as soon as possible.
In its reference case EIA also highlights the impact of sustained low natural gas prices and declining costs of renewables on the electricity generation fuel mix. Natural gas will maintain its leading share of electricity generation and continue to grow, increasing from 34% in 2018 to 39% in 2050. The renewables share, including hydro, also increases from 18% in 2018 to 31% in 2050, driven largely by growth in wind and solar generation.
"The AEO highlights the increasing role of renewable energy in the U.S. generation mix" said EIA Administrator Linda Capuano. "Solar and wind generation are driving much of the growth. In fact, our Reference case projects that renewables will grow to become a larger share of U.S. electric generation than nuclear and coal in less than a decade."
Key takeaways:
The continuing decline in natural gas prices and increasing penetration of renewable electricity generation have resulted in lower wholesale electricity prices, changes in utilization rates, and operating losses for a large number of baseload coal and nuclear generators.
Generation from both coal and nuclear is expected to decline in all cases. In the Reference case, from a 28% share in 2018, coal generation drops to 17% of total generation by 2050. Nuclear generation declines from a 19% share of total generation in 2018 to 12% by 2050. The share of natural gas generation rises from 34% in 2018 to 39% in 2050, and the share of renewable generation increases from 18% to 31%.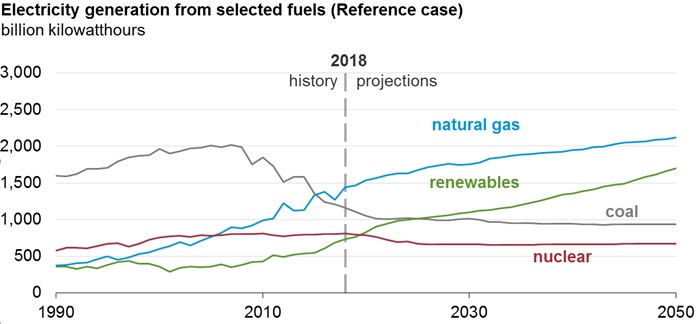 Assumptions of declining costs and improving performance make wind and solar increasingly competitive compared with other renewable resources in the Reference case. Most of the wind generation increase occurs in the near term, when new projects enter service ahead of the expiration of key federal production tax credits.
Solar Investment Tax Credits (ITC) phase down after 2024, but solar generation growth continues because the costs for solar continue to fall faster than for other sources.
The United States is expected become the largest producer of crude oil in the world, and growth in domestic oil, natural gas, and renewable energy production is quickly establishing the United States as a strong global energy producer for the foreseeable future" said EIA Administrator Linda Capuano. "For example, the United States produced almost 11 million barrels per day of crude oil in 2018, exceeding our previous 1970 record of 9.6 million barrels."
At Iamrenew, we continue to believe that the long term projections for crude oil and other ground based reserves are fraught with uncertainty, especially as the effects of climate change manifest itself more sharply. A sharp escalation that can be linked clearly to climate change will lead to very fast changes , be it at state, or country level.  Shale oil itself, remains an industry that has found a strong footing mostly in the US, and has struggled to expand elsewhere, due to local resistance as well as other challenges.
Industry's like the auto industry are already showing visible signs of growth fatigue, and if the next big boom in public transport, especially in developing economies plays out, it could have a profound implication for global oil demand projections.
(Visited 728 times, 1 visits today)