UK Gets Its First Hydrogen Train 'HydroFLEX': Lessons for India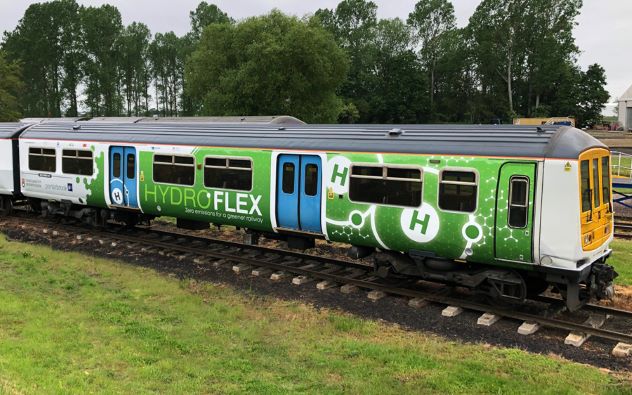 Hydrogen-powered trains are arguably the greenest trains out there. And after Germany, The UK plans to join in the clean energy rails…
UK's Porterbrook and the University of Birmingham's Centre for Railway Research and Education (BCRRE) have announced that the UK's first hydrogen train, aptly named HydroFLEX, is to undergo testing on the mainline railway following a successful proof-of-concept.
Unlike diesel trains, hydrogen-powered trains do not emit harmful gases, instead using hydrogen and oxygen to produce electricity, water and heat.
The project fitted a fuel cell system to a Class 319 train, which will allow the train to run on conventional electrified routes, as well as independently. This will make the train both flexible, as it can run on any of UK rail lines, but also clean when moving on to power from hydrogen. More so, despite the retrofit, the operation did not require a modification of the drivers' controls.
The project HydroFLEX has brought together several companies to cooperate on the prototype train, as the installation was taken over by Chrysalis Rail, while the Denchi Group provided traction batteries. The fuel cell was provided by Ballard Fuel Cell Systems, while the hydrogen storage tanks came from Luxfer. Several other companies were involved in the design, safety, panels, as well as external livery design.
Porterbrook's head of innovation and technical services, Helen Simpson, said: "We have been very pleased with how the train has performed on the test track and are looking forward to getting it out on the national rail network. (…) Demonstrating how mainline approvals for hydrogen can be delivered is the next step forward and allows more people to see the benefits of hydrogen."
Indeed in other countries, this concept is moving ahead and fast. Rail vehicle maker Alstom of France recently received what it considers the world's largest order for fuel cell trains from Germany. Reportedly 27 hydrogen trains are expected to get into service there by 2022. The purchase follows the first fuel cell train taking up service in September 2018 in Germany. The UK followed this January when Alstom revealed a fuel cell train developed with Eversholt Rail, will take up service in Great Britain. Much like India, a quarter of UK's trains still run on Diesel and the government wants them out by 2040. The transition from diesel to electric coaches have been slow as two-thirds of UK's rail lines do not have overhead cabling which electric trains need to run. Therefore, the trains are bi-mode, which means they can run off electricity, where there are overhead cables, and off diesel the rest of the time. That is where hydrogen trains come in as they can use electrified lines as well as run independently. Now it remains to be seen whether countries like India and China who are battling air pollution as well as high fuel bills will look beyond just high-speed rails. To actually lower the emissions we would need many arrows in our quiver and hydrogen train might just be one of them.
Picture credit: University of Birmingham
(Visited 548 times, 1 visits today)