GST cut to charge up Lithium Ion demand, manufacturing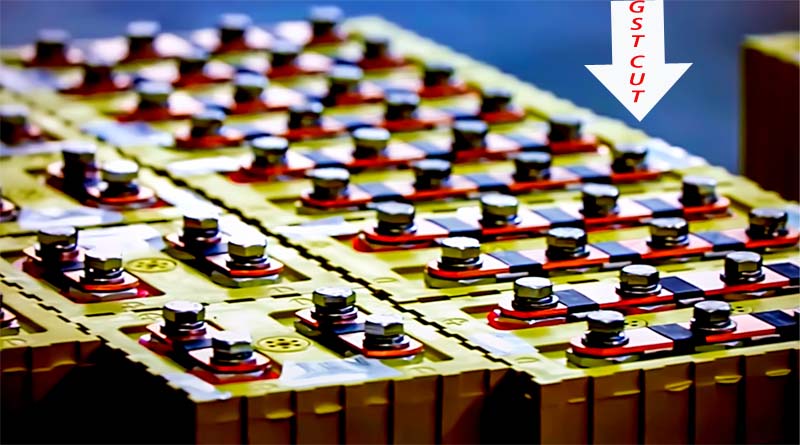 The recent cut in GST on close to 90 goods, including Lithium Ion batteries, from 28% to 18% slab now, is a major boost for Electric vehicles in the country.
At the 28th GST Council meeting held in Delhi on Friday, union minister Piyush Goyal announced that Li-ion batteries, which earlier attracted a GST rate of 28 percent, will now fall under the 18 percent bracket. Li-ion battery manufacturing and development needs all the support it can get while the sector is in a relatively nascent stage and demand is low. This will is particularly important not only for the demand it will generate, but also encourage the many firms looking to set up manufacturing in the country. For an EV, the battery comprises a major share of the cost. If the batteries are indigenously produced, the costs are expected to dip, making EVs affordable to a larger population.
In a similar attempt (click here) to promote local manufacturing of EV batteries the centre back in April agreed to increase the tariff rate of customs duty for Lithium-ion batteries from 10 to 20 percent. Recently, Minister for Power, R.K. Singh, chaired a meeting with battery manufacturers in New Delhi to discuss the creation of an ecosystem for incentivizing battery manufacturing in India. All these points towards a well thought and planned approach adopted by the government to localise the EV market. A market capable of self-sustaining its demands and output.
Vikram Sarabhai Space Centre (VSSC), a part of Indian Space Research Organisation (ISRO), is also accepting applications regarding the Request for Qualification (RFQ) to transfer its in-house developed Li-ion cell technology (click here). The renowned centre for technological research and innovation intends to transfer its technology to competent Indian industries and start-ups so that they can establish Li-ion cell production facilities in the country. If properly executed energy storage has many potential applications in India, including support for renewable integration, diesel optimization, electric vehicles and grid support services.
The GST Council has reduced the applicable GST rates on a few other goods which can help in building a more sustainable and green economy.
Fuel cell vehicles have seen their GST rates drop from 28 percent to 12 percent. Which in turn is expected to attract more consumers to a more intelligent and sustainable mode of transport.
The GST on biofuel pellets has been reduced to 5 percent, which was earlier subject to various higher rates. Even the GST on ethanol has been reduced from 18 to 5 percent in a bid to boost clean energy. All these attempts the government will hope to drive the EV market to localisation where each part and service is locally available and of the highest quality.
copyright:iamrenew.com
(Visited 192 times, 1 visits today)