Tesla Builds Its Largest Storage System in Asia- Osaka Station Powerpack
Tesla while amidst of expanding its business of electric cars and batteries in China, has announced yet another addition in Japan which reportedly is its largest storage system in Asia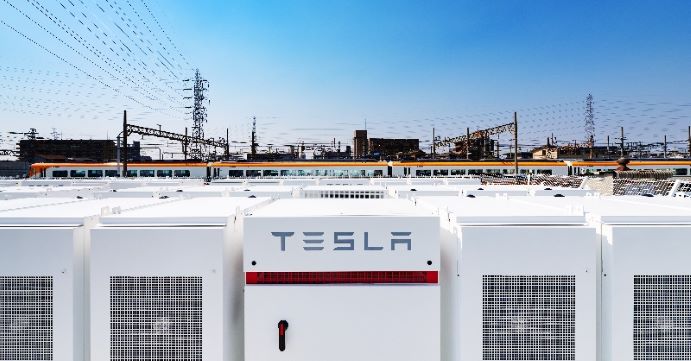 The ever-punctual and one of the only profitable, high-speed Trains of Japan have got a power boost. The US electric car giant Tesla has installed a bank of 42 Powerpacks at a train station in Japan's Osaka that can provide sufficient backup power to safely move a train and its passengers to the nearest station in the event of a power outage.
"In the event of a grid outage, this Osaka Powerpack installation is designed to provide emergency backup power to safely move a train and its passengers to the nearest station," Tesla tweeted.
The 42 Powerpack battery system will also help reduce energy demand on the Osaka grid during peak hours," the tech major added. The electric railway encompasses 311 miles of track powered by overhead lines and third rails.
According to the company specs, Between one and 20 Powerpack systems can be connected per Tesla inverter, and larger systems can easily accommodate multiple inverters, enabling flexible system sizing scalable from 200 kWh to 100+ MWh.
According to reports, Tesla said the 7 MWh system is its largest energy storage project in Asia, and the fourth largest in the greater Asia-Pacific (APAC) region. Launched in partnership with Kintetsu, a railway operator in Japan's Osaka, the new Tesla Powerpack system is a fully integrated, AC-connected energy storage system.
The system can deliver 4.2 megawatts (MW) of power at one time. That's enough to power stranded trains on Kintetsu's track for just under a half an hour in an emergency. Tesla added it managed to install all the hardware in only two days.
Tesla had installed a similar though smaller microgrid at the largest natural sanctuary in South Africa, the Kruger National Park which had no access to utility power and had to rely solely on diesel generators. A new microgrid was formed by pairing a 3.15 MWh Powerpack system to a solar power system from SolarAfrica.
(Visited 514 times, 1 visits today)