Railways commits to 1000 MW through solar units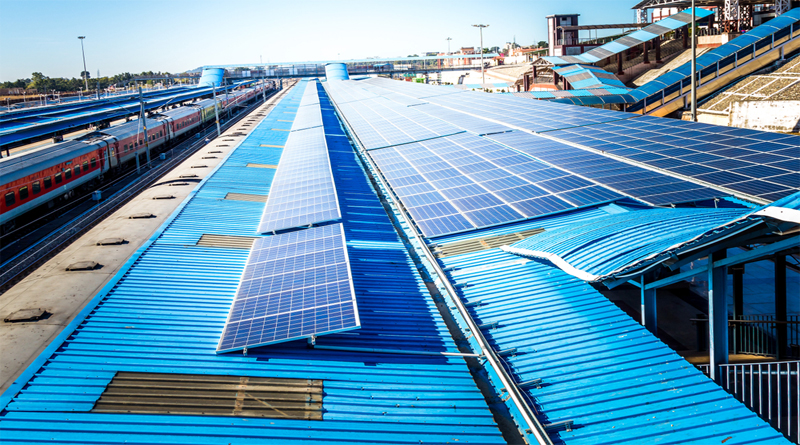 Published on: Apr 12, 2018
It was with much fanfare that Indian railways had launched its first solar powered train in July last year plying between Sarai Rohilla in Delhi to Farukh Nagar in Haryana. With this initiative (solar powered diesel electrical multiple unit), Indian Railways had demonstrated its intent to adopt solar power to meet  part of its energy needs and reduce its carbon footprint. To make its solar train function, a total of 16 solar panels, each producing 300 Wp, were fitted in six coaches. However, since then, there hasn't been any significant buzz on any other similar initiative by the state-run giant, often described as the lifeline of India and also its biggest bulk diesel consumer by some margin.
Concerns were recently raised in the upper house of the parliament wherein railways was asked to present the details of solar oriented initiatives it may have started or plans to undertake. In its reply, the railways ministry has come out with a long list of stations and other facilities where it is keen to harness the solar power. In no uncertain terms, the ministry has claimed that it has drawn a holistic plan to generate 1000 MW of solar power in the medium term with 50:50 split between roof top and land based units. The reply made in the Rajya Sabha clearly establishes that more than running trains, the railways will look to renewable energy to power its supporting infrastructure. The house was informed that specific stations have been identified in all the zones under Ministry of Railways and the process has been kickstarted at many stations while in others, it will take off soon. Some of the important stations and facilities which have been identified across the gigantic pan-Indian structure of Indian railways include –   Kathua, Katra, Dalhousie Road, Bathinda Cant, Faridkot, Phagwara, Muzzafarnagar, Varanasi, Panipat, Tiruchchirappali Town, DRM office Madurai, Salem town, Salem Jn,Sivakasi, Malda DRM Building, Howrah New Complex, Allahabad Station, Kanpur Central Station, Electric Loco Shed (Kanpur), DRM Office at Izzatnagar, Lucknow & Div. Hospital, IZN, Azamnagar, New Cooch Behar, Guwahati, Jodhpur, Ajmer Station, Dausa, Tirupati,  Nimach, Indore, Pune, Ahmadnagar, etc. Additionally, Indian railways has also planned to adopt solar as the main or partial source of energy needs at its rail coach factory located in Kapurthala and Rai Bareilly and rail wheel factory in Bangalore. Furthermore, there are more than 50 stations where railways will be installing photovoltaic lighting (PV lighting).
As renewable energy expands its ambit, the idea of harnessing solar power for the primary and secondary usages of railways is gaining momentum. Last October, the world's first 100 % solar empowered train had undertaken its maiden journey in Australia on a pilot basis. London Blackfriar station is already well known for its 4,400 photovoltaic panels which are taking care of half of the demand of this railway hub.  Even in India,  some of the stations like Jaipur have begun generating solar power to meet part of their demand.
(Visited 91 times, 1 visits today)