Signs of Change? Oil Major ENI Joins 3 others for Wave Power Stations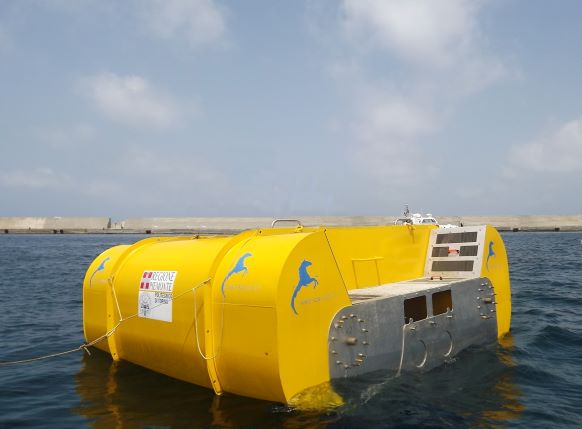 Inertial Sea Wave Energy Converter (ISWEC) on site
Italian Oil and gas major Eni is joining forces with three other Italian companies to develop and build wave power stations on an industrial scale.
Italian oil group Eni is joining forces with shipbuilder Fincantieri, power grid group Terna and state lender CDP to develop wave power stations. The agreement aims to transform a pilot project on an inertial sea energy converter into an industrial scale project for immediate application, the groups said in a joint statement on Friday.
Eni has entered into a non-binding agreement regarding this project with investment bank Cassa depositi e prestiti SpA (CDP), shipbuilder Fincantieri SpA and transmission system operator Terna SpA.
Just recently, the oil major successfully installed and activated the Inertial Sea Wave Energy Converter (ISWEC) production unit at the Ravenna offshore site, thus forming what the company says is "the world's only hybrid smart grid system featuring photovoltaics and energy storage." This pilot plant managed to reach a peak power output of more than 51 kW, which is 103% its nominal power, Eni said last month.
On Friday, the company noted that alongside its three compatriots it will work to industrialise the device. For this purpose, Eni will share its findings from the pilot project with the joint working group.
"Our ultimate goal is to explore together the potential for projects to be launched on a grand scale, including abroad," said Eni CEO Claudio Descalzi.
Fincantieri's expertise in shipbuilding will be used to optimise the executive design, construction and installation phases of the production units, whilst Terna will study the best possible options to connect and integrate the energy production system to the electricity grid.
The plan is to hook the first industrial installation to an Eni offshore production site by 2020. The group will also consider such projects elsewhere.
Wave power, which captures electricity generated by the movement of ocean waves, is a resource that could supply 10% of the world's electricity needs, according to Ocean Energy, an Ireland-based company. A 100-megawatt wave farm could power more than 18,000 homes. The equipment could also be used to power desalination plants, fish farms offshore, or even underwater data centers of the kind that Microsoft is testing (servers generate a lot of heat, so putting them in the ocean is one way to keep them cool).
Compared to wind and solar power, marine power is at a nascent stage. It's been slower to take off in part simply because it's difficult to work in the ocean. Even as wind and solar power continue to quickly grow and drop in cost–to the point where they're now cheaper to run than most old coal plants–companies like ENI, Ocean Energy and Oscilla Power are hopeful that there could still be a role for wave power in the world Renewable Energy mix.
(Visited 260 times, 1 visits today)