Power Facts 2019. R.K. Singh's Responses in Parliament on Nov 28
In a series of responses to questions placed before his ministry, Power, New and Renewable Energy, and Skills and Entrepreneurship development Minister R.K. Singh gave detailed answers, putting on record the latest numbers as far as the power sector go, including renewables .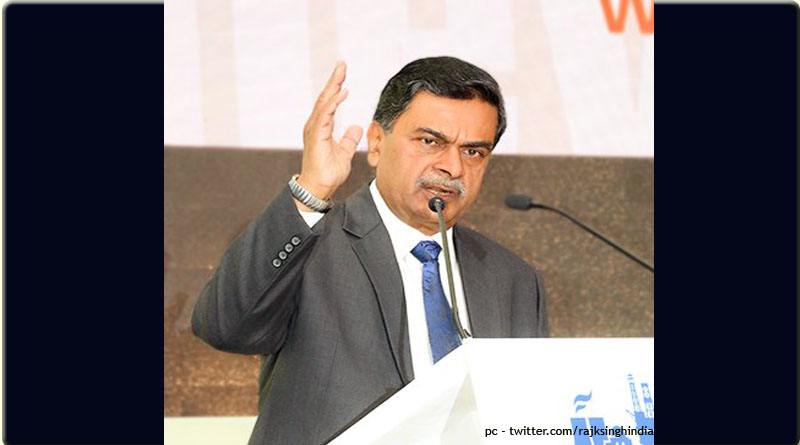 The Big Bang Reformer?
The answers by Power Minister R.K. Singh in parliament yesterday,while placing on record the hard figures when it comes to the power sector and renewables, particularly solar power, also underscored the minister's continued confidence in India meeting its renewable energy goals. We take a look at the key takeaways.
The Saubhagya scheme, or the power for all scheme, has connected over 26 million households across the country with a power connection till March 2019, since its launch in October 2017. The scheme, widely credited as one of the big success stories in government efforts to provide energy access to missing swathes of the population, achieved particularly big numbers in the three states of Uttar Pradesh, Bihar, Odisha. With these three  having  over  50% of the beneficiaries, at close to 13.6 million connections . Uttar Pradesh alone, with over 7.9 million beneficiaries, had a 30% share in the national numbers.
Moving to national power demand, at 365 GW, the minister stressed that the installed generation capacity is sufficient to meet existing demand, with just a  1 percent gap between peak demand and supply currently. Coming off a month (October) where overall demand actually fell by 12 percent, these numbers should  actually be quite worrying for power producers, both in terms of future demand outlook, and the demand for fresh capacity creation.
The most interesting and detailed set of numbers came for solar power, which seems to have become a bone of contention between the ministry and power producers right now. Iterating the  national target of installing 1,00,000 MW grid connected solar power capacity in the country by December, 2022, the minister has shared that s on October 31, this year , a total grid connected solar power generation capacity of 31,696 MW has been set up in the Country, projects of 17998 MW capacity are at various stages of installations and tenders for 36278 MW capacity projects have been issued. With new tenders of around 15000 MW planned in remaining period of 2019-20 and 2020-21, he claimed that the country was on course for meeting the target. However, even as the numbers add up to 100 GW very conveniently, one hopes that the minister is keeping an eye on the many issues that have been coming up with projects under installation, projects for which tenders have been issued, and consequently, the fate of future projects too. By no stretch of imagination can things be considered normal here, which makes one wonder again about the optimism displayed by the minister.
As of now, if one considers the three critical requirements of sanctity of contract, ability of buyer and availability of land, capital and equipment, the industry is struggling with each. Between  tardy discoms (buyers), the Andhra Pradesh contracts fiasco, and the increasing issues with land acquisition and delays, the only part where  the industry seems comfortably places is sourcing of equipment. Ironically, with most of it is imported from China, this has also been a sore point for the government in turn, with every effort made to disrupt that too, in the push to  ensure make in India for such a massive sector now.
As the minister himself highlighted, with most of the funding for solar projects sourced from private investors, assuming growth and execution with so any issues could be wishful thinking.  In fact, on government led funding for solar , it does look 2016-17 will stay as the biggest year, when Rs 2590 crores was disbursed for various schemes. By 2019-20, only Rs 1591 crores has been disbursed so far , as the open auction and reverse bidding processes have taken centre stage. The numbers are also the most obvious answer to the continued failure of rooftop solar to make a big impact. As we have reported earlier, the ministry, for its own reasons, seems to have given up on solar rooftop,  with even its 100 GW numbers coming from large projects seemingly, where they had originally provisioned for a full 40 GW contribution from Solar rooftops.  This might signal slow movement on critical power reforms needed for rooftop solar to take off, be it open access markets, or doing away with cross charges. An admission perhaps that the discom challenge  remains a puzzle for this government even today.
While on discoms, the minister did highlight that unlike what was sought to be projected, the ministry has simply tried to focus on enforcing financial discipline, by getting them to pay power generators within 45-60 days of power purchase. Its clearly not had the desired effect so far, as discom dues, by his own admission, have actually become worse. " As of today, the outstandings of generation companies have gone up to 84,000 crores and overdues have gone upto nearby 60,000 cr.
This is not the sustainable situation though, but we are fully committed that we will correct this and move forward in right direction".
Its a direction where he will encounter a lot of waiting developers and other industry players.
(Visited 378 times, 1 visits today)