Ireland Earmarks €4Mn for Funding Renewable Energy Projects
In a long delayed move according to its critics, the Irish government has finally moved to burnish its renewable credentials with a €4m scheme for renewable energy technology developers.
The government of Ireland has begun preparing a climate action plan to be rolled out, in order to rectify its dismal position as one of Europe's worst performers in changing environmental attitudes. Up to €4 million is set to be invested in Ireland's energy future this year by the Department of Communications, Climate Action and the Environment. Under the 2009 Renewable Energy Directive, Ireland is committed to produce from renewable sources at least 16% of all energy consumed by 2020. It's a number it has consistently failed to address seriously.
Irish Minister of State at the Department of Communications, Climate Action and the Environment, Seán Canney has called for research groups to seek funding from the Government's €4 million Fund for 2019. The program is for projects aimed at greening Ireland's national energy supply. Minister Canney expects promising year after Sustainable Energy Authority of Ireland – SEAI – funded some excellent projects in last year round.
The National Energy Research, Development and Demonstration funding programme is a Government fo Ireland's initiative that funds innovative energy research projects.
Richard Bruton, the communications minister, announced the launch of the 2019 SEAI (Sustainable Energy Authority of Ireland) national research and demonstration funding programme.
The €4 million fund will be used to pay for research projects geared towards Ireland's transition "to a clean and secure energy future", the department said. It said that the minister was "developing an all-of-government plan to make Ireland a leader in responding to climate change".
In Other Developments: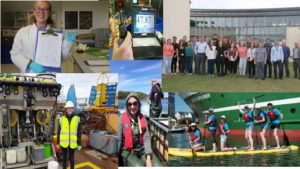 Interreg Europe – the EU's regional development fund for environmental solutions –
announced a new €12.8m project to upscale renewable ocean energy projects. Called Ocean Demo, the scheme provides funding for developers of marine renewable technologies to test their products or services in real sea environments, allowing them to move closer to market by demonstrating their technologies at full commercial scale.
Ireland is also set to receive significant international help from the world's largest international financier for renewable energy in its aim to meet future targets to cut carbon emission. The European Investment Bank, last December, announced plans to pump €84m into a European-wide renewable energy development, dubbed as NTR Renewable Energy Income Fund II. The Fund will provide long-term equity financing for more than 25 years for the development of small- and medium-sized renewable energy projects following a lack of access to long-term financing.
The Irish renewable targets are to be met from 40% renewable electricity, 12% from renewable heat and 10% from the renewable transport sector. The target to have 40% of electricity consumed from renewable sources by 2020, Irish claims to be one of the most demanding in the world. According to SEAI, the share of electricity generated from renewable sources increased by to 30.1% towards the 40% 2020 target. But, Ireland continues to face a challenge in reducing reliance on fossil fuels for transport, heating and electricity production, with over 90% of all its energy comes from fossil fuels.
(Visited 349 times, 1 visits today)