UN Holds Meeting To Step Up Climate Action For Paris Agreement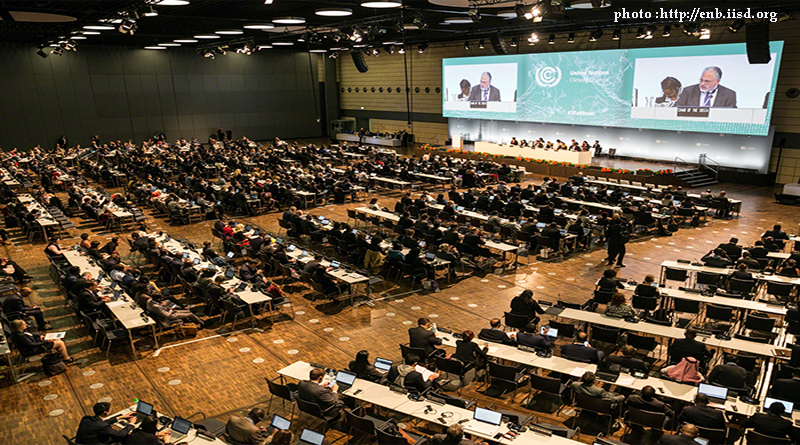 On Monday 30th April, government officials from over 200 countries met up for the second round of the UN Climate Change Negotiations to develop guidelines for implementing the landmark 2015 Paris Agreement. The meeting, which is being held in Bonn, Germany, is to last till 10 May 2018 and is presided over by Fiji, which incidentally is pretty much a frontline state when it comes to the impact of climate change.
The push is on  unlocking practical actions in order for the agreement to reach full potential, in essence, the guidelines will allow the agreement to become operational.
Finalizing the Paris Agreement guidelines is also necessary to assess if the world is on track to achieve the agreement's goal to limit the global temperature rise to a maximum of 2oC while pushing to achieve its more ambitious goal of 1.5oC.  This is even as a viewpoint takes hold that the aim of the global community needs to be higher than just 2 degrees. The United States, the biggest contributor today after China of course continues to send mixed signals, with President Trump widely considered a climate change sceptic, even as individual states within the US vow to stay the course.
The final decisions for the Paris Agreement are to be taken at the UN Climate Conference (COP24) in Poland, later on this  year.
"To reach success at COP24, it is essential that nations begin working towards draft negotiating texts at the May meeting. This will provide a solid foundation for work in the second half of 2018 and help them to deliver a strong result," said Ms Patricia Espinosa, Executive Secretary of UN Climate Change.
Dozens of nations have submitted documents to the United Nations in recent weeks about the state of global climate action.
Fiji praised the governments and their actions including a deal meant to reduce global emissions induced by shipping by 2050. However, in a telephonic interview Luke Danivalu, Fiji's chief negotiator reported to a news agency "the current commitments nationally are woefully inadequate".
The statement brings out the hidden truth, that while countries have made commitments, nothing is being done in a real sense to limit the extent and intensity of climate change.  Or  more worryingly, these commitments remain just that, and susceptible to misses by wide margins.
China also reported saying "there are still 'huge gaps' in efforts to curb climate change and that rich nations are lagging in pledges to provide $100 billion a year to developing nations from 2020 to help them tackle warming."
The guidelines are to be finally agreed upon and implemented in December during COP24, making it the most critical moment after the 2015 Paris Agreement.
It is important to note that the guidelines will never be binding and will only define the ways to measure & report greenhouse gas emissions and how to & step up national actions every five years.
The UN meeting at Bonn has three priorities, as outlined by the Chief of UNFCCC
First, to ensure that all stakeholders (governments, non-governmental organizations, investors and citizens) work towards accelerating climate action by 2020.
Second, to complete the operating manual of the Paris Agreement.
Third, to improve conditions in order to help countries be more ambitious in setting their national policies regarding global warming.
The UN meeting at Bonn will truly set the ball rolling in terms of Climate Action Plans, only time will tell if the countries participating live up to their own set standards. In the words of Thoriq Ibrahim, environment minister of Maldives "If we spent as much time working on this problem as we do congratulating ourselves for caring so deeply about it, we would be closer to an outcome worthy of a celebration."
Links: United Nations Climate Change; UN News; UNFCC, COP 24

(Visited 408 times, 1 visits today)