Paris to Open World's Largest Rooftop Urban Farm in 2020
The spring of 2020 will see the opening of a massive rooftop urban farm in the heart of the French capital Paris.
Keeping with the French trend of doing something extraordinaire, the Paris is planning to open the world's biggest rooftop farm, an urban yet sustainable architectural marvel.
Paris, the city of romance, has a plan to gift its residents an idyllic space amidst the city's hustle and bustle. In the spring of 2020, the city will open its giant 14,000 sq. mt urban farm atop a six-story building. Touted as the future of farming in urban spaces, the Le Maris garden will be called Agripolis and will provide ideas for growing cities where each nook and corner is filling up with people, houses and cars, leaving no space for pollinators or animals.
This rooftop farm aims to grow 100 kgs of fruit and vegetables every day in season. More than 30 different kinds of plants will be tended by 20 gardeners, making it the largest urban farm in Europe.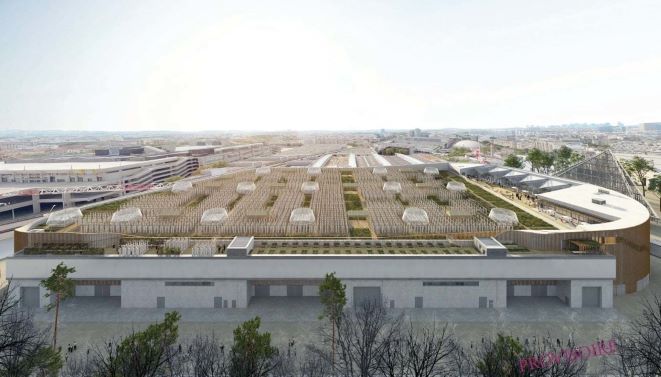 The Agropolis will use aeroponic farming where plants absorb water and nutrients via mist, unlike hydroponics where water is the medium. The entire project will be organic and is a part of a much larger Parisculture project, which aims to plant 250 acres of vegetation across the French capital.
"The goal is to make the farm a globally-recognised model for sustainable production," Pascal Hardy, founder of Agripolis, the urban-farming company at the center of the project told a UK Daily. "We'll be using quality products, grown in rhythm with nature's cycles, all in the heart of Paris."
The project wants to feed the city residents through veg box schemes, shops, hotels and canteens which will reduce food miles, saving time, fuel and energy in the process. The urban farm will be accompanied by a new rooftop restaurant run by area group Le Perchoir.
"Our vision is a city in which flat roofs and abandoned surfaces are covered with these new growing systems," Hardy said.
Supported by Paris authorities, Agripolis wants to foster environmental and economic resilience while at the same time connect Parisians to their food sources bringing in transparency and nutrition on the table.
Picture Courtesy: Valode & Pistre Architectes Atlav AJN.
(Visited 389 times, 1 visits today)