Smaller is Beautiful, Shows Swachh Survekshan 2019 of Cities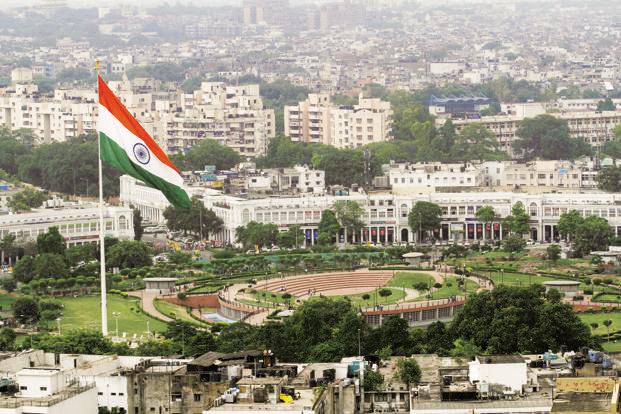 Bigger is not always better!
That smaller is usually better , thanks to better management, accountability and responsiveness was assumed. But the results of the survey of cities on cleanliness drives that point home forcibly. A question for our mega cities to ponder
The Ministry of Housing and Urban Affairs (MoHUA) has been conducting Swachh Survekshan (cleanliness survey) every year since 2016 to evaluate the performance of cities in achieving the cleanliness standards under the Swachh Bharat Mission.
The Swachh Survekshan 2019 proved what we all have thought. Bigger cities are not necessarily cleaner cities. On the contrary tier two cities and less populated states have proved that when it comes to cleanliness and waste management, they are faring better than the large metropolitans:
The Award For Cleanest State In India: Chhattisgarh!
After securing the third rank as the cleanest state last year, Chhattisgarh has climbed two spots and has been announced as the cleanest state in Swachh Survekshan 2019. The state has been lauded for its efforts towards 'Swachh Chhattisgarh' initiative. The authorities from the state have dedicated the honour to the passion and commitment of their citizens and Urban Local Bodies.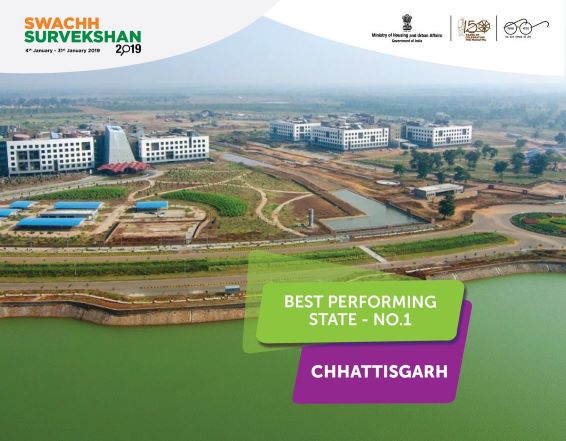 The state was declared Open Defecation Free (ODF) on October 2, 2018 and the authorities have claimed that the sanitation coverage of Chhattisgarh has gone from 10 per cent in 2014 to 100 per cent at present.
The state has successfully constructed over 3 Lakh individual household toilets and 4,000 public and community toilets in the urban areas with approximately 170 cities and 27 districts, declared ODF.
97 per cent of the state has managed to receive a star rating whereas Seven ULBs have received 3 star rating under the garbage free city by fulfilling protocols like door to door collection, waste segregation, sweeping of public, commercial and residential areas, among other protocols.
Additionally, Ambikapur secured the second position nationally and is one of the three cities that has received a 5 star rating in the garbage free cities. Ambikapur, also is a bin free and a zero-landfill city, and has emerged as a role model for effective waste management.
Apart from Ambikapur, Bhilai Nagar has managed to secure 11th rank nationally as compared to 72nd in Swachh Survekshan 2018. When it comes to comes to the citizen feedback, the Ministry of Housing and Urban Affairs explains that more than 70 per cent of the state's ULB scored over 70 per cent marks.
Jharkhand emerges as 2nd best-performing State:
Outshining several big States on sanitation front, Jharkhand emerged as the second best performing State after Chhattisgarh in the coveted 'Swachh Survekshan 2019'.
Pitching way for a cleaner Jharkhand through espousing diverse sustainable ways, cities like Ranchi, Sahibganj, Rajmahal, Gumla, Chakardharpur, Phusro NP, Pakur and Chatra left their distinct marks grabbing the top slots on various defined parameters of the sanitation competition.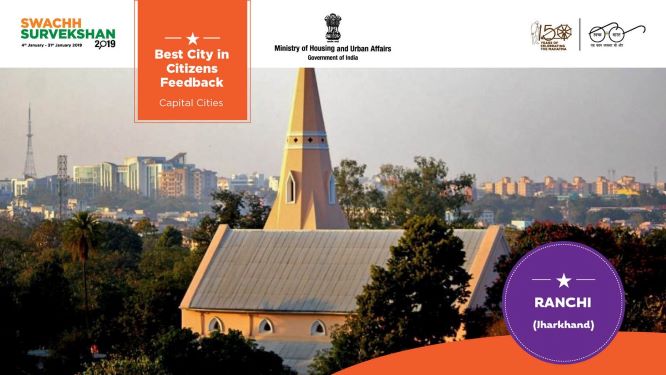 Besides, receiving the 'Best Performing Award', the Capital Ranchi is declared best city in 'citizens' feedback' group among the several State capitals and union territories (UTs).
Similarly, Chakardharpur emerged as one of the best cities in the eastern zone in 'citizens' feedback' group, covering a population of more than 50,000 and less than one lakh while Chatra too received the award as the best city in 'citizens' feedback' in east zone having a total population more than 25,000 but less than 50,000.
In addition, Gumla was felicitated under the subhead – best city in 'innovation and best practices' in the east zone having a population of more than 50,000 but less than one lakh while Phusro NP got the award under the category 'best city in solid waste management' in east zone among the cities with have less than one lakh population. Maintaining its position, Pakur got the tag of the cleanest city in east zone having a population of less than 50,000.
Meanwhile, defeating several other cities which lie on the bank of river Ganga, Jharkhand's two districts have been figured in the list of 'Ganga Town Awardees'. Rajmahal clinched second while Sahibganj was placed in the third position in the 'Ganga Town Awardees' list.
Six cities of Jharkhand have been enlisted in the list of top 100 clean cities.  Towns like Jamshedpur (15), Ranchi (46), Dhanbad (56), Hazaribagh (64), Chas (66) and Mango (95) have performed tremendously well, covering a population of more than one lakh.
Bundu (6), Pakur (8), Phusro (20), Chatra (21), Rajmahal (24), Godda (32), Garhwa (43), Jhumritiliya (45), Madhupur (57), Sahebganj (58), Seraikela (61), Chakardharpur (64), Chirkunda (70), Lohardaga (78), Simdega (95), Koderma (99) and Gumla (100) are among the top100 cleanest Indian cities with less than one lakh population.
The 3rd Cleanest State, Maharashtra, Bags 46 Awards On Various Cleanliness Parameters
Maharashtra, the second most populous state in the country has been ranked third among the best performing states in the country after Chattisgarh and Jharkhand in the Swachh Survekshan 2019.
The state, which was on the second position in the last survey, has slipped one notch this time. However, with 46 awards in total, it has managed to bag the most number of awards as compared to other states.
Within the state, Navi Mumbai was found to be the cleanest city followed by Kolhapur, Mira-Bhayandar, Chandrapur, Ambarnath, Wardha, and Vasai-Virar.
Navi Mumbai which was also ranked at 7th position in the list of cleanest cities of India became the best city in 'Citizens Feedback' in the Swachh Survekshan 2019.
With 100% Trash Collection, Madhya Pradesh Becomes The Best In Solid Waste Management
Madhya Pradesh, which became the first state in the country to achieve 100 per cent door-to-door garbage collection in its urban areas in February 2018, won the best-performing state in the Swachh Survekshan 2019 which evaluate the performance cities in achieving the cleanliness standards under the Swachh Bharat Mission.
Madhya Pradesh was able to achieve the title due to various initiatives undertaken by the state government focusing on waste management like door-to-door garbage collection, waste segregation, recycling, and composting. The state became the first in the country to achieve 100 per cent door-to-door garbage collection in all of its 378 urban local bodies (ULBs) in February 2018. In October 2017, with the construction of 4.80 lakh household toilets, Madhya Pradesh declared all its ULBs as open defecation free (ODF).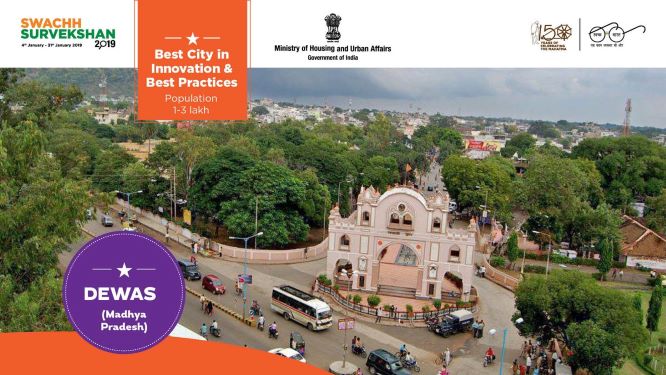 Apart from collecting waste, segregation it at source was also done on a mission mode in the state for which the state government conducted numerous awareness building programmes among citizens. People were asked to convert the wet waste, mainly organic kitchen waste, into compost for which the state government established composting units across the state. The compost thus produced is being distributed to local farmers.
Dry waste like plastic, metal, and paper waste collected gets recycled and reused by various recycling units in the state. The state government has facilitated tie-ups between urban local bodies and recycling units for managing dry waste. The recycling units buy the dry waste from ULBs which further sell it to suitable manufacturing firms which can use it as part of raw-material.
While the state as a whole performed well in the Swachh Survekshan 2019, eight of its cities – Indore Ujjain, Dewas, Bhopal, Khargone, Nagda, Singrauli, and Jabalpur, are among the top 25 clean cities of India. Indore continued to be the star of the survey and once again became the cleanest city of India, Bhopal, it though slipped 17 places from its last year's number 2 rank, but attained the title of the cleanest capital city and Ujjain became the cleanest medium city with a population between 3-10 lakhs.
With 3 Star Rating And ODF++, New Delhi Municipal Council Is India's Cleanest Small City
New Delhi Municipal Council (NDMC), touted as one of the best urban local bodies out of the four municipalities of the national capital Delhi, it was adjudged as 'India's Cleanest City' among small cities (population between one and three lakh).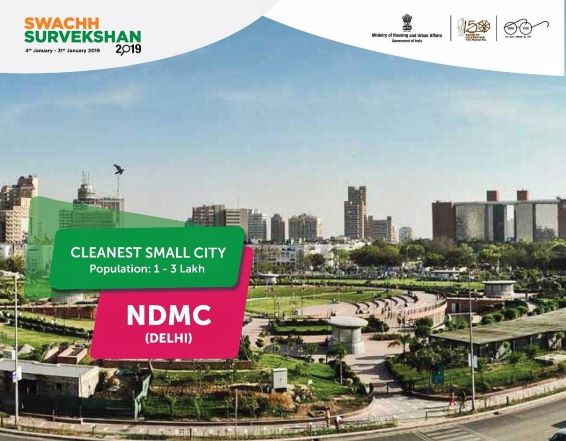 NDMC has always managed to be in the top 10 of the Swachh Survekshan, a pan India exercise which assesses and ranks the cities on the basis of cleanliness. In January 2016, first ever Swachh Survekshan that covered mere 73 cities, NDMC grabbed the fourth position. But in Swachh Survekshan 2017, which covered 434 cities, NDMC's rank slipped to seventh and later in 2018, NDMC emerged as the fourth cleanest city among 4203 cities competing.
Paying attention to the waste management, the NDMC has successfully implemented 100 % door to door waste collection and segregation in all residential and commercial areas.
For management of horticulture waste, NDMC has 118 compost pits developed at 36 different parks and gardens in the NDMC area. This way, about 902.68 MT of compost is generated annually which is 10 per cent more than last year.
For wet waste management, NDMC has a compost plant of capacity 60 MT per day, 5 bio gas plants (1.52 MT/day) and 20 organic waste converters (4.4 MT/day). In NDMC area, almost 2700 households have adopted for home composting.
NDMC is the only urban local body which manages to be in the top 10 list of Swachh Survekshan. Last year, North Delhi Municipal Corporation (NDMC), scored 3,029 out of 4,000 to get to the 206th position, East Delhi Municipal Corporation (EDMC) attained 341st position and South Delhi Municipal Corporation (SDMC) stood at 32.
(Visited 594 times, 1 visits today)