Greenpeace to Big Companies: Drop Dirty Palm Oil before its too late
Green Peace in its latest report rebukes brands and traders who are not on track to meet their commitments by 2020. They promised to drop palm oil from forest destroyers by 2020 but they've made very little progress and look set to meet the deadline.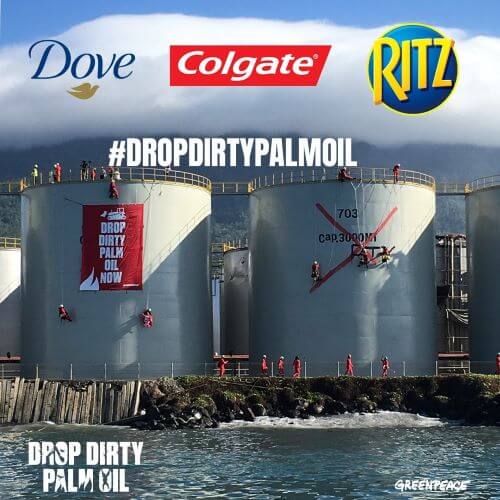 Source: Greenpeace
Skyrocketing global demand for commodities such as palm oil is an unrelenting force driving tropical deforestation. And big companies despite their pledges have done very little to nothing to help this cause. In a recent report by Greenpeace, the non-profit has blown the whistle to call out big companies with brands like Dove, Colgate and Ritz to stop sourcing the unsustainable palm oil, which is threatening the rain forests, peat lands, and health of all Flora and fauna in South East Asia.
The environmental group said in its report that 25 palm oil producing groups it has investigated destroyed more than 130,000 hectares of natural forest in Indonesia since 2015. That is an area nearly twice the size of the island nation of Singapore.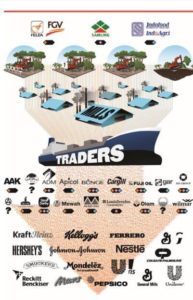 Despite repeated pledges to clean up their supply chains by 2020, Greenpeace researchers found that 12 of the world's largest brands—Colgate-Palmolive, General Mills, Hershey, Kellogg's, Kraft Heinz, L'Oréal, Mars, Mondelez, Nestlé, PepsiCo, Reckitt Benckiser, and Unilever—were still sourcing from at least 20 palm oil groups that actively cleared rainforests in Indonesia, Malaysia, and Papua New Guinea.
Palm oil, mainly produced in Indonesia and Malaysia, is used in a slew of consumer products from snacks to cosmetics.
Around 16 major consumer goods companies made a joint commitment in 2010 to end the buying of palm oil from producers who are destroying forests and committing human rights abuses but have been repeatedly criticised for lack of progress.
Pepsico, Unilever and Nestlé have been accused of complicity in the destruction of Sumatra's last tract of rainforest shared by elephants, orangutans, rhinos, and tigers together in one ecosystem.
For example, FELDA which is Malaysia's government-owned Federal Land Development Agency and Felda Global Ventures (FGV), which has plantations in Malaysia and Indonesia and claims to be the world's largest crude palm oil producer. Both FELDA and FGV are members of the RSPO (Roundtable on Sustainable Palm Oil). It is accused of deforestation and violation of labour laws by the Greenpeace.
The Roundtable on Sustainable Palm Oil (RSPO) is a high profile initiative chaired by Unilever. Its members include major companies along the supply chain from plantations through to commodities traders, including Cargill and ADM, to the world's food giants, including Cadbury's, Nestlé and Tesco. Together they represent 40% of the global production and use of palm oil. FGV has a joint venture with P&G, FPG Oleochemicals, and is P&G's top supplier of palm products.
"If more immediate action is not taken to enforce 'no deforestation' policies, these brands will be remembered as the corporate giants responsible for the destruction of the last place on earth where Sumatran elephants, orangutans, rhinos and tigers roamed side by side," says the study by Rainforest Action Network (RAN).
Gemma Tillack, RAN's agribusiness campaigns director says, "Global brands like Pepsico can no longer hide behind paper promises and simply blame their international partners for forest crimes. The Leuser ecosystem will die a death of a thousand cuts if brands don't start taking urgent action to address the root cause of this crisis."
Greenpeace said the commitments on paper had frequently been used to create the appearance of taking action without making real changes. Eight years after adopting conservation policies, "brands and traders are still unable to monitor the producer groups in their supply chains," the group said. Of course, these are the same brands who assure their consumers that they can track their production from 'farm to table'.
The Greenpeace report also mentions evidence of child and other forced labour in Indonesia's palm oil industry but mainly focuses on the environmental problems. It singled out palm oil giant Wilmar as the biggest offender among the 25 groups it investigated. It was found buying from 18 of the palm oil groups.
Rapid forest loss and greenhouse gas emissions have made Indonesia the fourth biggest contributor to global warming after China, the U.S. and India.
"The palm oil industry's failure to address deforestation and other notorious practices is putting its long term future in doubt," said Greenpeace. "Public opinion in many major markets is already turning against palm oil."
The influential International Union for Conservation of Nature earlier this year said bans on palm oil are not a solution because other sources of plant oil require as much as nine times more land and not enough yield.
It said a ban would likely only "displace" forest and species destruction to other areas. Concerted action is needed to make the palm oil a responsible and "sustainable" industry, it said. With consumers now asking where their food is sourced from, companies have every reason to continue and start cleaning their supply chains as they had promised. Their failure means products like Kit Kat, Dove, Ritz and Colgate contain tainted  palm oil. There are still 500 days to go until 2020, and brands have time to turn it around – that's where consumers have to come in. Switching to fully certified purchasing is relatively painless, so why aren't more companies doing it? According to WWF, it all comes down to simple foot-dragging by large buyers.
Initiatives like the Tropical Landscapes Finance Facility(TLFF) could be an option for the big companies in this area too. TLFF  has worked with key private sector partners, since 2016, to finance and help provide sustainable livelihoods, with fair wages, for 18,000 marginalized farmers in Sumatra and Kalimantan in Indonesia.
"We are running out of time, and that requires engagement in large projects with significant social and environmental impact," says Satya Tripathi, Assistant Secretary-General and Head of the New York Office of the United Nations Environment Programme (UNEP), who has been instrumental in setting up TLFF in collaboration with numerous key stakeholders.
TLFF , along with companies pushes to use  degraded land as well as increase productivity on existing land. TLFF is a model that may be applicable and scalable in other emerging economies to unlock capital from institutional investors and other private finance institutions for achieving development and climate goals. TLFF aims to lend $1 billion by 2019.
However, in order to get this to work, clear intentions are needed to actively monitor companies' supply chains closely and work and provide for the locals working in the fields. Greenpeace asks the companies to publish the list of compliant and non-compliant palm oil producers with protocols to deal with them. These will help the consumers to consume the products ranging from toothpaste to shampoos and other edibles guilt free and force others to fall in line, and may be, just may be, save the exotic animals who are bearing the maximum brunt of our unabated consumption of palm oil.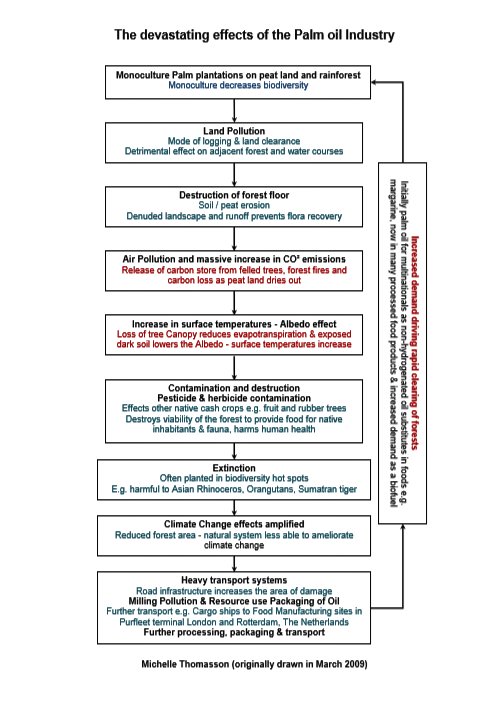 (Visited 846 times, 1 visits today)