R K Singh Awards Four Winners of #InnovateToINSPIRE Challenge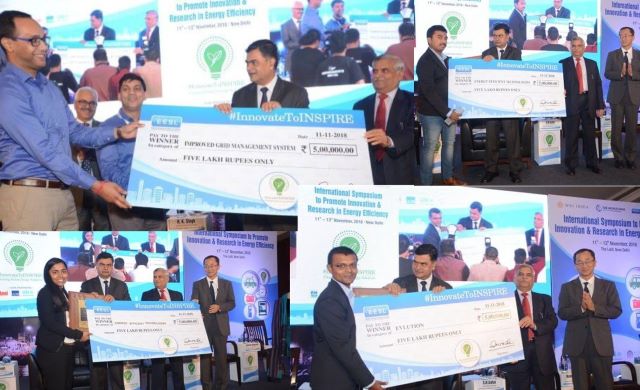 The four stood out among 90 other entries in the #InnovateToINSPIRE challenge
Marking the culmination of #InnovateToINSPIRE challenge, the Indian power minister Mr RK Singh, awarded 4 winners from the 94 Entries that participated in the challenge held in August and October 2018. The core of the challenge was centered around  innovations in Energy efficiency. The Minister, speaking at the inaugural of the International Symposium to Promote Innovation & Research in Energy Efficiency (INSPIRE 2018) said, "Energy efficiency saves the environment and makes businesses more competitive. While India needs to grow but we need to grow responsibly and the Government has taken several measures in this regard."
Out of the 94, 8 entries were finalised in the first week of November. Later at the Inspire 2018 event, 4 winners were announced and awarded by Indian Power Minister, they are:
Mobile Li-Ion Battery System or MOLIB
CYDEE Technologies
MINION Labs
NextDrive Electric
All four were gave their technology ideas varying from innovation in EV charging to efficient street lightening.
Like NextDrive electric was started with the vision of sustainable energy. Their vision lies with aligning towards renewable sources of energy. The NextDrive electric converts any mini truck/large trucks/bus to 100% electric with a range of 100Kms/Charge. Awaiting patents to come through they plan to develop motors and battery packs with their in house technology. Whereas, Energy Management Solution provider MinionLabs based out of Bengaluru,  has clients in almost all the continents. Its IOT based analytics senses each and every appliances, devices and tools turning ON and OFF inside the building and gives you a comprehensive report on predictive analytics and maintenance without burning a hole in your pocket. Though it has been functioning in commercial spaces, it plans to roll out Minion Home Suitable for Individual Houses, Apartments and other Residential properties.
Another award winner of the #InnovateToINSPIRE challenge from Bengaluru, Cydee Technologies, talked about innovating streetlights & reducing the number of light poles by 60%, saving 40% more energy over LEDs.
While MOLIB brings to the table an idea about a mobile charging station with DC & AC fast & normal charging for EVs.
The #InnovateToINSPIRE challenge was organized by EESL and World resources Institute (WRI) between 21 August, 2018 and 12 October, 2018 in the run-up to INSPIRE 2018. The challenge invited participants to submit sustainable and scalable solutions to seven specific challenges spanning grid management, e-Mobility, energy efficient technologies and financial instruments. From 94 entries, four winners were selected by an eminent jury comprised of Indian and international experts in the field of energy. The winning entries received an award of Rs. 5 lakhs, each, along with mentoring and guidance from EESL to help them bring their solutions to market.
(Visited 235 times, 1 visits today)