China Is Building World's Biggest Waste-to-Energy Plant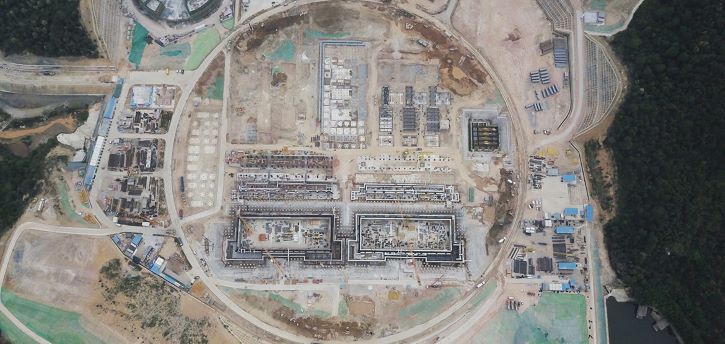 The Shenzhen East waste-to-energy plant is set to be the largest of its kind in the world.
In the outskirts of the city of Shenzhen in southern China sits a mammoth structure which once functioning, will become the world's largest Waste-to-Energy Plant.
Once the plant gets operational, it will process up to 5,000 tonnes of waste each day. With a population of 20 million people, Shenzhen city produces a lot of waste: about 15,000 tonnes daily according to SHL Architects, who are the designers of the structure, which will be used by the plant to generate electricity.
However, the plant did meet residents' opposition and environmental groups who fear it will emit dangerous levels of dioxins and other toxins.
How Does This Plant Work?
The plant captures heat from incinerating unwanted waste materials, which drives a turbine to generate electricity. Burning waste releases harmful CO2 emissions into the atmosphere, but according to the architects, at half the level of an average landfill site – where much of Shenzhen's waste ends up.
China already has the world's highest installed capacity of Waste-to-energy plants in the world. With 300 Plants already functioning, the authorities have been ramping them annually by 26% over the past 5 years as against 4% average growth in capacity in OECD countries.
According to World Energy Council, the global market for waste-to-energy plants is estimated to be worth $40 billion by 2023. And with the world population ballooning to 9.8 billion by 2050, with 68% of those people living in cities, solutions to remove urban waste and produce energy is attractive to investors.
Unanswered Questions
China is one of the top producers of waste according to the World Bank, and despite closing its door to import of waste from other countries, faces a similar challenge.
Shenzhen's new plant will combust roughly a third of the city's daily domestic waste. It will also generate some renewable energy via 40,000 square meters of solar panels on its roof.
While the new plant offers an alternative to the city's overloaded landfill sites and makeshift waste dumps, its green credentials have been called into question. A residents' group which fears that landfill waste ash and airborne pollutants from the incinerator will end up in a nearby reservoir has launched a legal challenge to force the site to be relocated to a less densely populated area.
Other proposed waste-to-energy projects around China – Hubei, Hunan, Guangdong, Shandong, Hainan, Jiangxi, and Zhejiang provinces – have also been met with protests.
And while such waste-to-energy projects provide a temporary solution to China's growing trash problem, it is not a long-term fix. The Shenzhen plant has the capacity to cope with about a third of the waste currently produced by the city, but the amount of waste is increasing by 7% a year.
This presents a quandary which could be solved if the cities and economies shift towards sustainable consumption and production. A sustainable future lies in changing behaviour to reduce the amount of waste produced and working towards a circular economy, where discarded items are increasingly reused and recycled.
Picture Credit: SHL Architects
(Visited 634 times, 1 visits today)