At CEO Forum For Climate Change, Carbon Trading Mechanism, RE, and Storage In Focus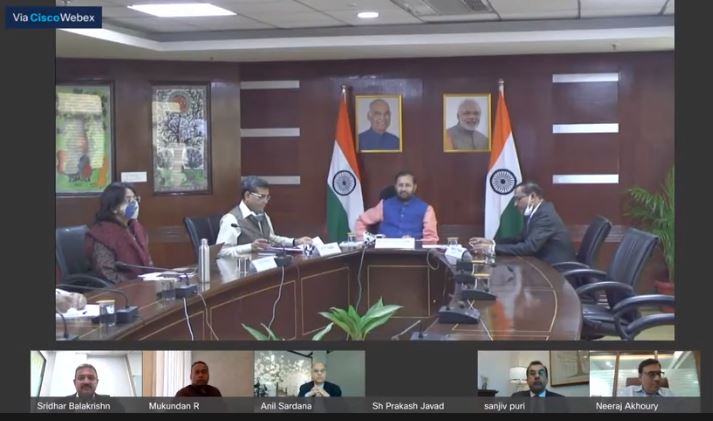 At the Forum, where the environment minister and his team heard 20 leading corporate leaders talk about their plans and progress on the climate change front, some key themes stood out.
At the 2nd CEO Forum for Climate Change today , organised by India's Ministry of Environment , Forest and Forest Change (MoEFF) , it was time for the government and private sector to establish a mutual admiration society.
Mr Prakash Javadekar, the Environment minister who can sound more like the industry minister, considering his total focus on industrial growth over almost every other consideration, opened the forum with a hat tip to the 'recovery' in growth seen in October, especially with metrics such as power consumption. Sharing how the CEO Forum was first organised in 2019 to prepare for the  the UN Secy General summit on climate action in 2019, Mr Javadekar pointed out that it was no longer an option, but a necessity for the government and private sector to work jointly on fighting climate change. " Under the new Paris agreement regime, actions of government,  private sector an civil society will be taken together to consider progress on Nationally Determined Goals, " he pointed out. .
With a target to reduce  emission intensity of its gross domestic product (GHG emissions per unit GDP) by 33-35 per cent over 2005 levels by 2030,  Mr Javadekar asserted that India was among the few countries on course to meet its targets to limit warming to  2 degrees by 2100.  India's ambitious renewable energy program, especially the 100 GW solar target by 2022, and the overall 450 GW target for 2030 , which would take total RE capacity to 40 percent of the total power capacity, was also highlighted
Other key national goals, including the creation of  2.5 billion tonnes of carbon equivalent sequestration through afforestation, or restoration of barren land to the tune of 26 million hectares in the next 10 years were all work in progress, with the country on course to achieve these too, he said.
Acknowledging the  key role of industry in the next stage of targets, Mr Javadekar sympathised with industry over the costs of compliance with the new norms, with the example of FGD (Flue Gas Desulphurisation) costs, which he said were too high at Rs 50 lakhs per MW for thermal power projects.
Among the participants at the forum were 20 select corporate leaders, with the majority from the 'core ' cement, steel and energy sectors.
As leader after leader had their say, a few common themes stood out.
One, the high focus on green energy and energy efficiency. Almost every leader highlighted their plans for using more renewable energy, with timelines ranging from 5 years to 15 years for significant shifts in their energy consumption profile.
Cement honchos from    Dalmia cement, Ambuja Cement were quick to share the gains in efficiency they had made in both Co2 emissions per tonne, and generation of waste products. Efforts ranging from reduced usage of clinker, to buying more renewable energy and major water conservation initiatives  were cited among the specific plans each had to reduce their carbon footprint.
Following closely behind renewable energy was the appeal to the minister to help restart/establish a carbon credit trading system. This, the leaders stressed, would not only provide much needed funding to players, but also encourage more firms to transition faster towardsa greener future.
A third area we  heard a lot a lot about was water conservation . Many of the firms, notably ITC through its CMD, Sanjiv Puri, made a case for the massive  investment they had made in the area, right from the farmers who they sourced their products from, to their office buildings.  Multiple firms were already water positive (consuming less water than the amount they help recharge), while others had serious plans to get there.
Finally, we heard the energy sector honchos speak about the future of battery storage, and storage more broadly, to support the transition to a green energy powered future. Ratul Puri, Chairman, Hindustan Power Projects Limited, made the case for the sheer necessity of storage to ensure despatchable quality power supply, even as Renew Power's Sumant Sinha stressed on his firms plans to invest in storage in a big way, besides both generation of renewable energy and manufacturing of solar equipment. Sinha highlighted how his firm, which produces 1 percent of the total power generation in the country, helps mitigate half a percent of India's carbon emissions too.
Interestingly , Arun Bharat Ram, Chairman, SRF Limited, while asserting that his firm would produce refrigerant gases with zero impact on the ozone layer and the environment soon, also made a case for a change in regulations, that would allow firms to use the mandatory 30 percent green area in their plants, for solar plants, that allow shrubs and other greens to grow under. Doing so would put the land t better use and generate energy too, he said.
Dalmia cement MD and CEO, Mahendra Singhi also urged for a simpler regime to allow corporates to set up large solar plants for captive consumption , or a better open access regime, we imagine.
Among the other leaders who spoke was Anil Sardana, MD of Adani Transmissions Limited, which, he stressed, was looking to turn even the land under its lines and nearby benign, by relevant greening efforts, including creation of much needed mangroves in coastal areas.
While it was indeed useful to see the government reach out and involve private industry in a big way, we couldn't help notice that one of the key reasons efforts have been so skewed towards the use of more renewable energy, for instance, is because it makes strong economic sense today.  The really difficult decisions, which would involve costs beyond business as usual, remain tough ones to pull off for Indian industry. This was also highlighted by Mr Dilip Oommen, CEO at Arcelor Mittal Nippon Steel, who urged the government to find a mechanism to ensure that firms investing to voluntarily produce more efficiently, or with a lesser impact on the environment, did not suffer due to competition from firms which had taken none of the same measures.  This issue of 'protection' was also highlighted by some of the cement majors at the forum.
Among the interesting nuggets we heard at the forum was this one from Mr Sanjay Mashruwala, Managing Director at Reliance Industry (RJIL) and Head of Sustainability initiatives. He shared how it was a policy at Reliance that no tree was to be cut. If a tree does get in the way of some development work, then it has to be transplanted.  Sounds like a policy for every other leader present to follow too.
(Visited 200 times, 1 visits today)