Water Levels Dips Another Percent, As Anxiety Levels Rise for Monsoons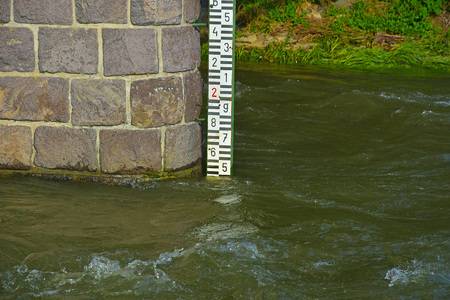 Goundwater levels in India have dipped by 52% of the wells being monitored, and declining rapidly.
A select sample of top water reservoirs across India recorded an overall drop in water levels, even as the country witnesses extremes from a cyclone on the East Coast to water rationing in Mangalore
The water levels of 91 reservoirs in India fell 1% to reach 25% of their storage capacity. The water storage available in 91 major reservoirs of the country for the week ending on May 02, 2019 stood at 40.592 billion cubic meters (BCM). The news comes even as reports indicate key rivers like the Cauvery, Ganga and Godavari are well below comparative levels so far.
According to the official data, the highlights of the region-wise storage data:
The northern region with six reservoirs under CWC (Central Water Commission)  monitoring has 9.06 BCM which is 50% of the total live storage capacity of these reservoirs. It showed an impressive increase from 19% last year
The Eastern region with 15 reservoirs under CWC monitoring 6.07 BCM which is 32% of the total live storage capacity of these reservoirs. There is a recorded dip from a previous 34% storage during the corresponding period of last year.
The Western region with 27 reservoirs under CWC monitoring has 5.22 BCM which is 17% of total live storage capacity showed a dip from 23% from last year.
The Central region which has 2 reservoirs under CWC monitoring 12.24 BCM which is 29% of the total live storage capacity of these reservoirs which is an increase from 27% recorded last year.
The Southern region 31 reservoirs under CWC monitoring hold   8.00 BCM which is 15% of the total live storage capacity of these reservoirs. This marked an uptick from a previous low of 14% from last year.
Though the Indian Meteorological Department (IMD) in April has pegged overall countrywide rainfall at 96% of the Long Period Average (LPA) with model error of plus/minus 5%, worries are high that uneven distribution could play a huge culprit again. Over 42% of the land area of the country, affecting some 500 million people are suffering from drought like conditions, according to Drought Early Warning System (DEWS) , a real time drought monitoring platform.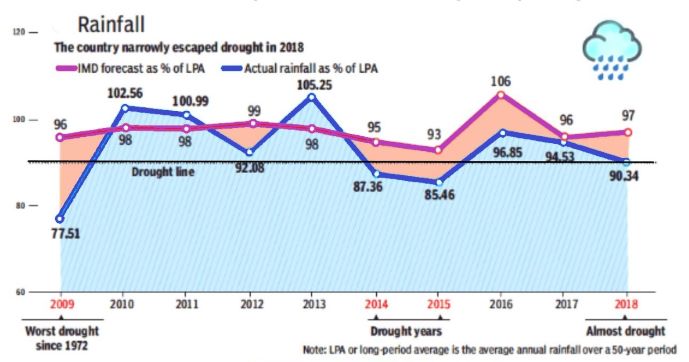 There is only 39% probability of 'near normal' monsoon in the first stage forecast, prediction of a "well-distributed rainfall scenario" by the country's national weather forecaster will bring a cheer to agriculturalists as skewed distribution — a pattern sometimes linked to climate change — leaves one or the other region of the country in a deficient rainfall (drought) situation. IMD's forecast differs from private forecaster Skymet's prediction of a below normal monsoon. India in 2018 had narrowly escaped drought as seen in the figure.
The latest monsoon is already delayed by a week, according to PV Joseph, eminent scientist, and researcher and former director of the India Met Department (IMD). He added that the onset of the South-West Monsoon is likely to be delayed by a week this year based on the timeline of onset on the 'pre-monsoon rain peak' (PMRP) phenomenon. However, KJ Ramesh, Director General of Indian Meteorological Department (IMD) has been prompt to add that, "the cyclonic storm (FANI) is a transient system and doesn't impact monsoon."
Ramesh has also allayed concerns over the El Nino phenomenon. "The apprehension that El Nino will grow stronger and stronger from its condition in January and February need not be taken seriously. From February, El Nino has been soft. As per projections, it will go from weak stage to neutral conditions. It won't impact the overall monsoon during 2019," he pointed out.
This is especially good news for southern India where cities like Mangalore have already started their multiple rounds of water rationing. There are predictions of rainfall in Tamil Nadu, Kerala, Adhra Pradesh and Odisha, which means that Southern and Eastern belt will have some respite from water scarcity. All the hope, however, hinges on the fact that people and administration will use this event as a lesson for future planning of water conservation and water scarcity mitigation rather than depending solely on monsoons to quench their thirsts.
So far, states including Andhra Pradesh, Bihar, Gujarat, Jharkhand, Karnataka, Maharashtra, parts of the North-East, Rajasthan, Tamil Nadu and Telangana are the worst hit. These states are home to 500 million people, almost 40% of the country's population.While the central government has not declared drought anywhere so far, the state governments of Andhra Pradesh, Gujarat, Karnataka, Maharashtra, Odisha and Rajasthan have declared many of their districts as drought-hit.
With the monsoon d-day  for Kerela as May 29, , it will be some time before the monsoons reach some of these states.  By the time the rains do come by June end in some of these areas, the situation could be quite dire, in fact.
(Visited 210 times, 1 visits today)