Phagwara Method Saves 90% of Water in Rice Cultivation in Punjab
A chemist graduate turned farmer in Punjab has come up with a technique called Phagwara Method which reduces the water consumption of cultivating rice by as much as 90%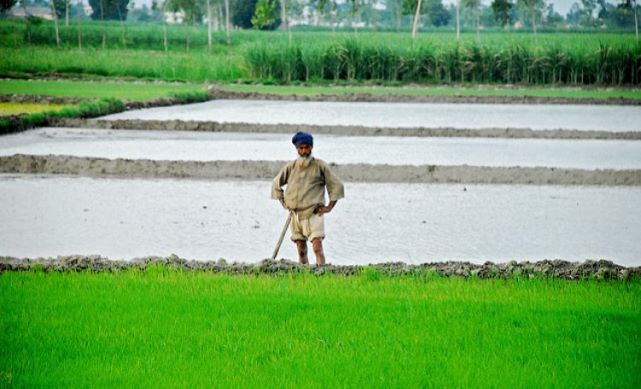 The Rice Dilemma of Punjab
Avtar Singh, a post-graduate in applied chemistry, who chose to become a farmer, has developed a farming technique called Phagwara method that could solve two major issues related to rice cultivation ie. High water intensity crop and GHG emissions.
According to farmers of the region who experimented with the technique found encouraging results. Seeing the results — low water usage by 90% and high yield — many more farmers have signed up for the same this year.
 Rice is semi-aquatic, adapted to a wide range of hydrologies, from aerobic soils in uplands to anaerobic and flooded fields in waterlogged lowlands, to even deeply submerged soils in flood-prone areas.
According to Avtar, the "paddy puddle", the reason why the crop consume a lot of water, is required to create anaerobic conditions. But with the technique developed by him, he said the anaerobic sowing of rice (ASR) is achieved by planking the soil repeatedly and heavily before and after using the drill machine for seeding.
Phagwara Method
Explaining the direct seeding technique creating anaerobic conditions without creating puddles in fields, Avtar said that a field should be levelled using laser leveller. "Pre-irrigation is done three days before date of sowing. When tractor can move in fields then planking with suhaga (solid wooden plank) with extra weight on it should be done six times. Idea is to push air out of moist soil using pressure. Then with zero drill machine 8kg paddy seeds per acre should be sown and immediately after that planking should be done twice with extra load. First irrigation is required after 21 days and then second after 10 days. Usually, by this time it already starts raining and we don't need to use subsoil water," he said.
Water and GHGs Saved
Former agriculture department deputy director Dr C R Vashisht said that on an average farmers use 43,000 litres of water on one acre with the technique while conventional puddle consumed around 5.76 lakh litre water per acre. "Saving is even more than 90%," he said.
Studies say direct seeding of pre-germinated rice has resulted in reduced methane emissions due to a shorter flooding period and decreased soil disturbance compared to transplanting rice seedlings. In Asia, transplanting is the most common method for rice production, whereas direct seeding is common in Australia and the United States.
Why?
On an average, Rice grown in India is a water-guzzler, because farmers use on an average 15,000 litres to produce one kg of paddy, though water technologists at the Indian Agricultural Research Institute in New Delhi say no more than 600 litres is needed if proper water management techniques are followed. Given that 45 % of the country's total irrigation water is used solely for rice cultivation, the need to improve farming methods is imperative.
Besides being wasteful, excessive use of water results in lower yields and adverse environmental effects such as soil salinity and waterlogging. Paddy yields in irrigated regions of Tamil Nadu, Punjab and Haryana range from five to six tonnes/ha, whereas in the high-rainfall areas of eastern UP, Bihar, West Bengal and Orissa, the yields are about 1.8 tonnes/ha. The main reasons for the poor yields are improper irrigation management and waterlogging.
Floods are therefore considered major challenges for rice production, especially in South and Southeast Asia, where the majority of the world's rice farmers live and depend on rice and rice-based farming as their major source of food, income and livelihood. Moreover, the impacts of these floods seem to be worsening in recent years, due to effects commonly attributed to climate change, such as sea-level rise, the uneven distribution of rains and periodic changes in frequencies and intensities of floods caused by extreme weather events.
Punjab, where Rice is not suitable for cultivation as the soil type and the pressure it has exerted on the water resources, has caused an ecological disaster in the state and surrounding states. Unable to dissuade farmers from cultivating rice and later burning paddy straw, authorities can promote Phagwara method to help farmers till viable diversification is put in place.
Proper crop-rotation can also reduce water consumption and result in higher yields. In Orissa, the net returns per unit of irrigation water (Rs/cm of water) were estimated at Rs 28.05/cm of water for rice-mustard-rice rotation, whereas for rice-potato-gingili rotation, it was Rs 52.81/cm. Better coordination between farmers, scientists and extension officials is needed to popularise water-saving techniques in farming.
(Visited 2,114 times, 1 visits today)