IT Industry's 50-Million Tonne of E-Waste Problem
The way IT products are produced, used and scrapped is affecting the world. Be part of making IT products become more circular
The World's sustainability problems over the last few decades have grown more complex with more and more people are waking up to the reality of how their actions are are impacting the environment. While news about pollution,  be it  air, water or land always seems to be in focus, another hidden source of the problem is only hitting headlines now. And that is E-Waste. It's a problem that will haunt India in a big way very soon, as the country's boom in electronics over the past few years starts a fresh, bigger  waste cycle.
According to UN and World Economic Forum studies, the yearly global volume of e-waste is approximately 50 million tonnes – which is the equivalent in weight of all commercial aircraft ever built.
What's more, in 2016 only 20% of e-waste was recycled globally. Such a lack of recycling has a direct effect on natural resources. That yearly loss of resources is worth about 55 billion euros.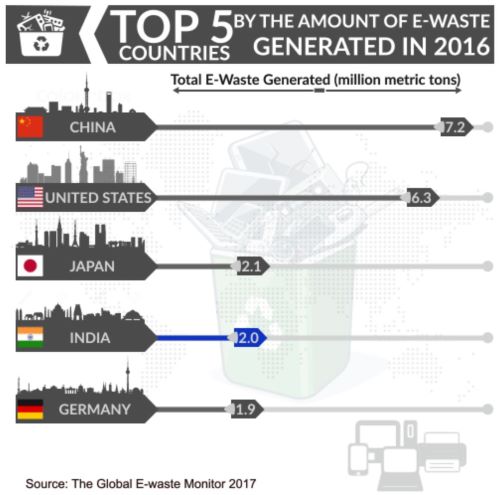 This poses both an environmental as well as human concern, as the global demand for IT products is increasing and many new products now have a very short shelf life. This is why sustainability standards and certifications are fast gaining traction among companies. One such company is TCO Development. TCO says the answer lies in a more circular approach to IT products. TCO developed a new generation of TCO Certified (Generation 8) that focuses on circularity. It requires that products are durable, repairable and upgradable so they can last longer and be reused.
Materials must also be recyclable and able to be reused in the manufacture of new products – instead of being incinerated, dumped in landfills, or exported to developing countries where the material is handled in unsafe and potentially toxic ways.
"Western Africa and parts of Asia are common dumping grounds for e-waste exports. In these countries, local populations make a living by extracting and selling valuable materials. Products are manually disassembled, burned in the open air or dissolved in acid by local laborers including children, without adequate protective equipment.
"Electronic products contain a number of toxic substances hazardous to human health, with documented risk to the brain nervous system, lungs and kidneys as well as links to certain cancers. Toxic residues can leak and contaminate the soil, air and water, affecting surrounding ecosystems where the local communities grow their food, hunt and fish." said TCO Development's director of purchaser engagement, global, Clare Hobby.
E-Waste In India
India is the world's 4th largest producer of e-waste with 2 million tonnes in 2016. At present, 95% of this is processed by the informal sector, often exposing workers and their communities to toxic substances from the discarded products due to lack of protections and poor waste handling practices.
To address the mounting e-waste problem, the Indian government strengthened its Extended Producer Responsibility (EPR) legislation in 2016. Producers can meet their EPR responsibilities through a Producer Responsibility Organisation (PRO), such as Karo Sambhav, which sets up systems to redirect bulk amounts of waste towards responsible disposal and spreads information on e-waste disposal among consumers.
In one year, Karo Sambhav's operations have expanded from one city to 68 across 32 states, and has redirected more than 3,000 tonnes of e-waste to sustainable recycling. Throughout its activities, it builds both the mechanisms and the demand for transparency. It now plays a mutually advisory role with the International Finance Corporation (IFC) of the World Bank, which is looking for ways to invest in improving India's e-waste system.
To address the other aspect of EPR legislation – consumer awareness – Karo Sambhav developed an educational program for schools. Teachers are trained to deliver this in three to four-month program, where pupils learn about the problems of e-waste in India.
Four major tech producers – Apple, Dell, HP and Lenovo – needed to find ways to meet EPR in India, and also wanted to push forward on a circular economy for electronics. As a group, they consulted with Karo Sambhav's founder Pranshu Singhal and became its 'principal partners'.
Another exemplary example is Hyderabad-based e-waste management startup Sanshodhan, an E-Waste Exchange has received recognition from the World Economic Forum as a 'Highly Commended' startup as part of its Circulars 2019's Dell Award for Circular Economy People's Choice.
It was awarded with a Medallion from WEF for its innovation of creating a Circular Economy model for e-waste management sector. "Our model is mostly applicable for corporates and large MNCs. In India, usually there is a tender put out and the order is given it to whoever quotes the highest price. But the e-waste management policy recommends MNCs and corporates to ensure end of life of e-waste," Shalini says.
She further adds that E-waste Exchange's model will work best for corporates as it not only helps them curb pollution, but also contribute towards the sustainable development goals. Interestingly, this is the second time a Hyderabad-based startup has received global recognition at WEF. Last year, plastic recycling startup Banyan Nation won the Dell People's Choice Award for Circular Economy Entrepreneur, making it the first ever Indian firm to be shortlisted for and to win the Circular Economy awards.
Banyan's proprietary plastic cleaning technology removes inks, coatings, and other contaminants using environment-friendly detergents and solvents to supply near virgin quality recycled granules to brands, a first in India highly informal, low tech industry. Banyan pioneered closed-loop recycling initiatives with India's leading automotive company (making new bumpers from discarded ones like in TATA) and a global cosmetics company (making new bottles from discarded ones eg L'Oreal), establishing circular economy leadership in the automotive and beauty sector respectively, that can be extended to other industries.
(Visited 523 times, 1 visits today)