Adidas Doubles Production of Kicks Made from Recycled Ocean Plastic
Making Fashion more sustainable, global sports equipment firm Adidas has resolved to double the number of shoes it is making from recycled ocean plastic waste.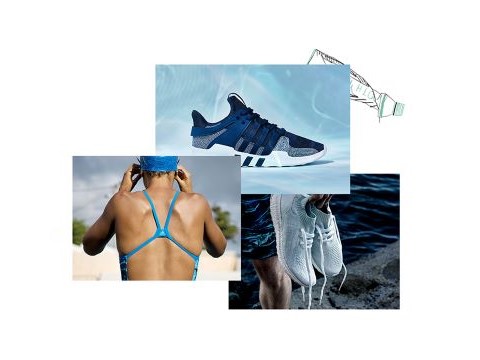 Adidas has confirmed plans to manufacture around 11 million pairs of the shoes before the end of the year – an increase of more than 100%. The move comes after the company surpassed its 2016 target of selling one million pairs of the shoes one year early.
The company in a statement said:
"We are working with Parley to prevent plastic entering our oceans and transform it into high performance sportswear. Spinning the problem into a solution. The treat into a thread."
The brand produced more than five million pairs of its Parley trainers, which contain 95% post-consumer recycled (PCR) plastics sourced from the ocean and beach clean-ups, last year. This is a vast step up from a million pairs in 2017. The shoes are made of plastic waste intercepted on beaches. which is then sewn into a yarn – each shoe is made up of around five recycled 500ml bottles' worth of plastic.
The UltraBOOST trainers, produced in partnership with marine conservation organisation Parley For The Oceans, contain around five recycled 500ml bottles' worth of plastic per shoe. The upper part of the trainers is made from 100% PCR plastic yarn, while the 3D-printed soles and midsoles are made from recycled polyester and fill net content.
"With Adidas products made from recycled plastic, we offer our consumers real added value beyond the look, functionality and quality of the product, because every shoe is a small contribution to the preservation of our oceans," Adidas' global brands executive Eric Liedtke said.
Adidas also produces clothing such as football shirts out of the recycled material and has committed to stop using 'virgin plastic' by 2024. Other subsidiaries like Reebok also manufactures activewear made of recycled bottles that usually end up in oceans for disposal.
The company has also committed to becoming carbon-neutral by 2050, with an interim target of a 30% reduction in its overall carbon footprint by 2030. These pledges form part of Adidas's membership to the UN Fashion Industry Charter for Climate Action, which was unveiled at the COP24 conference in Katowice, Poland. The charter has been signed by 43 big-name fashion brands from across the world, including H&M Group, Inditex and Gap.
(Visited 862 times, 1 visits today)