Can you smell burger on the red light? Could be McDiesel!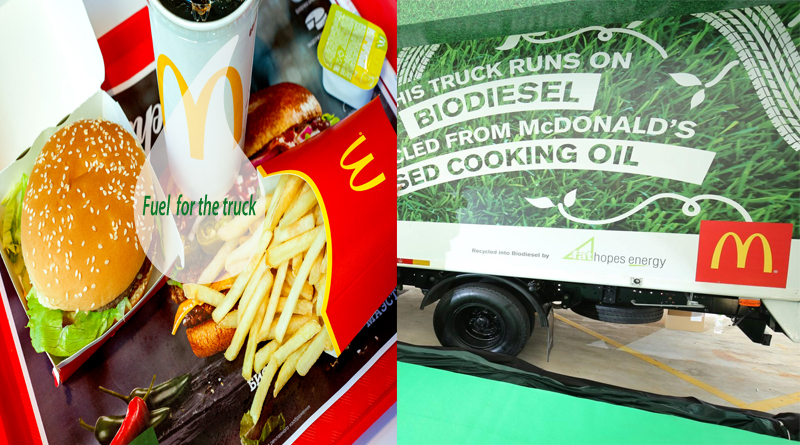 Mcdonald's India or at least the South and West India part of it just announced a major shift to use of biodiesel in India. Its master franchisee in the region, Hardcastle Restaurants Private Limited (HRPL) has finally moved to introduce some of its global sustainability practices in India. Mcdonald's announced that over 85 of its 270 restaurants in the region have been covered wherein the waste cooking oil is being recycled to be used as Biodiesel, to power the firm's own delivery fleet.  Biodiesel made from used cooking oil is a cleaner fuel, with almost 75% less carbon emissions, according to Vikram Ogale, Director, National Supply Chain and quality assurance, Mcdonald's India. The move makes it the first major restaurant chain to successfully implement the shift to biodiesel from used cooking oil, a claim supported by  Sandeep Chaturvedi, president of the BioDiesel association of India.  Unicon Biofuels was the firm's partner in this initiative.
It's a welcome if slightly late move, though the firm claims that work on the pilot started almost 9 months ago.  Amit Jatia, Chairman, Westlife Development Limited, a subsidiary of HRPL, said ' this is just the beginning and we will continue to champion the cause of environment protection in the years to come".  For the record, across its 470 odd restaurant network, Mcdonald's generates close to 1.5 million litres of oil every month.
One of the reasons Mcdonald's has probably struggled to do this faster could also be the prolonged legal tussle it has had with its erstwhile franchisee for North India, Connaught Plaza Restaurants Limited, and its owner, Vikram Bakshi. Besides being a serious diversion for Mcdonald's India plans, the dispute has already done some serious damage to the brand, thanks to its failure or inability to respond adequately to changing standards and expectations, an area where it was the de-facto leader till not so long ago.
As a global brand, Mcdonald's has always been a relatively large and some would say, soft target for environmentalists and sustainability activists, due to its sheer scale, and the impact it has on the environment because of that. It was under such pressure that the firm decided to do away with plastic straws and cups and stationary, moving to use paper and wood options instead, thanks to the Maharashtra ban on plastic.   Moves by it, and other QSR majors have a major impact, physically as well as psychologically, thanks to the high footfalls and exposure their customers get from the efforts made.
Globally, Mcdonald's has already announced its intention to eliminate foam packaging by the end of the year. It also aims to get 100% of its packaging material from recycled, renewable or certified sources by 2025. It has also pledged to make recycling an integral part of all its restaurants by 2025, a number that is barely 10% currently.
Some of its biggest moves have started off in its home market, US, where it faces far stronger pressure to live up to tougher expectations and regulations. So Bio Diesel use started there way back in 2007.   in 2015, it also committed to using its supply chain clout to eliminate the use of excessive antibiotics on animals, to fight 'superbugs' that were developing resistance to known antibiotics. In India, we should expect no less from the global giant.
copyright:iamrenew.com
(Visited 348 times, 1 visits today)