Rosatom. Why you should know about this firm
Not an Easy Sunset on Nuclear
One of the largest companies in Russia, bringing Nuclear Energy and Power Engineering Assets together is Rosatom. It's also the firm making the Kudankulam power plant in India, besides a 67% share of the world construction market for nuclear plants currently
Rosatom, the state-backed nuclear specialist from Russia, has morphed into a global firm with huge nuclear ambitions. Thanks to a BOO model they have developed, where the firm takes care of end to end development and management of nuclear power stations, the firm is bringing nuclear power to countries that didn't have any earlier, be it Turkey, Bangladesh or even Egypt. That matters, as Rosatom is looking primarily at markets that will struggle to meet their energy needs from solar/wind combination.  Thus, for good or bad, they are ensuring that at least coal does not become a fuel of last resort for their markets.  And increasingly, despite the drop in prices and adoption, solar and wind do not look like they can help meet the decarbonisation needed to limit warming to 1.5 degrees.
Why Rosatom?
Established in 2007, succeeding the Federal Agency of Atomic Energy, the state corporation is one of the leaders in the world's nuclear energy industry and consequently the single largest electricity generating company in Russia, the firm generated close to 202 billion kWh of electricity, accounting for 18.9% of the country's total electricity production, in 2017. And with 36 nuclear power plant units in 12 countries, the firm also has the largest portfolio of foreign construction projects.
Besides nuclear energy, Rosatom through its 346 enterprises and organizations also manufactures equipment and produces isotopes for nuclear medicine, carries out research, and material studies. Also producing supercomputers and software along with different nuclear and non-nuclear innovative products. And with an annual domestic production of around 3000 tonnes of Uranium, it is also the global market leader in Uranium enrichment services, with a hold on at least a third of the market share. And covers 17.7% of the global nuclear fuel market. The ten-year portfolio of orders of Rosatom State Corporation abroad was estimated at more than $133 billion. And as of last year, the total portfolio orders for the company had reached $300 billion.
One of the advantages for Rosatom has been their ability to get state permissions faster to proceed, unlike their global competitors in NATO countries, which have a harder time of it. On top of that, Rosatom claims to target countries which are not necessarily aligned too deeply with either the US or Russia, focusing simply on selling their energy solution.
Better than the rest? 
Rosatom, unlike most nuclear firms from developed countries, is still planning ahead with heavy expansion plans. Almost unaffected by Japan's Toshiba withdrawing from international projects after making a $6.3bn writedown at its Westinghouse unit, France's Areva mired in debt and undergoing a far-reaching restructuring after a state-backed recapitalisation and the government slowly phasing out its nuclear quota, and South Korea's state-owned Kepco, suffering from a hard blow after the new president vowed to abandon nuclear power.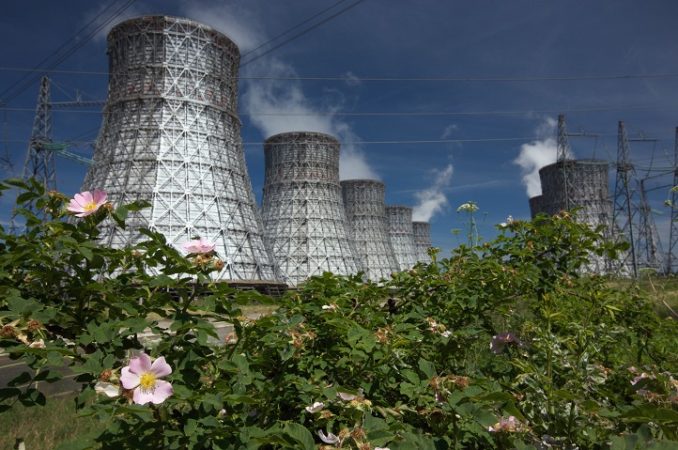 Kirill Komarov, Rosatom's deputy chief executive, amid ambitious growth plans, commented that the setbacks faced by its competitors have brought no positives for the Russian giant, but only concerns. And that nuclear is now competing against coal and even renewables, for the price, but the new Build-Own-Operate (BOO) scheme has seen the company enter newer markets which to some extent lack the necessary knowledge and expertise on nuclear. Rosatom, with its experience of managing plants across Russia and other countries of the former Soviet bloc, can certainly claim to be among the most experienced today.
In the news recently: 
Rosatom was in the news recently with the launch of its first floating nuclear power plant. The vessel designed by the firm is a floating, combined heat and power (CHP) low-power nuclear station. These self-contained, low-capacity, floating nuclear power plants have been created with the motive of being able to tow to a destination port of a city or towns experiencing a power deficit, or where regular supplies of fuel is a challenge. 
Construction of the first power station, the Akademik Lomonosov, started on 15 April 2007 and was launched on 1 July 2010, at a cost of 6 billion rubles ($ 232 mn). In 2015, Rosatom announced that construction of its second vessel had begun with an expected date of commission early 2019.
The floating nuclear power station is a non-self propelled vessel. It has a length of 144.4 meters (474 ft), a width of 30 meters (98 ft), a height of 10 meters (33 ft), and a draught of 5.6 meters (18 ft). The vessel has a displacement of 21,500 tonnes and a crew of 69 people. Each vessel of this type has two modified KLT-40 naval propulsion reactors together providing up to 70 MW of electricity or 300 MW of heat, or cogeneration of electricity and heat for district heating, enough for a city with a population of 100,000 people. It could also be modified as a desalination plant producing 240,000 cubic meters of fresh water a day. Smaller modification of the plant will be fitted with two ABV-6M reactors with the electrical power around 18 MW.
Floating nuclear power stations are planned to be used mainly in the Russian Arctic. Five of these will be used by Gazprom for offshore oil and gas field development and for operations on the Kola and Yamal peninsulas. Other locations include Dudinka on the Taymyr Peninsula, Vilyuchinsk on the Kamchatka Peninsula and Pevek on the Chukchi Peninsula. And according to Rosatom, 15 countries including China and Argentina are interested in hiring the services.
The floating power stations need to be refueled every three years while saving up to 200,000 metric tons of coal and 100,000 tons of fuel oil a year. The reactors are supposed to have a lifespan of 40 years. Safety, however, remains a big concern for Environmental groups, who believe that floating plants will be more vulnerable to accidents and terrorism than land-based stations. They point to a history of naval and nuclear accidents in Russia and the former Soviet Union, including the Chernobyl disaster of 1986. Russia does, however, have 50 years of experience operating a fleet of nuclear-powered icebreakers that are also used for scientific and Arctic tourism expeditions.
Read: Fossil Fuel disasters: 10 of the Biggest
Key Projects Worldwide:
Rosatom currently has 10 operational nuclear power plants (35 power units) in Russia with a total capacity of 27.9 GW. Abroad it owns 67% of the world nuclear plant construction market and, currently, the orders portfolio exceeded $133 billion, with 9 plants (33 power units) either commissioned or under construction. In addition to the construction of new power units for existing plants, the state corporation is building five new stations in Russia and three abroad.
The firm's key projects outside Russia include: (Operational or Under Construction)
Hanhikivi Plant, Finland
Pak II Plant, Hungary
Kudankulam NPP, India
Bushehr NPP, Iran
Tianwan NPP, China
Who's afraid of Rosatom?
While Rosatom stresses that it steers clear of politics, its industrial clout has helped the Kremlin. The EU took three years to approve Hungary's Pak II plant, built and financed by Rosatom, amid fears in Brussels of Russian leverage on the bloc's eastern flank after the firms role as a 34 percent shareholder and supplier of finance and atomic fuel for Finland's Hanhikivi plant almost caused the collapse of the Finnish government in 2014, when the country's Green party left the previous ruling coalition in protest. There are concerns from certain EU states and companies regarding its role as a Kremlin-controlled company, it lacks transparency.
However, the firm is still turning a lot of heads as experts believe that given the troubles at western rivals and the pivot by Seoul, only China's collection of state-controlled nuclear firms have a similar scale to challenge Rosatom. Leaving Rosatom, the supposedly Kremlin-controlled body, to dominate the global market.
Greenpeace in its report also questioned the BOO scheme, close examination of Rosatom's track record shows the Build-Own-Operate model is not an ideal arrangement for foreign clients. The concerns over Rosatom as a business partner, as well as the risks embodied in its offer, under the model, to take back spent nuclear fuel generated at its reactors in other countries raise serious red flags for any country considering doing nuclear business with Rosatom. In addition, not only does the model increase dependency on Rosatom to operate nuclear reactors, but it also increases dependency on imported uranium. Rather than achieving energy independence and security, countries would be going in the opposite direction. Bangladesh, for instance, is expected to get 15%  of its power from the Roopur plant, expected to go online in Dec 2024.
(Visited 305 times, 1 visits today)