BioGreen Biotech, A plastic-like bag with all its properties but none of the toxics
Working to replace plastic in the supply chain, this Bengaluru based start-up claims to be the first biotech company in India which manufactures, wholesales and supplies 100% compostable and bio-degradable products.
According to a survey conducted by the Ministry of State for Environment, Forest and Climate Changes, India generates more than 15,000 tonnes of plastic on a daily basis of which 40% remains littered on streets. In a society gripped with the functionality of Plastic, the need is for a replacement that carries all the essential characteristics of plastic, but is environmentally stable and bio-degradable.
Working to replace plastic in the supply chain is BioGreen Biotech. A Bengaluru based start-up claims to be the first biotech company which manufactures, wholesales and supplies 100% compostable and bio-degradable products. Made from natural starch, vegetable oil derivatives and vegetable waste, their products are non-toxic to the environment, animals and plants. BioGreen products contain no conventional plastics and are safe even when consumed by animals according to the company.
This bootstrapped company of 11 members was officially launched in India on March 31st, 2018 by its founder and CEO Mohammed Sadiq. On where he got the idea and motivation to start BioGreen, Mohammed said, "The Karnataka Government imposed a complete ban on all plastic and plastic products in the state on March 11, 2016, without actually having any alternative to provide the people of the state to carry various essentials hassle-free. When I went to purchase groceries from local super markets they packed everything in paper bags including rice and dal, the bags started breaking as soon as they came in contact with the moisture from the milk packet. I looked for alternatives myself and when I was unable to find any inexpensive solution, BioGreen was born."
Mohammed Sadiq started his entrepreneurial journey when he was 16, selling everything from sugarcane to coal. Working his way up to established a manufacturing unit of light weight blocks. After selling off his stake in his previous business, he wanted to find an innovative solution to the plastic waste problem.  That's when he invested his time and money into BioGreen.
Once he had the idea and the motive, "Our mission is to increase the knowledge and availability of existing compostable & biodegradable products, and to introduce new such products into the marketplace." The next step was sourcing the raw materials for the production of such bags from around the world. According to Sadiq, "the hardest part of it all was educating and explaining the people of all the ill effects of using plastic and the government officials of the state about the product and acquiring the required licenses for the same."
The company retails 100% biodegradable carry bags and packaging materials on its website, with cost for manufacturing each bag at ₹2, the company's prices start at ₹2.5 for normal sized carry bags where as its disposable garbage and packaging bags retail for ₹440 per kg. The company has a Direct Sales Business Model, based upon subscription and pay-per-use according to the demands of the customer.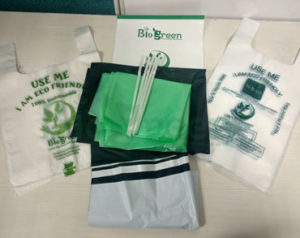 With three operational manufacturing units across India in Pune, Dharwad & Thiruchirapally since July 2017, BioGreen exports more than 120 tonnes of products to USA, UK, Kenya and other parts of South Africa and is currently having its clientele extended with business partners like the The Future Group, Myntra and DMart.
According to Sadiq, "our products solves big issues such as:
Use of plastic, our bags are true alternative to plastic and 100% organic;

Menace of plastic garbage,the bags self-decompose in 160 days and becomes manure for plants;

Municipal waste,we Create our products  from vegetable waste;

Improving quality of our agriculture land, our products becomes quality manure after decomposing."

In the process of launching their own range of biodegradable straws as well as a tableware and cutlery.
On what were the company's future goals are, Sadiq said, "We dream to cross the 600 tonnes manufacturing capacity first, and in that process establish India as the hub of the global bio-degradable market. We want to achieve a 0% plastic usage in Karnataka by the end of 2018, and a straight cut-off of 50% of all plastic products in the Indian market by the end of 2020."
As a manufacturer and retailer with a heavy demand, BioGreen is an overwhelming success story of an entrepreneur and his start-up that found the perfect balance in running a corporation and accounting for the environment.
Read: Buzzcloth – A food wrap made from Beeswax
(Visited 1,444 times, 1 visits today)