Snubbing Trump, Climate Economy Study predicts $26 trillion benefits from greener path
Strong action to combat climate change could cumulatively add at least $26 trillion to the world economy by 2030, according to a study by the new Climate Economy report, undermining the need to see action on climate change as good for the environment and economies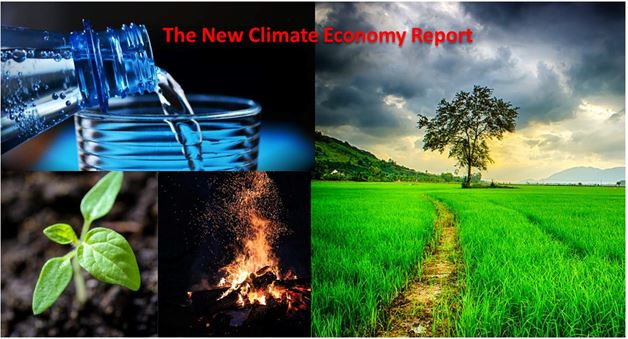 Easier than it seems
President Donald Trump's famous words "draconian financial and economic burdens" for the Paris Agreement may be a year old, but they did serious damage for the 115 countries who supported the pact. Thus, a report by the Global Commission on the Economy and Climate, which includes former heads of government, business leaders and economists, said there was "unprecedented momentum" towards greener growth that would boost jobs and countries' economies; the probable figure, in tens of trillions will be useful ammo for those fighting the Trump administration's efforts to dismiss global warming and the costs related to combating it.
The New Climate Economy report says that bold climate action could deliver at least $26 trillion in net cumulative benefits from now until 2030 compared with business as usual.
Putting the nails in the coffin of the idea that moving towards the low-carbon path is costly, the study adds detailed projections since it first issued a report in 2014 to highlight economic opportunities from a shift away from fossil fuels.
Smarter investments in cleaner energy, cities, food and land use, water and industry could generate 65 million new jobs in 2030, equivalent to the workforces of Egypt and Britain combined, the study said.
In a  grim reminder of the cost of pollution, it added that a shift from fossil fuels to cleaner energies such as wind and solar power would avoid 700,000 premature deaths from air pollution in 2030.
The report recommended high prices on carbon dioxide emissions of $40-$80 per tonne by 2020 in major economies will further give impetus to a cut in carbon emissions. Carbon markets have not proven an effective way to reduce emissions. Instead of the north making emission reductions domestically, global south companies are given small monetary sums to cut emissions themselves. The resulting "carbon credits" are counted as emission cuts by the north. Instead of holding northern economies accountable to change their production systems and consumption patterns, carbon markets allow for business as usual in the north, leaving the global south to offset the north's emissions and endure the impacts. So stricter norms could come in handy while dealing with big polluters.
Another recommendation included Subsidy reforms in the energy sector, coupled with higher carbon prices, could raise $2.8 trillion a year in government revenues in 2030, it said.
Former Mexican President Felipe Calderon, honorary chair of the Commission, said it was "a manifesto for how we can turn better growth and a better climate into reality". Co-chairs include Paul Pohlman, chief executive of consumer goods group Unilever, and Professor Nicholas Stern of the London School of Economics.
President Trump, who questions the whole idea of man-made emissions of greenhouse gases are the prime cause of climate change and wants to promote the coal industry, has said the 2015 Paris Pact could cost 2.7 million US jobs by 2025.
Putting rest to that argument, the report predicted that US jobs lost in fossil fuels can be more than offset by a rise in employment in renewables and construction. It said 476,000 people were now employed in wind and solar power in the United States.
Despite signs of climate action the report said "we are not making progress fast enough" to limit a rise in temperatures linked to more floods, heat waves, wildfires and rising sea levels.
The Global Commission on the Economy and Climate is a major international initiative to examine how countries can achieve economic growth while dealing with the risks posed by climate change. The Commission was formed by seven countries – Colombia, Ethiopia, Indonesia, Norway, South Korea, Sweden and the United Kingdom – as an independent initiative to report to the international community.
(Visited 228 times, 1 visits today)