Parliament, Railways Take Lead in Banning Plastic After PM Appeal
The Indian parliament yesterday took the spotlight as the lower house secretariat banned the use of non-reusable plastic and water bottles in the premises with immediate effect. A day earlier, Indian Railways had made a similar pledge.
The Lok Sabha secretariat has prohibited the use of non-reusable plastic water bottles and other plastic items within the parliament house complex with immediate effect.
The officers and the employees of the secretariat of the parliament and the affiliated agencies that function inside the parliament complex have been asked to comply with the instructions. From now, they are advised to only use environmentally friendly products like biodegradable material made bags and avoid single-use plastic products including water bottles, take away coffee cups, lunch wrapped in disposable plastic packaging, plastic bags, disposable food containers, plates and containers made of polystyrene foam, plastic straws etc. in their offices.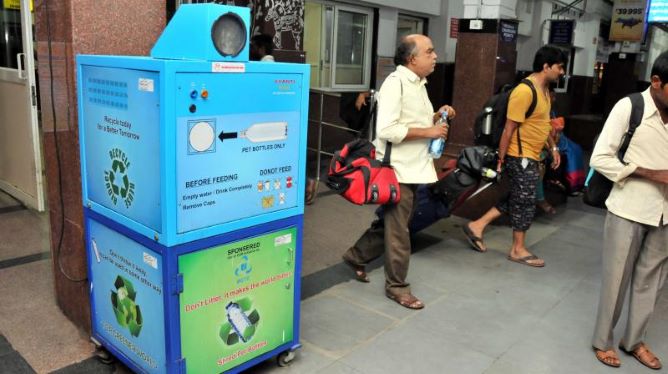 The announcement makes the entire parliament complex a plastic free zone, taking a cue form PM Modi's appeal on Independence Day for the nation to go plastic-free.
Earlier on Aug. 19, the Indian Railways too had announced that it will clamp down on plastic use from October 2. In a circular to all its regional offices, it has asked the officers to ensure that plastic of thickness below 50 microns is not used, 'except where the thickness of such plastic sheets impairs the product's functionality'. The ban will be strictly enforced on railway stations and other properties across the country.
Railways clampdown on plastic use aims to minimise the generation of plastic waste in trains and stations.

Join us in our march to build a sustainable future by using reusable carry bags and recycling plastic bottles through bottle crushing machines installed at stations. pic.twitter.com/J5qIJnPTF8

— Piyush Goyal (@PiyushGoyal) August 21, 2019
The circular had also added that as part of 'Extended Producer Responsibility', zonal offices will ensure plastic bottles are collected and then safely disposed of. Bottle crushing machines are to be 'expeditiously' provided for this purpose, the circular said. In addition, the railways will work with vendors at railway platforms to encourage them not to use single-use plastics. Additionally, the railways announced that it has installed environment-friendly bio-toilets in its coaches. Bio toilets ensure zero waste discharge and recycling of water. Yesterday, 154 bio-toilets were installed, taking the total number to 2,17,940 in 60,708 coaches.
India is planning to phase out single-use plastic by 2022. At the moment, around 20 states across India have implemented full or partial bans on single-use plastic products. Last year on the world environment day, the environment ministry had announced the launch of pan-India plastic clean-up drive in public areas, national reserves, forests, beaches, rivers etc. Further, letters were written to the state governments asking them to make protected areas as "Plastic Free Zones". Many startups have also been invited by the ministry to come with technologies which can recycle plastic and develop ways to use recycled plastic.
(Visited 195 times, 1 visits today)