Norway Bans Biofuel Industry from Buying Deforestation-Linked Palm Oil
Orangutans-Hanging by a thread
In a surprise move, Norwegian Parliament has voted to ban its biofuel industry from buying Palm Oil linked to deforestation.
Last month the uproar about the advertisement by a UK based company called Iceland garnered many views and support from all over the world, which showed the plight of an Orangutan living inside a little girls bedroom after men had cut down all their forests for palm oil.
The Norwegian Parliament which had put a ban on deforestation since 2016, voted to ban its biofuel industry from buying Palm Oil linked to deforestation. This makes Norway the first country to put an effective ban through a passage of a policy aimed to conserve rainforests and its inhabitants. This also tackles a major issue with some biofuels, which end up having a much bigger impact on the environment by diverting land to produce biofuels, or worse, diverting potential animal feedstock or even food towards biofuels, as happened in the US
The action follows after Norway's use of Palm oil for biofuel, reached an all-time high last year. The campaigners praise the move which is stated to come in force by 2020, saying that it will help save precious rainforests and endangered animals like the Orangutans which live in them.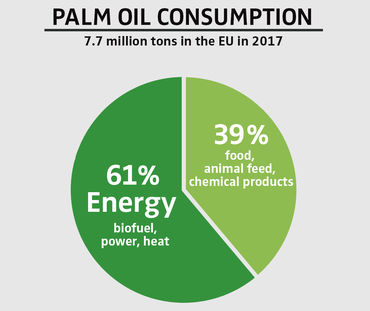 "In 2017, 317 million liters of biodiesel – around 10 percent of the total diesel consumption in Norway – were based on palm oil. That is now to be slashed," Nils Hermann Ranum, of Rainforest Foundation Norway.
On a wider level, the EU says it will phase out biofuels linked with deforestation – but not until 2030.
The new policy pushes the Government to 'formulate a comprehensive proposal for policies and taxes in the biofuels policy in order to exclude biofuels with high deforestation risk'.
In 2017, the Norwegian Parliament had earlier voted in favor of a restriction on the use of Palm oil fuels in public procurement. "The decision represents an expansion, widening and strengthening, compared to already adopted policies," said Ranum, and further added, "The Norwegian parliament's decision sets an important example to other countries and demonstrates the need for a serious reform of the world's palm oil industry."
While activists have been quick to label this development as a major achievement, others are not as ecstatic.
The Indonesian government has expressed concern that Norway's decision will lead the way for other countries to implement bans of their own. This could greatly impact the country's biggest exports.
"Although the impact will not be significant (on our exports), that will become a bad example for other countries," Fadhil Hasan, the director for foreign affairs of the Indonesian Palm Oil Producers Association, said.
Oke Nurwan, director-general for foreign trade in Indonesia's Trade Ministry, also added that the new policy will "amplify the negative impression about palm oil products."
The Palm oil Industry giant Wimar has recently made an announcement that it will map its suppliers' entire landbank by the end of 2019 and has vowed to stop deforestation associated with palm oil and save Malaysian and Indonesian forests.
Why it all started…
The use of Palm oil for Biofuels started in the mid-2000s, when countries, led by the United States, began drafting environmental laws to encourage the use of vegetable oil in fuels — an ambitious move to reduce carbon dioxide and curb global warming. But these laws were drawn up based on an incomplete environmental accounting. Opposite to their intended effect, the tropical rainforests of Indonesia, which had made way for oil-palm cultivation -released stored carbon inside the forests.
NASA researchers say the rapid destruction of Borneo's forests contributed to the largest single-year global increase in carbon emissions in two millenniums. This explosion transformed Indonesia into the world's fourth-largest source of such emissions soon after. Instead of creating a clever technocratic fix to reduce American's carbon footprint, Western lawmakers had lit the fuse on a powerful carbon bomb that, as the forests were cleared and burned, produced more carbon than the entire continent of Europe.
(Visited 241 times, 1 visits today)