Mahindra Plotting an electric season: Battista, Formula E and Treo electric Three wheeler
Indian automaker Mahindra has made back to back announcements in the sphere of electric mobility for almost all ranges and segments. That is some serious intent backed by ability and investments
India's leading electric mobility leader, Mahindra Electric today has signed a MoU with Electric vehicle fleet operator SmartE to deploy 1000 Mahindra Treo and Trio Yaari E-three wheelers in the Delhi-NCR areas by March next year.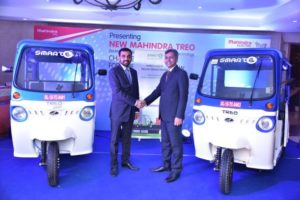 Mahesh Babu, CEO, Mahindra Electric, said: "As the pioneers of electric mobility, we are happy to join forces with SmartE to accelerate the adoption of electric mobility. India is witnessing rapid urbanization and metros are driving the multi-modal mobility needs of the large working population in urban cities. Associations with partners such as SmartE will make it easier to adopt electric mobility and enable our cities to be more environmentally friendly." He further added, "Built on India's first Lithium-ion battery, three-wheeler platform, we are confident that the Treo will transform the way urban India travels."
Both companies according to the joint statement will install a total of 10,000 Mahindra electric three-wheelers across the country by 2020.
The Indian Automaker has been kept busy this month with back to back announcements. The company is plotting an electric season.
Formula E
A flagship of Mahindra Racing unveiled its Gen2 Formula E car, which is the only Indian contender on the grid of all-electric motor racing championship.
"Formula E represents the cutting edge of EV technology and plays a strategic role in realizing Mahindra's vision of the Future of Mobility through our 'Race to Road strategy. Racing is at the pinnacle of global EV motorsport, it puts Mahindra on the fast track toward the development of an entirely new generation of EVs that offer clean, exciting yet affordable mobility to our customers," said Dr Pawan Goenka, Managing Director, Mahindra & Mahindra Ltd, and Chairman, Mahindra Racing.
Mahindra has won three races in Formula E so far and will be against big name manufacturers like BMW, Mercedes affiliated HWA Racelabs and Porche to name a few.
Drawn by the lure of Formula E as a test bed for future road-going electric car technology, global auto giants are starting to flock to the series. Formula E is set for its Fifth pivotal season yet. The championship flags off on December 15th in Saudi Arabia's capital Riyadh.
Battista

Luxury electric vehicles brand Automobili Pininfarina, which is a part of Mahindra Group, on Tuesday said it has named its upcoming luxury electric vehicle as Battista.
Mahindra & Mahindra Chairman Anand Mahindra said: "We are really proud and grateful that Paolo and his family have allowed Battista's name to be given to what will be a beautiful, elegant and technologically game-changing car."
Battista has the potential to accelerate to 62mph in less than two seconds, faster than a Formula 1 car, and break the 250 mph top speed barrier all with a potential zero emissions range of over 300 miles.
Based out of Europe, Automobili Pininfarina plans to manufacture around 150 Battista units, which will be available from late 2020 at a price estimated between USD 2 million and USD 2.5 million.
(Visited 338 times, 1 visits today)