Movement Launched for Irrigation Cover in Drought-Prone Kudligi in Karnataka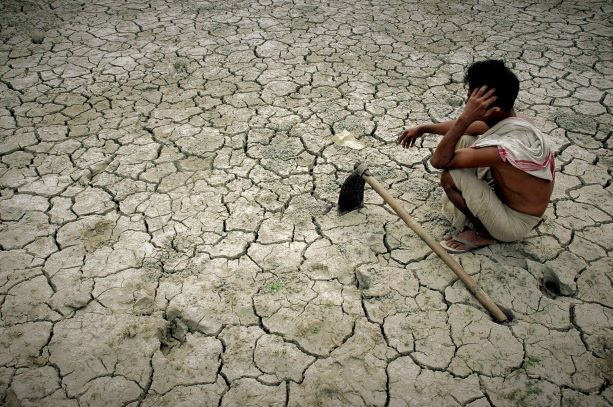 Parched taluk of Kudligi has been drought prone since the 1970's but despite many assurances, no action has been taken by the administration; fed-up by this farmers have restarted a movement to avail water for their farms
Frustrated with administrative apathy to solving their water problems, farmers in a taluk in Karnataka have started their own movement to get things moving.  The plan is to draw attention and the right action from the state government to provide irrigation cover in the chronically drought-prone Kudligi taluk. The movement has been launched under the banner of Samagra Neeravari Horata Samiti, which has people from all sections of society, including seers of various mutts. Taluk's are a subset of districts, where the tehsildar is the main government administrative representative, even as a district is run by a district collector. A typical Taluk will comprise of 5-6 villages or more.
"Kudligi taluk has the largest dry area and it is the most backward in the entire district. There are 54 existing tanks that provide irrigation cover. But due to vagaries of monsoon and continuous drought, the tanks have gone dry affecting agricultural activities very severely. Therefore, we have launched the movement to draw the attention of the State government about the plight of the people due to chronic drought and prevail upon it to chalk out a viable scheme for providing irrigation cover and filling tanks," said Sri Prashantasagar Shivacharya Swamiji of Kudligi Hiremath to regional daily.
Though the issue — chronic drought and the need for getting irrigation cover — was taken up a decade ago, hardly any progress could be achieved. There have been assurances from the elected representatives, but none have reached fruition. Meanwhile, the cropping areas in the taluk has fallen by 90% due to water scarcity and farmers want the state government to declare the taluk as drought-hit.
"As none of the elected representatives from the area evinced interest, Kudligi taluk was deprived of irrigation facilities and it continues to face chronic drought. As the situation was getting worse every year and it needs to be addressed urgently, the samiti was formed to not only intensify the movement but also to mobilise people's support to pressure the government to chalk out a suitable plan to save them from severe drought conditions," said Kakkuppe Basavaraj, a farmer leader now actively involved in the movement.
The movement demands that the State government get Kudligi included in the Upper Bhadra Project and allocate water for providing irrigation cover and filling tanks. The government can also consider providing Tungabhadra water from the existing Singatalur Lift Irrigation Project, near Hadagali.
Youths from various villages have come forward in support of the cause have been visiting all villages to mobilize people's support. Mr. Basavaraj said that a delegation would be meeting the Chief Minister and Minister for Water Resources and urge them to grant them their demands. As part of intensifying the movement, the Samiti has also planned to take out either a bike rally or a padayatra to Bengaluru later.
(Visited 517 times, 1 visits today)