Tesla Completes Battery Maker Maxwell Acquisition
Tesla has announced that it has wrapped up its takeover of battery equipment maker Maxwell Technologies.
US electric vehicles (EVs) and energy storage major Tesla today announced that it has finally completed its acquisition of Maxwell and it will officially be able to take over its battery technology.
The news comes after years of speculations; according to reports Tesla and Maxwell were for years over were looking for potential opportunities between the two companies, but Tesla became serious about acquiring them in December 2018.
In February, reports were making rounds that tesla had offered $218 Million takeover its battery equipment business, however, Tesla today confirmed that it is transferring stocks worth just over $235 million to take control of the company.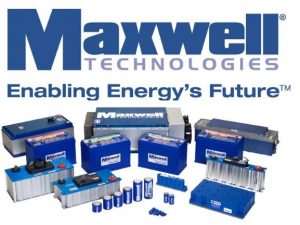 It is believed that Tesla is after the company's intellectual property. Maxwell is best-known as an ultracapacitor manufacturer, but it has also recently been discussing a dry electrode technology for batteries. The company's energy storage solutions are applied in renewable energy, automotive, heavy transportation and backup power, among other fields. Based on Maxwell's reports, the technology is promising when it comes to increasing the performance of Li-ion battery cells.
Maxwell claims that its dry electrode tech enables an energy density of over 300 Wh/kg in current demonstration cells and they see a path to over 500 Wh/kg. That's believed to be about 15 to 100 percent better than Tesla's current technology. They also demonstrate close to 90% capacity retention after almost 1,500 cycles and their cells maintain their capacity at higher discharge rates and much better than the same cells without their dry electrode.
Battery Recycling
There are hints in Tesla's 2019 Impact Report, the company discloses the impacts of its products and operations on the environment and local communities. The new report details the amount of greenhouse gas emissions, direct and indirect, generated by Tesla's various operations, including facilities; sales, service and delivery; and the Supercharger network. It also reports on progress towards the company's goal of operating its manufacturing, vehicle charging and other operations using 100% renewable energy. Of particular interest is a section on battery recycling.
'What happens to Tesla vehicle battery packs once they reach their end of life?'" reads the report. "An important distinction between fossil fuels and lithium-ion batteries as an energy source is that while fossil fuels are extracted and used once, the materials in a lithium-ion battery are recyclable….Battery materials, in contrast, are refined and put into a cell, and will still remain at the end of their life, when they can be recycled to recover its valuable materials for reuse over and over again."
The report also adds that "The closed-loop battery recycling process at Gigafactory 1 presents a compelling solution to move energy supply away from the fossil-fuel based practice of take, make and burn, to a more circular model," says Tesla. "From an economic perspective, we expect to recognize significant savings over the long term, as the costs associated with large-scale battery material recovery and recycling will be far lower than purchasing and transporting new materials." Through this system, Tesla wants to recover critical minerals such as lithium and cobalt along with the recovery of all metals used in the battery cell, such as copper, aluminum and steel. All of these materials will be recovered in forms optimized for new battery material production.
(Visited 63 times, 1 visits today)