Porsche's All-Electric Taycan To Come With 3-Year Free Charging in US
Porsche Cars in North America announced three years of Electrify America Charging service free of cost for Taycan owners. The company will provide coast-to-coast fast-charger coverage through public and dealer networks, plus home charging
Owners of the upcoming Porsche all-electric Taycan have one more reason to celebrate. The upcoming owners will get three years of free charging at hundreds of Electrify America public stations that will cover almost all the U.S. from east to west in the coming months.
This will also include access to DC fast chargers that will allow the Taycan, which is designed to have an 800-volt battery that can take a 350 kW charge, and get 60 miles of range in just 4 minutes. That charging speed blows away competitor Tesla, which has set up its own vast network of fast chargers called Superchargers.
Porsche has added another ante with free charging. After dillydallying with free charging with or without referral or test drive, Tesla's latest extension to its free charging services will now run through to at least March 11, 2019. This would mean the program will end even before Taycan hits the American consumers' market, and new customers could roll over to the German side.
Porsche and Electrify America announced the agreement on Monday. Klaus Zellmer, President and CEO of PCNA said, "Together, Electrify America and our Porsche dealer network will provide a national infrastructure for DC fast charging that frees future Taycan owners from range anxiety. And Porsche home charging technology will turn the customer's garage into the equivalent of a personal gas station."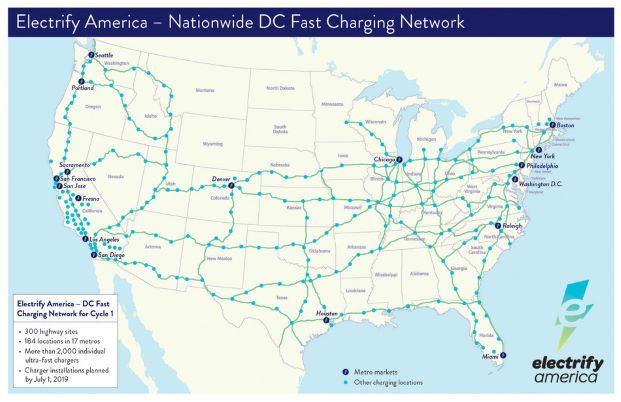 Together, the total investment to add DC fast chargers to Porsche dealerships will be about $70 million.
The Porsche Taycan, which is coming later this year, is hotly anticipated, even without the free access to Electrify America's network. But the agreement shows the automaker wants to ensure this electric bet pays off.
Electrify America will have more than 300 highway stations in 42 states and another 184 sites in 17 metro areas. Each location will have an average of five charging dispensers, with some having as many as 10. In all, Electrify America says 484 locations will be installed or under construction by July 1.
The highway stations will have a minimum of two 350 kW chargers per site, with additional chargers delivering up to 150 kW. Charging dispensers at metro locations will have 150 kilowatts of power.
The highway stations will be spaced along multiple routes, in less than 120 miles from each other. The distance between highway stations will be at average 70 miles.
In addition to this 484-station Electrify America network, all 191 Porsche dealerships will be installing their own DC fast-charging units. More than 120 of these dealerships will feature Porsche Turbo Charging, which is the automaker's own DC system that delivers up to 320 kW and also uses the CCS plug. The remaining dealerships will install 50 kW fast chargers.
(Visited 215 times, 1 visits today)