VW Continues to Fill Gaps for its Electric Battle with Tesla
The world's biggest car seller, Volkswagon is pulling all stops to grab pole position in electric mobility. The first month of the year has seen a flurry of announcements in pointing to a not so hidden desire to lead the EV transition
Volkswagen has set pretty aggressive targets for its electric vehicle offerings, after announcing mass production of the same last year. Now, it seems the company will be complementing its cars with electric car batteries as well as mobile charging stations, also mass produced in its native region.
Mass(ive) production
Volkswagen already has the capability of producing up to 50 million electric vehicles over the years through its newly built electric car facility.
If you think that number's too ambitious, consider the fact that the company was able to sell 10.7 million vehicles in the last year alone, so the 50 million figure is not really impossible. And to achieve this, Volkswagen has already set up its electric car manufacturing facility in China.
Volkswagen Group plans to invest heavily in EV  mobility -€34 billion have been budgeted up to the end of 2022 for e-mobility, autonomous driving, digital connectivity and new mobility services. Through its joint ventures in China, VW will be spending a further €15 billion on the electric offensive over the coming years.
While luxury car makers like BMW, Audi and Mercedes-Benz are bringing electric variants to their 'luxurious' offerings, companies like Volkswagen, Renault and others are aiming at the entry-level products. This was also made clear by Volkswagen recently when the company announced its entry-level electric car to be available at a price of $23,000  post its production. This positions it well under Tesla's Model 3, it's most pocket-friendly offering, which costs $45,000. For first time users looking for an easier n the pocket way to switch.
EV Charging/Battery Game
VW will be overhauling its component division, currently responsible for producing engines and steering parts. Last Friday, it confirmed an investment of 870 million euros (~Rs 7055 crore) by 2020 for producing e-vehicle components, including battery cells as well as recycling of old cells.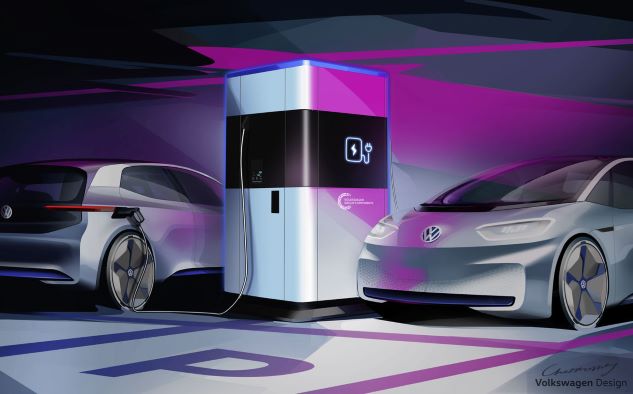 Now these are two verticals that every electric car manufacturer is looking to work in. A third component, largely restricted due to a requirement of heavy investments, are the charging stations. While Tesla has forayed into all three, Volkswagen claims to be doing it now,  with a mobile electric car charging stations.
That's right, instead of stationary charging stations, Volkswagen will be coming up with mobile ones, starting with its plant in Hannover, presently making engines and castings.
Another plus point of these stations would be the fact that they will be able to connect to the grid for a permanent source of electricity. If not, they can be exchanged for a new one once depleted. The mobile charging stations can also be powered by renewable sources like wind and solar energy, a rage in Germany, effectively bringing the carbon emissions of the electric cars charged through it to zero.
Volkswagen will initiate the mobile charging stations in its hometown, Wolfsburg, and further roll out to other cities in 2020.
Car For All &
Volkswagen ID. Family, according to the company, will maximize the possibilities of reaching everyone with EV technology, and will also be very competitively priced, i.e. prices will be similar to those of comparable diesel cars.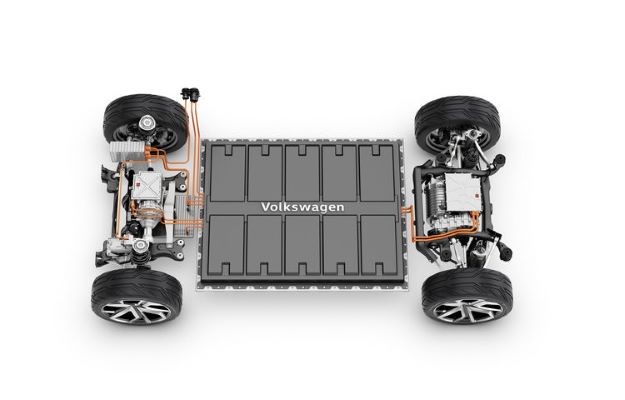 With the ID., the ID. CROZZ, the ID. BUZZ and the ID. VIZZION, Volkswagen has already presented four concepts that will hit the market from 2020.
VW confirms for the first time that it intends to open up its MEB platform for electric vehicles to competitors. according to the report by German daily, VW is already in "advanced talks" with some competitors, especially in the volume segment, Michael Jost, head of strategy of the core brand VW, explained but without naming any names. There have been rumors for some time that Ford could license the MEB as part of the expanded cooperation with VW.
This is how the brand plans to sell more than 1 million electric cars per year by 2025 in its quest to become a leading player in e-mobility.
Picture Credit: Volkswagen
(Visited 543 times, 1 visits today)