India's Cyclists Need Support. Here's What Can Help
Some of the most remarkable stories from the mass migration of workers during the lockdown have been the stories of people bicycling hundreds of kilometres home. The stories are important for the subject of bicycles too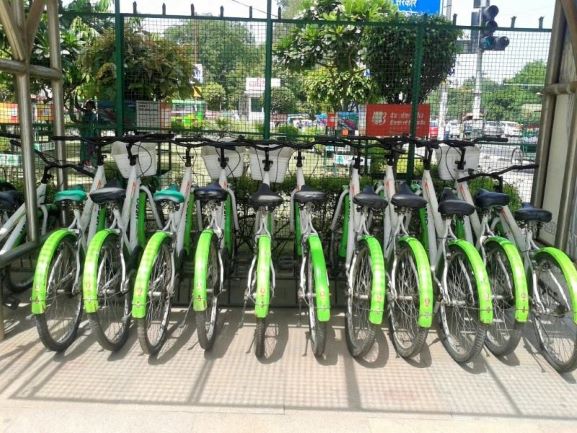 By Now, almost everyone has heard about Kumari, the 15 year old girl who carried her father all of 1200 kms from Gurugram, Haryana back home to Darbhanga, in Bihar.   Or the 20 year old Mahesh Jena,  the Odisha based youth who cycled almost 1700 km from Maharashtra to his home earlier. In both cases, these epic journeys were undertaken for survival, nothing more . And it is telling that when it came to  it, they turned to bicycles to do it. While both of them and many more among the thousands who turned to bicycles have been reported on, and even been celebrated for their remarkable feats of resilience and plain old courage, its time to focus on their transportation.
The cycle. It says something for India's love of big, and chasing   models elsewhere, that we have almost destroyed the opportunity, and necessity even,  to encourage the humble cycle as a mode of transport.  A TERI study in 2019 had pointed to potential savings of Rs 1.8 trillion by substituting to and four wheelers with bicycles for short trips.
The study also recommended bicycles for low-income households, for income-generating activities, cost-effective mobility and uplifting the socio-economic condition of women.
In 2016, India's first cycle highway was inaugurated in UP by the then chief minister Akhilesh Yadav. Barely a week had passed by, when the highway – passing through 92 villages in its 207 km length – had already started to disappear under encroachments by different shopkeepers and cattle-rearers to tie their buffaloes, store grain and straw and park their tractors.
Moreover, in several areas, the highway was seen being used by truck drivers which could very well damage the Rs 13,377.96 Lakh project since it was built for light transport.
India, when compared with other countries, comes across poorly in this critical green mode of transport. Which is shocking, when one considers the low per capita income of the country,  which should have made enabling cycling infrastructure a priority. Over the years, we have ceded virtually all public places to four-wheelers, killing off the cycling movement before it even began. In fact, why just cycling, we have even made the simple act of walking in our cities an ordeal.
Despite this, cycling survives, if not thrives, because it remains the only option for millions. A Survey on traffic indicates that cycling trips in India, account for approximately 15% of total trips in different towns. In large cities like Delhi, cycle trips account for approximately 10% of total trips in the city. That these trips have to be undertaken in positively hostile conditions is a travesty of our claims to be chasing sustainable living and planning.
Indian cities tend to have mixed land-use patterns. Mostly, they have comparatively short commuting distance. For example, around 60% are of less than 5 km and 80% of trip lengths are less than 10 km.
As always, intent abounds, action is missing. India's National Urban Transport Policy (2006) emphasizes the need for safe cycling infrastructure, however, the same is yet to be realized in both urban as well as rural areas.
Bicycle users in India are of two types: choice users and captive users.
For choice users, the use of bicycles has been curtailed because of the absence of adequate safe cycling infrastructure. Moreover, multiple financing options and increasing levels of income have enhanced the preference for four-wheelers.
Since captive users belong to low-income households, they have to depend upon cycles as their primary means of mobility. Because of lack of requisite financing options and high prices, bicycle ownership has remained stagnant among these individuals.
What Could Help?
Improved infrastructure in urban areas
As per TERI, people residing in urban area are apprehensive of using bicycles because of the increasing number of road accidents and the lack of cycling corridors. Therefore, the government should provide cycle tracks on all roads. The city mobility networks and road designs should include cycle tracks as their key component.
Cycle-sharing schemes
City and state governments can take incentives from The Ministry of Urban Development to introduce and encourage cycle-sharing systems.  Linking the provisions of cycle-sharing systems to funding programmes or schemes like the Jawaharlal Nehru National Urban Renewal Mission can prove to be quite effective. Startups like Yolo Bikes have already shown the way here.
Once the infrastructure is made more bicycle-friendly, awareness programmes will become important. People can then be educated on the benefits of cycling through campaigns.
Cycles as a means to enhance  women literacy in rural areas
It's not like politicians donot understand the power of bicycles. Its surprising that they haven't done more about it. Cycles have helped to enhance social development amidst low-income groups.
For example, in Bihar, in 2007, the free of cost distribution of cycles to the girl population by the state government, resulted in a reduction in the gender gap in enrollment by 25%. It also positively impacted the female enrollment in secondary schools by an increase of 5%.
In Chhattisgarh, the Saraswati Bicycle Supply Scheme for girls has helped to double the enrollment of female students in secondary schools in just five years.
Such schemes could be implemented by all states and with emphasis on women.
Waiving taxes on cycles
One of the major reasons as to why more than 50% of rural Indian households don't own cycles is lack of financial resources. Group discussions led by TERI five villages in Bihar and Uttar Pradesh along with a survey of approximately 1,200 cyclists in six cities – Jhansi, Delhi, Meerut, Bangalore, Jaipur, and Surat – concluded that lower-income households find it quite challenging to buy cycles.
The study recommended that in order to increase cycle-ownership in the country, the government should consider waiving taxes on bicycles costing less than Rs 5,000.
Although the exemption of taxes will cost the state and central governments nearly Rs 260 crores, when compared to subsidies – like fuel subsidies- given to buyers of motor vehicles, it would be a relative pittance. Even in the past, in 2012–2013, the Government of India shelled out about Rs 92,000 crore as its petroleum subsidy.
Simpler finance schemes
Cycles constitute a source of income generation amongst low-income individuals in villages, towns and cities. They use cycles for the transportation and selling of local farm products from villages to markets. However, the priority sector lending scheme does not have the provision for disbursing loans for cycles. The reason is that the ticket price of the loan is quite small. Hence, cycles are not considered as productive assets for low-income households.
The provision of an easy finance scheme for lower-income groups can substantially boost the demand for cycles.
Nikita Lalwani, the first bicycle mayor of India for Baroda believes that cycling serves as a medium to bring economic, social as well as cultural changes in the Indian society which has started to follow a sedentary and unhealthy lifestyle in the digital social media crazy age.
To spread her vision of bringing back cycles on Indian roads as commute choice instead of just endurance and morning recreation, she has set up TRING: Try Cycling Pilot project.
A group of bicycle enthusiasts from various walks of life, including professionals and social activists, launched an organization called Manipur Cycle Club and have managed to redefine the idea of green transport.
Manipur is the first state of India to introduce Bamboo Bicycles. The club also organized the fifth Critical Mass of cycle enthusiast cycling together on the streets of Imphal in 2018.
To promote cycling as a means of daily transport rather than just a sports activity, the club has listed down some measures that can prove to be effective:
National Transport Policy must mandate dedicated cycle lanes on all main roads.
providing cycle parking spots at all major locations
Introducing stringent vehicular pollution checks to remove polluting cars that can push a segment towards cycles as well as make the air cleaner for cyclists.
Provide rebate for high-end cycles that have good riding comfort and are lightweight, in order make them easier to adopt for people living in apartments as they can carry them to their houses instead of leaving them unguarded outside.
In certain European countries, cycles can be carried onboard trains enabling an efficient multi-modal transport system.
With Inputs from Aarushi Mahajan
(Visited 538 times, 1 visits today)