Ashok Leyland's First Batch of EVs to Hit the Roads in January, confirms Departing MD & CEO Vinod Dasari
Outgoing Company Managing Director Vinod K Dasari has confirmed that Ashok Leyland's electric vehicle plant is ready in Chennai and the first batch of vehicles will run in Gujarat by January 2019.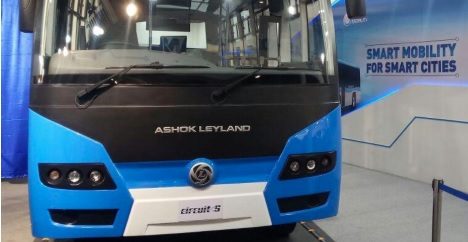 The markets are still digesting the sudden news of the resignation of  Vinod K Dasari, Managing Director and CEO, Ashok Leyland, after 14 years at the helm of one of the country's premier commercial vehicle and defence equipment maker. Ashok Leyland's share prices fell 10.5 percent on Wednesday. Amid all the market chaos , a major development has almost been missed out at the firm. 
Speaking at an event a day before his resignation was announced, Dasari confirmed that the first set of electric vehicles manufactured by Hinduja Group flagship Ashok Leyland would be rolled out by January 2019 and that the electric vehicle plant was ready in Chennai. "You will see the first set of electric vehicles actually running in Gujarat. It will be during 'Vibrant Gujarat' (global summit) in January", he said.
In September, during the company's 70th-anniversary celebrations, Ashok Leyland inaugurated its first electric vehicle facility in its Ennore, Chennai plant regarded as India's first integrated facility for design, prototyping, testing, process prototyping, and solutions design. 
"In our 70th year, we are laying the foundation for our future. The EV Centre in Ennore will give us the edge throughout the evolution of eMobility. Currently, we are the only OEM globally to offer different Energy Management strategies and an architecture which is modular. Our plan is to start working on new product platforms in EVs such as eLCV, Low Floor City Buses, Last Mile Connectivity, and Power Solutions products. We have also launched a host of new Business Models including eMaaS (eMobility as a Service) and eMSol (eMobility as a Solution) which ensures that we are closer to our end customers and capture more value. The Government's eMobility vision is an opportunity for the country to save Forex and to reduce Oil dependence. For the industry and us, it is an opportunity to reduce total costs of ownership and, more importantly, be at the very cutting edge of technology for the first time," Dasari said at the time.
The Gujarat government is scheduled to hold the ninth edition of the Vibrant Gujarat Global Summit in January 2019. On plans to set up a manufacturing facility in Andhra Pradesh, he said the plant was almost complete and the company was waiting for the government to lay the connecting roads.  "The plant can assemble any type of buses, including electric vehicles", he said.
At present, the Chennai facility has the capacity to take care of about 5000-10000 vehicles per annum, with different battery and charging options. The company will leverage start-ups in India as well as from abroad, to bring in innovative yet cost-effective solutions at both its facilities.  With cities across India, starting with the capital Delhi,  and then Bengaluru beginning to place their first orders for electric buses, the market would seem to be ripe for Ashok Leyland's e-buses, although competition from Chinese firms can be expected to be fierce. 
(Visited 468 times, 1 visits today)