Seventy of India's Top 100 Corporates Shifting to RE: WWF Report
Giving a boost to the Renewable energy sector in India, a new report from WWF India says that 70% of top Indian corporates have shown increased uptake of Renewable energy.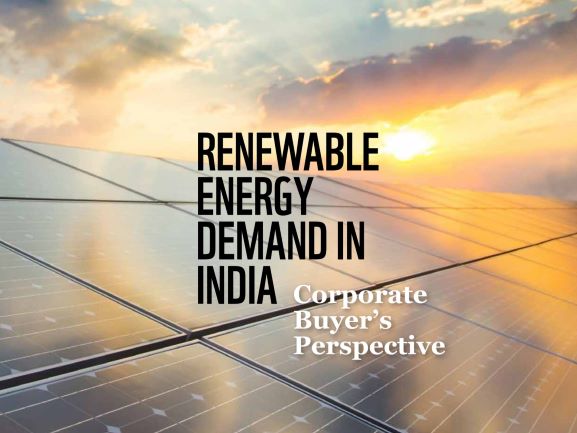 Indian Corporate buyers of RE is a big market
The report titled, 'Renewable Energy Demand in India: Corporate Buyers' Perspective' was launched by Mr. Jamshyd Godrej, Chairman, Godrej & Boyce in Mumbai at a WWF-India and The Climate Group event.
The report provided an outlook of corporate renewable energy buyers and also highlights the increase in corporate RE procurement trends. The report elaborates on the rationale for the change as well as discusses challenges that the corporate sector is facing for the uptake of RE.
"The corporate sector has a critical role to play in supporting the sustainable growth of the economy, and for India to achieve its ambitious renewable energy targets. About 70% of the top 100 companies on the NSE are already procuring RE, 27% have made greenhouse gas commitments, and 22% have made renewable energy commitments." Said Mr. Ravi Singh, Secretary General and CEO, WWF-India.
The corporate sector in India makes up to 50% of the energy demand in the country and forms a prominent base of consumers of India's ambitious 175 GW target by 2022. The corporate sector has been procuring RE through captive generation, power purchase agreements, or purchase of Renewable Energy Certificates (RECs), voluntarily or for compliance reasons.
"However, while the business case is strong, for procuring RE, 50% of the companies interviewed, identified policy and regulatory challenges, 30% mentioned infrastructural and technical issues and 15% identified financial barriers, restricting corporate renewable energy uptake", said Ms Bhavna Prasad, Director, Sustainable Business, WWF-India.
That is understandable, as India is one of the few countries where RE power has reached grid parity or even lower, thanks to a billing system that charges a premium from industry to subsidize households, or even free power to farmers. A move to an open access market system could potentially start a rush of corporates to renewables, though it is very unlikely with the present state o discoms in the country.
The Report calls for Science-based targets as the basis of RE procurement by the corporate sector. For policymakers, it suggests long-term policy and regulatory stability, focus on storage and enable greater choice and flexibility in procuring RE, such as unbundled power through Discoms, exchanges at preferential/direct contract basis. The report adds that not only would it propel greater uptake of RE in India, but also generate greater business for the Discoms, while reducing the chances of them losing existing customers.
WWF-India, in partnership with Confederation for Indian Industry (CII), at the event launched Renewable Energy Demand Enhancement (REDE) initiative for corporate RE buyers.
(Visited 272 times, 1 visits today)