An Appeal: Take up Gardening This Environment Day!
Our trees need our help at the time when air, water, and land have been polluted to such levels and gardening brings to you that sense of fulfillment and purpose.
Today marks a rather special day in the calendar- along with Eid, around 100 countries are also celebrating the World Environment Day. This year China is hosting the global event whose theme is #BeatAirPollution. International agencies past year have rung bells all across the world, what climate scientists have been saying for at least a decade. The cry has been the inspiration of blockbuster movies which we all have seen and enjoyed. But much like life, we have not understood the essence of the issue shown through VFX. We still want to live carelessly, hoard cars and fashionable clothes and live comfortably; and all that has been going on for a few centuries now after the first industrial proliferation. Yes, I will not term it a revolution as that has led to many wars, famines, floods, droughts where millions of people and the environment paid a heavy price for things that have led us to live carelessly.
Did You Know? Air pollution kills over one million people in India annually.
So why an appeal to garden, you may ask? I want us all to take one good look and remember the last one unselfish deed. I tried and I couldn't come up with anything except doing little charity or failing to teach some children, who were already struggling. On the other hand, my ma, who despite her myriad health problems, keeps smiling. Reason – her garden- which once was called a mini Gulmohar park in our society. I have lived the early decades of my life in South Delhi and recently shifted to a posher society which is more than a few floors above the ground. This change kept us happy as we lived for a good 20 years on the ground floor but made my mother miserable. The reason – her garden. You see, once we moved, we had to leave behind all our 350 plants potted or planted in the ground behind. These included about a hundred roses, palms, bamboo, fragrant-all-year-round flowering plants like jasmine, Raat ki Raani, many types of hibiscus, pomegranate, Shahtoot and many more that even I, who wasn't a fan of watering plants in the frigid Delhi winters, have started to miss. My mom developed anxiety and felt lonely but after a few months of meditation and medications, has started to feel better. The reason Her Garden.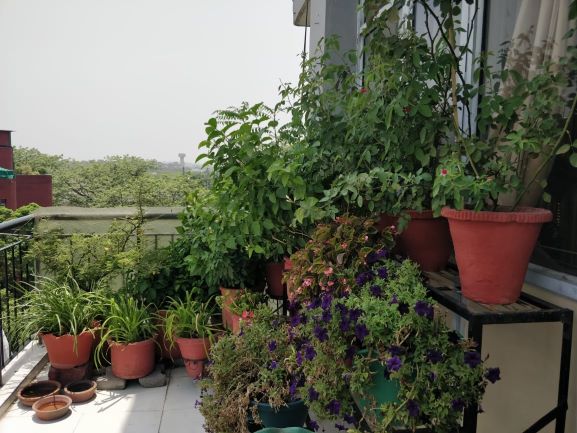 You see when my dad, sister and I leave she is left without the company of not just man but also nature. But the resilient woman that she is, she has bought step-stands and has planted 5-6 roses, Shammi, tulsi, banana, seasonal flowers, and lemon. While my sister and I protested earlier because the whole contraption took away our beloved, spacious balcony, my mom got her peace of mind back. She now waters this small green space every day without fail, mornings and evenings. Keeps water out for birds and watches them drink and offers them something to eat, as a routine. The monkeys have also become regular visitors and create a ruckus if we forget to fill the water bowls or put some roti for them. Even with this small space, she has done wonders to the place and our old gardener, after going AWOL for 6 months, has become regular in maintaining these plants.
Did you know? A human breathes about 9.5 tons of air in a year, but oxygen only makes up about 23 percent of that air, by mass, and we only extract a little over a third of the oxygen from each breath. That works out to a total of about 740kg of oxygen per year. This is about seven or eight trees' worth.
So as I was writing about the Environment day and #SelfieWithSapling, I realized my picture down below already has that. And realized, as I sometimes help around, gardening brings to you a sense of fulfillment and purpose. So, when I saw a contractor excavating a tree nearby, it tugged. We need this now, to feel for our trees (maybe not as strong as Bran Stark had with the weirwood tree, but I think you get my point). We need that emotional connection that our parents and grandparents had with nature. The moment you plant any sapling it becomes a part of you and when anyone harms them in any way you behave as a guardian to a child. This is why gardening is needed. It is one such activity which strengthens our bond with nature because like a child, you see the plant grow, fruit and become independent. Hence, my appeal is simple. Encourage everyone to go get their hands dirty, plant some saplings whenever you see a barren patch. Water it. See it grow. This is how we will be able to save our environment, our air and our futures. And once again Happy World Environment Day!
(Visited 885 times, 2 visits today)