China, India fast becoming the twin engines of renewable growth
Between 2007 and 2016, the world saw its solar power generation increase by 50 percent per annum on average, while wind generation increased close to 20 per cent annually. While the charge for renewables was led by developed markets, especially Europe, a majority of the recent push for the same is coming from developing nations, specifically India and China.
According to international credit rating agency, Moody's, in 2018, emerging markets of China and India will overtake developed nations in terms of capacity of renewable energy in the form of wind and solar power that is installed.
China and India, which are now the biggest and third largest renewable electricity markets in the world according to the International Energy Agency's (IEA) 2017 Renewables report, are a part of a three country group that is set to account for two-thirds of the global renewable expansion to 2022 per the World Economic Forum. The US makes up the third part of this troika.
This push from developing nations is partly due to renewables competing with conventional sources of energy in terms of pricing and even market reach. Case in point here is India, the fastest growing economy in the world, where solar tariff rates continue to drop across central and state-wise tenders even after the much opposed implications of the safeguard duty. A recent tender floated by Madhya Pradesh Urja Vikas Nigam Limited (MPUVNL) for the development of 35 MW of grid-connected rooftop solar under RESCO model saw bids as low as INR 1.58/kWh ($0.022/kWh), beating all previous rates by a considerable margin.
For both these countries, the shift to solar had to ride environmental concerns and pragmatism, and the drop in prices has opened up a whole new opportunity.  making it possible for these countries to target increases that would have been considered fanciful just 5 years ago. According to the 2017 IEA Report, China alone is responsible for over 40% of global renewable capacity growth, which is largely driven by concerns about air pollution and capacity targets that were outlined in the country's 13th five-year plan to 2020. In fact, China already surpassed its 2020 solar PV target, and the IEA expects it to exceed its wind target in 2019. China is also the world market leader in hydropower, bioenergy for electricity and heat, and electric vehicles.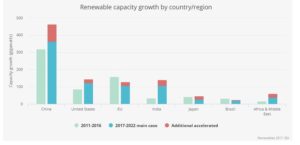 Last year, China added 50 GW of solar power capacity, according to the IEA, which was combined more than it added for coal, gas and nuclear power capacity. India added around 9.5GW of solar capacity to its energy mix, and is on course to hit 28GW by the end of 2018. Nearly 6 times the capacity it had at the end of 2014. India also saw  renewable capacity addition overtake non renewable capacity addition for the first time in 2017
By 2017, the price of solar modules had fallen more than 80 per cent since 2009, according to the International Renewable Energy Agency, while that of wind turbines had fallen by about half over the same period. There are signs, however, that the momentum could be about to slow down.
The biggest risk comes from recent changes in policy. In June, the Chinese government decided to cut incentives for solar power. Wood Mackenzie, the energy market research company, said it expected China to add 20GW less than previously predicted as a result. While a slowdown in installations is likely to cause Chinese solar-panel makers to sell their products even more cheaply on the global market.
There are signs that other governments are beginning to resist the flow of cheaply made imports. The three supposed drivers of the solar sector, mentioned earlier (China, India, US) have recently seen a lot of trade disputes hampering business between them, and if sustained it might slow down the growth of the industry.
Sanjeev Aggarwal, Founder and CEO, Amplus Solar, said, "I'm not sure whether the imposition of the Safeguard Duty will benefit the Indian manufacturers, pointing out that Chinese manufacturers can be expected to find ways to reduce the prices."
However, no one is betting on the growth slowing down too much, counting instead on technology and pressure to do more for the environment to ensure growth for the sector for the foreseeable future.
(Visited 192 times, 1 visits today)