Worth Their Salt: Women's Role in Rural India's Clean Energy Transition
SEWA and NRDC study in Gujarat makes a successful case of how women can be involved in Clean energy transition in the rural parts of India.
The Little Rann of Kutch (LRK) in Gujarat, India's westernmost state, produces nearly 76 percent of the nation's salt. But even with its giant share in India's salt market, the people 'Agariyas' who produce them are one of the most backward classes in India.
The economic disparity is even starker for women Agariyas. The Self-Employed Women's Association (SEWA) and the Natural Resources Defense Council (NRDC) partnered together with women "agariyas" or salt farmers to transition salt production away from expensive and polluting diesel and toward more efficient, solar and solar-hybrid water pumps.
A different approach
The latest case study, "Worth their Salt: Building Skills and Improving Livelihoods of Women Salt Farmers in Gujarat through Clean Energy Solutions" throws light on how training programs and improved livelihoods of women salt farmers to transition from diesel pumps to more efficient solar pumps can make a difference.
SEWA's engagement in the LRK started in 1992, and now 15,000 agariya women workers are members of SEWA. As many as 43,000 agariya families work in the LRK each year. The majority of them use inefficient water pumps powered by expensive and polluting diesel to produce salt. This diesel accounts for over 40 percent of the agariyas' annual income, which left very little savings for livelihoods of the salt makers.
This led SEWA to analyse renewable energy technologies, including off-grid applications to help the impoverished agariyas. They later zeroed in on solar and solar-hybrid pumps as the most viable alternative to diesel-based salt production. What started as a technical test-case of 14 solar and solar-diesel hybrid pumps in 2013 has scaled to over 1,700 pumps by January 2019, with a goal to further expand to 15,000 pumps in the coming years.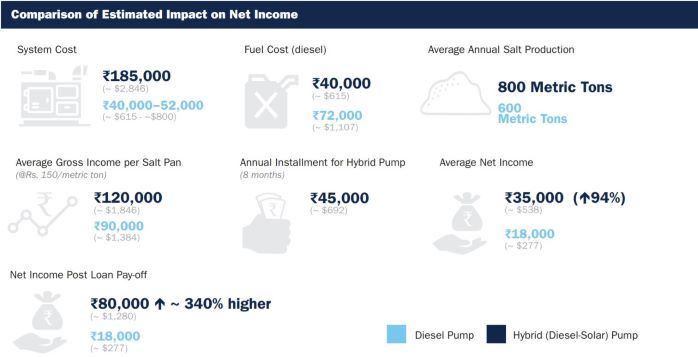 The key findings:
Annual Income Increases: By shifting to a hybrid system based on solar and diesel, purchased on loans, agariyas or salt-farmers can increase their annual salt production and reduce, even eliminate, expenditure on diesel. Their annual net income can increase to Rs. 35,000 ($538) per saltpan—94 percent more than using diesel pumps.
Training Programs: SEWA's focus on developing the necessary skills for solar pumps has played a critical role in expanding the use of clean energy for salt-farming. SEWA launched a three-part training program: 1) create a core group of "master trainers" to support the women agariyas, who can answer on-the-ground questions about technical installation, operation, and maintenance of the solar panels and pumps; 2) master trainers instruct groups of women agariyas and their families in the use and maintenance of solar panels and pumps, training over 3,000 agariyas to date; 3) women agariyas have access to subject-specific training modules throughout the year, in addition to informational posters, videos, and pamphlets.
Increasing Financing: A lack of access to affordable, widely available institutional credit is major barrier in scaling off-grid renewable energy applications amongst low-income households. But replicable innovative financial solutions helped women agariyas access credit and scale the project to more than 1,700 solar-powered pumps in the Little Rann of Kutch by January 2019, and on track to reach over 15,000 pumps.
Economic Growth: Women agariyas use the additional income to pay for their children's education and pursue additional income-generating activities such as running small flour mills and raising cattle; this has ensured asset building and ownership, financial inclusion, and improved social recognition of women as breadwinners.
Health and Pollution Benefits: Solar pumps also result in health benefits by reducing agariyas' exposure to harmful diesel pollution; SEWA-NRDC analysis shows that reducing the diesel consumption for half of the 43,000 agariya families in the LRK through solar-diesel hybrid pumps and the other half through only solar-only pumps can avoid up to 115,000 metric tons of carbon dioxide (CO2) emissions per year.
Their new case study shows how women are part of India's clean energy transformation and climate change debate. The training programs on technical solar installation and operations are essential to empowering women to make a living through clean energy. The shift to clean energy resulted in real-world improvements from increased incomes, economic growth, and health and pollution benefit.
(Visited 482 times, 1 visits today)