Lead Acid Battery Makers Return Fire To Skeptics, Promise a Long & Bright Future for Lead Batteries
At an online interaction, battery manufacturers and lead producers got together to make the case for lead acid batteries. While this might be a response to how quickly the narrative on storage has shifted towards lithium ion batteries, we believe there are enough new technologies under development to combat the issues with Lithium Ion storage, to keep the market evolving for some time to come.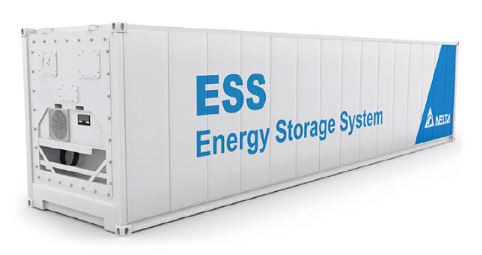 A containerised battery storage system
India's organised lead acid battery manufacturers made a strong pitch for the continued relevance of lead acid batteries, at a webinar organised by the Indian Lead Zinc Development Association.
L. Pugazhenthy, Executive director, India Lead Zinc Association said (ILZDA), "India consumes an estimated around 1 million tons of used lead-acid batteries for recycling economy each year and about 25-30% of this goes to the informal operators.  Lead-acid batteries have the largest share; it is an energy source, affordable battery, and a dependable and reliable product. Batteries are used to store and supply electricity to electric vehicles, street lights, automotive, railway, inverters, telecom towers, and solar energy when grid power fails".
Supported by Hindustan Zinc in association with Indian Battery Manufacturers Association (IBMA) and India Energy Storage Alliance (IESA), the webinar featured a host of speakers making the case for lead acid batteries. The context in most cases was the comparison with Lithium Ion batteries, where the latter seems to have stolen a march, at least in public perception.  Hindustan Zinc is the largest lead producer in India.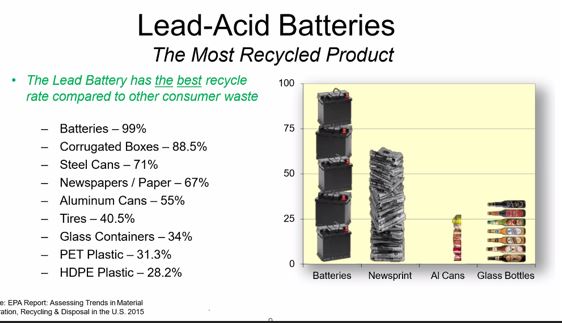 Speakers highlighted aspects of lead acid batteries that seem to be underappreciated today. They are cheap enough to never require subsidies in almost any situation, can be recycled with very little net remnants, and provide a proven and safer option for storage, unlike other sources. Most important was the stress on the availability of key raw materials in a country like India, something that cannot be said for lithium Ion chemistry based batteries.
 India is one of the highest consumers of Lead-acid batteries. Recycling of used Lead batteries is essential to ensure the need for sustainable development.
The dignitaries present at the event were, Mr. Subhankar Chakraborty, Senior General Manager (R&D), Exide industries Ltd; Mr. Rahul Prithiani, Director, Credit Rating Information Services of India Limited (CRISIL); Dr. Alistair Davidson, Director, Consortium for Battery Innovation (CBI) and Mr. Amlan Kanti Das, Sr. Vice President-Battery Operations, R&D, Luminous Power Technology Pvt. Ltd. and Manoj Soni, VP, Business Excellence, Sustainable Operation & Technologies for Lead Processing, Hindustan Zinc.
There have been various Lead Battery implementations carried out previously across the world. Narada Power Source had partnered with energy storage operator, Upside Group, in a 16 MW frequency regulation project for the German power grid. The 25 MWh frequency regulation installation was connected to the local utility grid providing electricity to the area. A 20MWh lead carbon battery by China Shoto Energy Storage stores and provides electricity generated by the PV panel directly into the Chinese grid. This battery system can provide 30 MW of solar power and can reach 4,000 cycles at 70% depth of discharge. The 1MW off-grid solar systems, located in the mountains of Bamyan, Afghanistan, uses lead batteries curated by Crown Battery. This project provides 24-hour power to 25,000 homes, businesses, hospitals and government officers for this central mountainous region. The lead batteries are built with a capacity of 38 strings at 4,500 Ah 48 V DC.
According to India Energy Storage Alliance (IESA), the Indian energy storage market is expected to grow to 70 GW by 2022. Consequently, there is a vast scope for advanced storage technologies in the new applications, along with the opportunity for existing technologies. Lead acid batteries are the most used form of battery for most rechargeable battery applications.
While on will be hard pressed to disagree with the assertions made by the subject experts, the fact  remains that lead acid battery manufacturers have not matched the narrative of lithium ion batteries. Especially on issues like safety, cost(accessibility) and ease of manufacturing and recycling, where they have a huge advantage. Perhaps it is due to the fact that their best use case sector, automotive, has been caught by a sudden  increase in the push for electrification, where lead acid batteries don't seem to have the same advantages as they have with internal combustion engine vehicles.
It is ironic that even lead acid manufacturers make news headlines when they invest in, or announce plans for lithium ion manufacturing. That itself should signal the challenge the industry faces in public perception.
We believe there is no doubt that like Oil, lead acid batteries have been subjected to excessive pessimism, and these batteries, using technology that has changed little from the first time it was invested in 1869, will continue to be around right to the end of this century even.  Even as Lithium battery prices fall, lead acid batteries will retain a massive price advantage to 2030 and beyond, making them a viable storage option for many people and situations, despite the lower energy density and discharge rate.
Interestingly, even the energy required to make lead acid batteries is almost a third of lithium ion batteries, making them a greener option when combined with their potential recyclability of 99%.
Finally, safety remains an issue big enough to ensure that even today, many areas are considered off bounds for Lithium battery usage due to fire hazards. As we saw with the fire in a Tesla Megapack cluster in Australia, lithium ion fires can be very tough to put out, while lead acid batteries have a very clean reputation that way. After all, there is a history of over 150 years with these work horses of energy storage.
(Visited 832 times, 1 visits today)