Andhra Pradesh Tenders For 25,000 Solar Water Pumps
The New & Renewable Energy Development Corporation of Andhra Pradesh Ltd. (NREDCAP) on Wednesday issued a tender to procure 25,000 off-grid solar photovoltaic water pumping systems. The 25,000 solar pump sets will be of two categories i.e. AC solar pump sets and DC solar pump sets. The e-tender mentions that 20,000 pumps will be AC and the remaining 5,000 will be powered by DC motors. Interestingly, the tender comes almost at the same time as a report that claims India can make huge strides in meeting its solar installation targets, conserving water, and reducing power subsidies by investing in solar pumps.
Pre-bid meeting will take place on August 7, 2018, which will address all the queries raised by the interested parties via the department's online portal until 6th August. The last date for bid submission is set for August 21, 2018, and the submitted bids will be processed the next day on the 22nd of August. Technical bids will open on the same day and the financial bids will open on August 31, 2018. The successful bidders will be issued LoA (Letter of Agreement) and invited to sign the tripartite agreement with the procurer, NREDCAP and the supplier.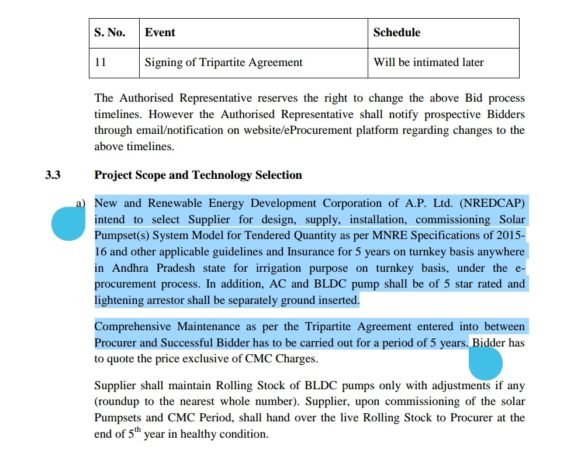 (Tender)
The scope of work for all winning parties will include the design, supply, installation, and commissioning of water pumping systems after signing on an EPC agreement. Apart from these, the winning bidders will also be responsible for successful operation and maintenance of the solar pump sets for a period of 5 years from the date of commissioning.
This is the second tender issued by the state for procuring solar water pump sets, the initial tender for 5,000 pump sets was released back in January. Neighbouring state Telangana issued a tender to install solar-powered water pumping systems across the state with variable capacities which will be either of 3HP/5HP/7.5HP, as a part of the ongoing Jawaharlal Nehru National Solar Mission's (JNNSM) Off-grid and Decentralized Solar Applications (read the report).
This tender has been released just a day after a joint council of Greenpeace India, GERMI and IWMI – Tata released an analysis, that if solar pumps were to replace traditional water pumps in farms across the country, India could surpass its solar target of 100  GW by 2022 (read the report). Recently, India's Minister for Power, R. K. Singh, had said in Lok Sabha, "During the financial year (FY) 2017-18, a total of 96,376 solar pumps were sanctioned in various states for both irrigation and drinking water purposes, and 10 percent of the pumps were sanctioned to the states to be utilized for drinking water purposes."
 copyright:iamrenew.com
(Visited 526 times, 1 visits today)