WSDS 2019: Plenary on Clean Air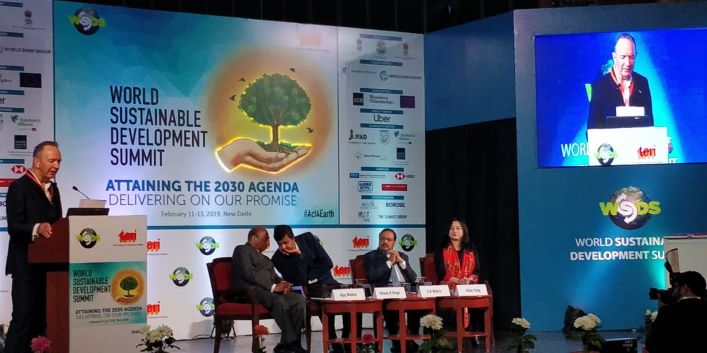 At the World Sustainability Development Summit in New Delhi, organised by TERI, clean air took centre stage on day 2.
Building on the momentum of last year's summit, The Energy and Resources Institute (TERI), one of India's leading think tanks, kickstarted the World Sustainable Development 2019  Summit (WSDS 2019). The summit was inaugurated by Shri M. Venkaiah Naidu, Hon'ble Vice President, at Vigyan Bhawan yesterday in New Delhi.
The event is holding discussions around the various issues that have been in the limelight for many years. After interacting with a few delegates one got the sense that the event is seen with optimism and with hope for pointers on future direction. Mr C K Mishra, secretary,  MoFCC started the plenary session today on clean air stating that India and Indians did know that there was a problem but didn't have any information. The series of air quality studies by local and international institutes have provided the arsenal to combat this problem head on.
He added that we need to find the resources and the technology to address the issue of air pollution. He reiterated that Indian government is more than happy if innovations and ideas are shared with the government to help in tackling air pollution. When asked about why India's clean air programme had only 102 cities on its list he explained that the 30 % reduction in these 102 cities was chosen after 5 year study showed that their air has not improved in the period. City specific plan was needed to first solve the air pollution problem among these 100 plus cities and then later other cities will be added to the list. We think the city specific plan could be a credible solution since every city battles more or less same problem emanating from different sources.
But a bigger challenge might be to involve stakeholders beyond the government, as we have repeatedly seen that on these issues, the government processes have a risk of falling short, or worse, ending with a cess/fine and little more.  Also, there is a real risk of trying to transplant solutions that have been tried elsewhere, without taking into consideration the special situation of specific cities. In India itself, look at the impact say, stubble burning has on Delhi air, versus the untreated waste in Bengaluru.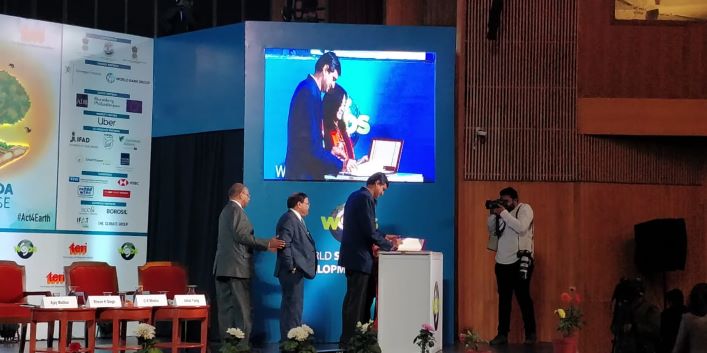 Furthermore, maintaining his realistic point of view, he highlighted the role NGO's  can play in participating in the endeavour, and included that their participation even in the transport sector would be helpful. He said, "Create institutional capacity for people to participate in cleaning their air."  The people involvement came through with the stress on an innovation led aproach, translated loosely as an approach that would look at using external inputs and suggestions to make it work.
Allun Yang from Bloomberg philanthropies who was present at the plenary added that Bloomberg has invested $702 million dollars in India till 2017. She talked about 'America's pledge'- which brings institutes big or small under the Paris agreement. While she touched upon Trumps' recent reversal over climate change, she maintained that Bloomberg philanthropies as  well as Mr Bloomberg( Ex Mayor of NYC) remained committed to the environment,  like California  state that has taken tough measures on emissions control. She added that Bloomberg Philanthropies are the knowledge partner of national clean air programme. An MoU was signed to mark the occasion.
(Visited 237 times, 1 visits today)