WSDS 2019: The Plenary for Cleaner Oceans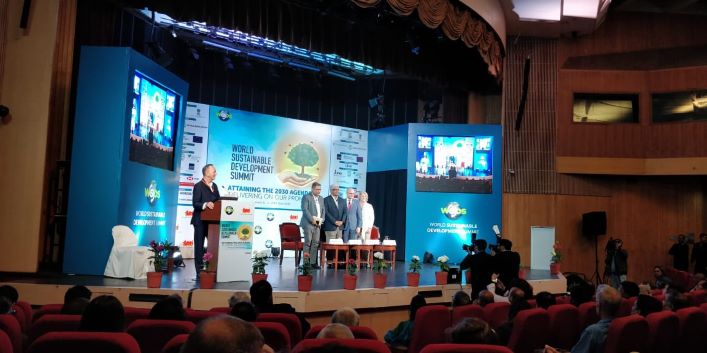 The plastics assault on the world's Oceans took centrestage at the plenary on Oceans. Speakers stressed on the need to tackle that at priority, and count on the Ocean's ability to heal themselves.
The WSDS plenary on 'Moving Towards Cleaner Oceans' saw Mr M Rajeevan, secretary of Ministry of Earth Sciences talk about Oceans and the rising problem of ocean pollution due to plastics. Mr. Vidar Hegelson from Norway's Ministry of foreign affairs and special envoy for the ocean said, "The Ocean is very important, so much so that every second breath we take comes from Ocean. He further elaborated on how oceans are a food source for 3 billion humans now and this number is set to double in the coming decades. "Plastic pollution is the fastest growing problem in the world." and added that, "ending plastic pollution needs a different level of work" it is not a singular problem as other pollutants from agriculture also add up. Another huge problem is climate change which is now interacting with the plastic and making things worse for the Ocean's ecosystem. "There are so many sources that we don't even know many of them, like the biggest source of microplastic in Norway is rubber dust from car tyres followed by rubber fragments from football equipment." he informed the entire session. An eye opening perspective indeed for the largely Indian audience.
He went on to say that there is a need to connect the dots between the interaction of  land and oceans to solve the problem of plastics. he added that 'Spatial planning for land and ocean' is needed. If we can plan in systematic way, we can unleash a huge opportunity for oceans to help retrieve their regenerative attributes. On opportunities he spoke about the value addition to the plastic waste retrieved from the ocean so that the companies find recycling plastic profitable. Value addition of plastic, decarbonising sea-borne vessel's fuel, offshore wind and other opportunities like aquaculture can provide huge opportunities for people and create jobs. For readers who may not know, most of the world's trade carried out through shipping uses furnace oil, one of the lowest and most polluting, distillates from crude oil.
Another dignitary, Annie Notthoff from NRDC said, "Connection between ocean and coast has shaped the ocean protection programs in US and the Ocean regenerates if we give it a chance." She further supported Vidar and said that, "Plastic pollution is created on land and the ocean is a victim." She highlighted the immense business that ocean tourism creates in US, "$45Billion dollars are pumped by ocean tourism to US economy." She added that California, the fifith largest economy in the world on a stand alone basis, is trying to bring the ethos of ocean conservation into its climate efforts. She added that "Injecting ocean management into climate change policy change internationally as well as locally" can produce results. Focus on cities, municipal corps to deal with plastic garbage like in San Francisco where they have been able to cut landfill waste by half. Policy moves like Banning single-use plastic, use of plastic straws like in Berkeley are now discouraged by law but added that "more remains to be done". She focussed on the immense ability of the people to bring the change and the oceans ability to regenerate as the means to tackle ocean pollution.
Suneel Pandey, Director, Environment and waste management, TERI elaborated about the plastic recycling but added that there are big leakages from the collection and recycling routes. Presumably in the Indian context.  There is not only Waste water polluting the oceans but also the air borne littering of ocean water due to these leakages. There is need for dump site management and he pointed out that in India there is also a need to change packaging of small plastic sachets that have become a scourge, polluting every area you can reach. He suggested incentivizing local plastic pickers, like the ongoing pilot in Delhi, so that these plastic pieces can be collected and used replace to fuel in conventional cement kilns. Urban local bodies and private bodies can work on a shared-responsibility basis, to retrieve the ocean plastic that has already been dumped and an action plan adoption at national and local level can help in such projects. Mr Pandey raised another serious issue saying that Water quality monitoring over the years show that there are Phthalates present in the ocean water which could suggest that plastics littering the oceans are changing the quality dangerously for sea flora and fauna.
(Visited 159 times, 1 visits today)