Ship Leaks Over 80 Tonnes of Oil Near UNESCO Protected Waters
The Ship ran aground at Rennell Island while loading bauxite during a cyclone on 5 February and is still leaking oil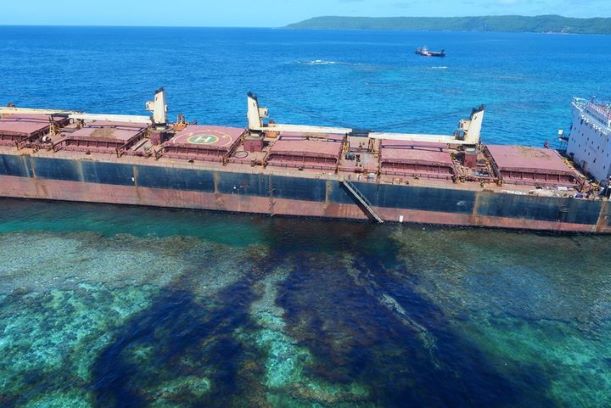 Oil leaking from the bulk carrier MV Solomon Trader that ran aground on Rennell Island in the Solomons. Photo: Australian High Commission in Solomon Islands
A Ship called MV Solomon Trader which was loading bauxite from a mine on Rennell Island a few days before Cyclone Oma hit the Solomon Islands. It has leaked more than 80 tonnes of oil into the ocean and the 225mts long ship is carrying up to 600 tonnes. It's also believed to be carrying a load of bauxite, the main rock used to make aluminium.
There are reports that the leakage that has been continuing since Feb 5 after the cyclone hit the areas, the ship's had leaked about 100 tonnes of oil into the sea, creating a slick that's spread about six kilometers around the wreckage.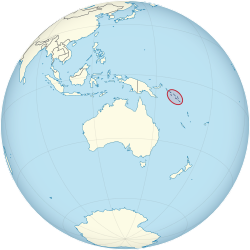 The Solomon Islands government has sought urgent help from Australia to deal with the environmental disaster. Meanwhile, New Zealand has joined an international effort yesterday to limit damage from oil spilling out of a ship that ran aground.
"Australia remains extremely concerned by the ongoing risk of a major oil spill," Canberra's High Commission in Honiara said in a statement. "Australia stands behind the Solomon Islands government's efforts to ensure that commercial parties responsible for this incident take action," it said.
There have been reported frustrations as the ship's Hong Kong owner South Express Ltd and South Korean insurer Korea P&I Club aren't moving fast enough to take responsibility.
The insurance company has engaged a salvage company in the Solomon Islands to handle the ship but so far the rest of the oil remains on board.
New aerial surveillance taken by the Australian Maritime Safety Authority on Tuesday and Wednesday has shown little progress on stopping the ongoing oil spill from the vessel. The spill is close to the World Heritage-listed waters of East Rennell, which is home to the biggest coral atoll in the world and is a key area for scientific study.
According to experts, the clean-up operation could take months and may require further assistance from countries such as Australia. The oil is close to reaching East Rennell, which is a world heritage site. Since 2013 the site has been on a UNESCO danger list because of logging and overfishing.
Authorities are concerned the ship is at risk of breaking up, while Bintan Mining Solomon Islands Limited continues to load bauxite with other bulk carriers.
(Visited 313 times, 1 visits today)