Is the 'Lucky Country' Pushing Its Luck with Climate Change?
For the Love of Coal
Australia, for long the 'lucky country' due to a variety of reasons, especially its size, abundance of natural resources and some would say, distance from the rest of the world, is finally feeling the heat from climate change, activists say. Is that true? And How well prepared is Australia to do its bit?
Just over 2 months ago, when it's two most well known cities, Sydney and Melbourne came in at no.2 and no. 3 worldwide in the Global Liveability Index , Australians would have seen another affirmation of all they have got right.  Powered by a small population, a massive resource base, and the fruits of the 'Asian century' , when the country made a decisive shift towards Asia, Australia has become one of the world's largest exporters of minerals to China especially, besides other parts of the world.
This boom has had it downsides, besides the obvious ones. A strong Australian dollar  has crimped the competitiveness of other sectors, besides also creating a very  powerful political and corporate lobby to allow the 'good times' to roll on, riding the back of the minerals boom.
This boom ensured that by 2009, Australia had the highest per capita CO2 emissions in the world.  Thanks to its low 25 million population and a huge energy exports sector, mainly coal. In 2009,  Maplecroft's CO2 Energy Emissions Index (CEEI) showed that Australia releases 20.58 tons of CO2 per person per year, more than any other country at the time.  However, emissions have since been reduced. From 1990 to 2017, emissions per capita fell by one-third, with most of that drop occurring in the more recent years. Additionally, the emissions intensity of the economy fell by 58.4 percent during the same time period. These are the lowest values in 27 years.
It is also quite clear that while the country still hasn't quite decided for any 'disruptive' changes is growing consciousness and desire to do more when it comes to conservation and yes, steps to mitigate climate warming. It might have been helped along by an almost decade long drop in rainfall in key river basins, and more recently the spreading impact of bush fires. To be fair, the latter are not a new phenomenon, but evidence does indicate that the 'season' for bushwires is becoming longer, and the damage and spread, wider and more intense.
The country, which lacks a single grid due to its large size and spread out population, that too along the coast, has done poorly, some would argue,when it comes to embracing renewable energy. Last year, coal still had the lions share of energy supply, at 73%, with gas following at 9.5%, Hydro at 7.4%, and Wind and solar together bringing in about 10%. That number for renewables, at barely 17%, is disappointing by any measure, considering the abundant sunshine and even wind it gets. Add to that the scope for distributed energy and off grid generation, for the same reason (size and spread), and you have to wonder if its not a missed opportunity.  Interestingly, Australia has never had a nuclear power station despite  having 33% of the world's proven uranium deposits, making it the world's third largest producer of uranium after Kazakhstan and Canada. It's high coal and gas reserves put paid to the case for that. As of now, it seems to predict that of the new generation of nuclear  power stations meet their promises, Australia, with its high fossil fuel mix, would be a fit case for a nuclear beachhead soon.
In fact, beyond its own borders, Australia's weak stance on even its Paris commitments has left faced strong criticism from Pacific Island nations for seeking to employ creative accounting tricks to mask the weakness in Australia's climate change policies and for being  following a deceptive practice on the support it provides to their nations. This was clearest at the Pacific Islands Forum held earlier this year, where Australia worked to water down language around climate change in a joint statement issued by the forum. Even the  $500 million commitment to invest in climate change measures throughout the Pacific by Australia , was found to have been redirected from the existing foreign aid budget.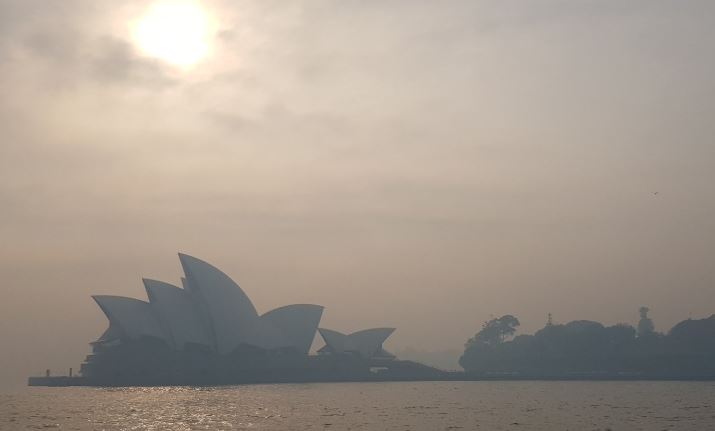 The one bright spot in all these has been the country's recent turn to solar power, although there again, it has been a follower, rather than a leader.
As of September 2019, Australia's over 2.2 million solar PV installations had a combined capacity of 13,904 MW photovoltaic (PV) solar power, of which 3,290 MW were installed in the preceding 12 months. In 2019, 59 solar PV projects with a combined capacity of 2,881 MW were either under construction, constructed or due to start construction having reached financial closure. Solar accounted for 5.2% (or 11.7 TWh) of Australia's total electrical energy production (227.8 TWh) in 2018. Gratifyingly, rooftop solar is finally taking root, and getting strong incentives too, as it is proving to be at par or even much cheaper than the grid. A European solar firm we spoke to mentioned how the market is expected to be a Gigawatt plus in rooftops for them, with average size of just 3.3 KW indicating just how deeply rooftop solar has penetrated.
The sharp rise in Solar PV installations in Australia, especially since  2018  when prices crashed to their lowest  has taken the country  to an installed photovoltaic capacity of 12,959 MW as of June 2019. On a watts per capita basis, it ranks second now with 459 watts per capita , next only to Germany with 548 watts per capita. The question is, for a country that has been the large 'exporter' of emissions, if you take into account its coal exports, can Australia do more? It's clear that the lucky country has the resources to do it.
It will require the country to behave like a real leader, making voluntary sacrifices, and pushing against the grain to exit coal much faster. After all, unlike its Pacific neighbours who have a real issue of survival to confront, and will probably look to Australia when the time comes, the Australians still have the time, resources and ability to do far more. Its actions can also drive others to move faster on renewables, once it becomes clear that Australian coal is going off the market in time. The question is, does it have the will? Or is the lucky country happy to leave the rest of its neighbours and the world to try their own luck with climate change? 
(Visited 260 times, 1 visits today)