Breaking Menstruation Taboo necessary to tackle challenge of Menstrual Waste
Garima Fauj, a group of volunteer are working together to tackle the menstrual hygiene management awareness campaign called Garima Abhiyan in Jharkhand.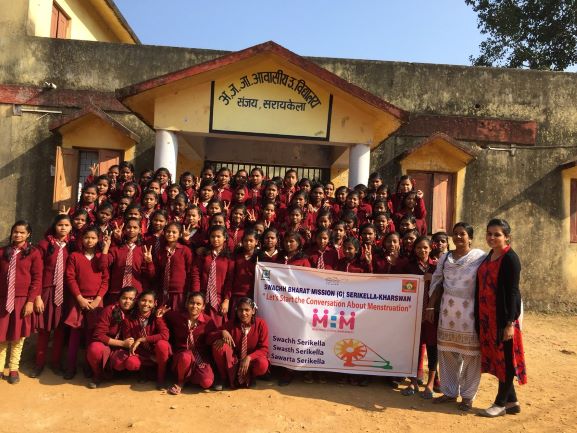 Despite leading other countries in scientific temperament, India still treats its daughters with bias. In developing countries like India, women have to deal with menstruation secretly. Menstruation which should be treated as a normal biological process is considered a taboo. Poverty, Gender inequality and repressive conditioning often lead to denial of proper hygiene products.
In India, out of a total 355 million menstruating women only 42.6% use basic menstrual hygiene product, namely disposable sanitary pads. That means roughly 12% of Indian women use sanitary pads.
Garima Fauj
Garima Abhiyaan which was launched by the district administration of the Simdega district of Jharkhand, wants to change that.
Alok Kumar, Additional collector told media, "Lack of information has led to many misconceptions and taboos around menstruation. This silence only makes the taboo around menstruation stronger. Thus in order to break this social silence, to raise awareness and to bust myths around menstruation, the district administration launched 'Garima Abhiyan' in September 2018. Till now we have covered more than 800 schools and 1000 anganwadis across all the villages in the district. On World Menstrual Hygiene Day, I can assure that this campaign will keep running with help of our young and enthusiastic volunteers till the silence on menstruation is completely shattered and the taboos are fully dismissed by everyone in the district."
'Garima Abhiyan' aims to sensitize both men and women across all ages on issues related to menstrual health, sanitation, and safe menstrual practices.
Another Campaign
At Seraikela-Kharsawan district in Jharkhand another campaign called – 'Let's start the conversation about menstruation' is taking shape. Through this campaign, the district aims to address the issue of menstrual hygiene and also menstrual waste management.
It is led by the Deputy Development Commissioner of the district and is catering all the students of nine Kasturba Gandhi Vidyalaya in the district in the 1st phase. Around 20 thousands girls are being benefited through this campaign. The Campaign " aims to educate the girls on menstrual hygiene and guides them on why they need to know about safe disposal practices of their menstrual waste. On regular basis, we are holding orientation workshops in school for girls. Via video screenings and lectures we are making students aware of the concept of menstruation and the issues associated with it."
Statistics show India produces over 1 billion non-compostable sanitary pads every month which goes into country's already overfilled and dying landfills. In order to overcome this humongous amount of untreated waste, the district aims to educate the girls about safe disposal practices and create a demand for sanitary napkins incinators.
Bio-Degradable Pads
Much can be learned from a Self-Help group in Goa, called Saheli who has brought a solutions of environmental friendly sanitary napkin in the market called Sakhi. This eco-friendly product is made of pine wood paper, silicon paper, butter paper and can be decomposed within 8 days unlike the plastic based conventional pads that take more than 100 years to decompose completely. Today Sakhi, an eco-friendly sanitary pad is being sold at a cost of Rs. 40 (8 pads) and till now the group has produced around 2,000 sanitary pads and are selling 50 packets weekly.
Another innovation comes from Kerala where students from Ahammed Kurikkal Memorial Higher Secondary School (AKMHSS) in Kottoor have made an eco-friendly sanitary napkin using water hyacinth, a major invasive plant of Kerala. Though the product has not been released commercially yet and is awaiting patent, it has been priced at Rs. 3 per piece which is cheaper than the regular sanitary napkins, says the students.
There are many stories from Indian and around the world which provides us the glimpse of the problem. Believe it or not, a single woman can generate up to 125 kg of non-biodegradable waste through her menstruating years alone.
Studies have shown that one sanitary pad could take from 500 to 800 years to decompose as the plastic used is not bio-degradable, and can lead to health and environmental hazards. If we do the math, and we will see why this is a critical issue and taboo no less, needs immediate awareness and solutions in place.
(Visited 427 times, 1 visits today)