Australian Minister Miffed After Adani Gets Clearance for Carmichael Mines
Carmichael Project Draws Massive Resistance
Queensland Environment Minister Leeanne Enoch has been captured on camera appearing to say she is "devastated" about the approval of Adani's controversial Carmichael mine project.
Indian billionaire Gautam Adani led Adani group after lobbying for 10 years, got its final environmental clearance for the controversial Carmichael mine project in Australia's northeast state of Queensland. What might be one of the world's largest coal mine, is projected to see up to 2.3 billion tonnes of coal extracted from an area five times the size of Sydney Harbour over 60 years, equivalent to emitting 7.7 billion tonnes of greenhouse gases. It is interesting that during the time the project has taken for final approval, the price of coal has dropped significantly from the highs of $130/tonne it touched in 2011, coming down to $70/tonne levels now. Coal prices in India  have been ruling higher than global prices due to a coal cess and more taxes on the government owned coal monopoly, Coal India limited.
Not just the mine, coal extraction and GHGs, the project also promises to open up an entire region to coal mining in Queensland, home to the Great Barrier Reef. Besides environmentalists, aboriginal natives were also against the mine, claiming that it is in an area considered sacred for their culture.
Queensland Environment Minister Leeanne Enoch has been filmed saying she is "devastated" following her own department's approval of the Adani's groundwater management plan. Adani's plan to take 12 billion litres of water per year for its mining operations at the Carmichael site.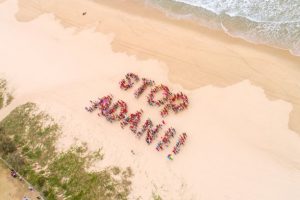 The decision to approve the mine, owned by the Adani Group, came after almost a decade of legal battles, corporate wrangling and public outcry, but was welcomed by the federal Coalition government and state-level opposition in the Labor party. The Adani-owned coal mine project was a flashpoint for Australian election. But the May election saw the unexpected return of the coal-friendly Coalition government.
The approval was termed "bad news" for the World Heritage-listed Great Barrier Reef, the Australian Marine Conservation Society said. "Climate change is the greatest threat to our reef's future and we cannot risk opening up the Galilee basin for other major coal projects which would heat our oceans and lead to more stress on our beautiful corals," it said. On the other hand, allegedly hazy financial logic behind the Adani mine has drawn plenty of public scrutiny.
However, green groups and activist shareholders are increasingly wielding public influence and divestment tactics to deprive coal industries of customers, partners and finance. The original Adani proposal, costing AU$16 billion (US$11 billion) and producing 60 million tonnes of thermal coal per annum, has been reduced in scope to 27.5 million tonnes a year with initial outlay of $2 billion. After failing to find finance with major Australian and Chinese banks, it will reportedly be self-financed by Indian billionaire Gautam Adani's group of companies.
In fact, we would go as far as to say that the Carmichael mine was probably valuable precisely because it is he last of the large coal mines that will be developed.  Be it the Adani group trying to tie-up its coal supplies for its thermal plants in India, or the Australian government trying to squeeze in one last large deal in the coal space before public outcries make it practically impossible, this deal will go down in history.
Image courtesy: Twitter
(Visited 167 times, 1 visits today)