IISD Study Says, Solar over Kerosene Subsidies Makes Sense Now
The Clean Energy Swap, as per the study, supports a kerosene to solar swap that will reallocate finances away from kerosene, promoting cleaner lighting fuels for unelectrified or underserved consumers.
An independent study by the International Institute for Sustainable Development (IISD) and The Energy and Resources Institute (TERI) shows that switching subsidies from kerosene to off-grid solar products would improve electricity access for households that still rely on kerosene.
The study says, "Shifting subsidies from kerosene to off-grid solar photovoltaic products is one way to fund the energy transition for marginalized households. Solar products such as lanterns, home systems and mini-grids are currently providing economical connections and backup power in remote regions."
The report discussed SAUBHAGYA scheme which covers 0.5 million households and Phase III of the Off-grid and Decentralized Solar PV Applications Programme—part of the Jawaharlal Nehru National Solar Mission. The scheme was allocated INR 656 crore in FY 2018/19 over two years (Ministry of New and Renewable Energy [MNRE], 2018). Funding covered the installation of 300,000 solar street lights, 100-megawatt peak (MW), and 2.5 million solar study lamps for school children.
Yet the study points out that allowing continued dependence on subsidized kerosene (by about 27 states) is not a 'socially responsible' option. Kerosene creates pollution and added that up to 45 percent of subsidized kerosene is diverted for illegal uses in India. For India, with the worst per capita production of domestic crude as compared to the top 5 global economies, the findings should make even more compelling reading.
Off-Grid Solar Is Cheaper
A combination of average household expenditure on kerosene and reallocation of subsidies—as recommended under a swap—would see a dramatic reduction in the cost of SHSs and microgrids.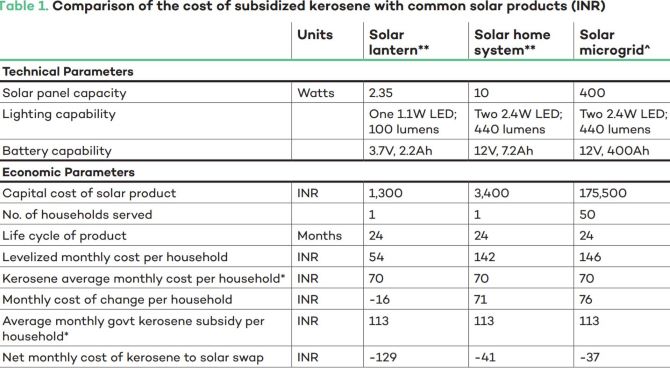 Not only are these products cheaper than subsidized kerosene in the long term, the electricity could be used for ancillary services such as mobile charging and desk fans. To provide backup for electricity shortages or address problems with low-quality supply, solar technology options are comfortably cheaper than kerosene, and they can meet a more diverse range of needs.
Safer
According to GHG Platform India, kerosene in 2013 was responsible for around 27 million tonnes of carbon dioxide, equal to around a quarter of all energy-related residential emissions in 2013 (GHG Platform India, 2018). India committed to installing 175 gigawatts (GW) of renewable energy by 2022 but has so far reached 24 GW according to the report.
The Report says, The National Clean Air Programme's target of Reducing indoor air pollution but points out that its hasn't set specific targets. Therefore, Switching support away from kerosene would help in this objective.
Energy Security
The study talks about how Kerosene contributes to reliance on imported oil, reducing energy security. In FY 2018/19, 86 percent of India's oil was imported (MoPNG, 2018b). If kerosene were eliminated, this would avoid 4.4 million tonnes of imported oil.
India has already spent over INR 460 billion in FY 2018/19 on subsidies for cooking gas and kerosene, 84 percent higher than initially forecast in budget estimates. Hence, continuation of the kerosene subsidy risks high and unpredictable costs in periods when oil prices escalate.
Policy Options for Implementation of a Subsidy Swap
The framework is a broad implementation plan, including (i) establishing funding and administrative arrangements, (ii) identifying and targeting beneficiaries and (iii) determining eligible products.
The next steps will depend on subsidy options that the government chooses to use. There are three main options:
Subsidy programs for households to help them buy solar products.
Subsidy programs for manufacturers to reduce the final price of products for eligible consumers.
Subsidy programs for banks and microfinance institutions (MFIs) to make borrowing for solar products more affordable.
Funding
Expenditure by the Central Government on kerosene subsidies has fallen to one sixth of pre-2014 levels, creating savings of INR 86,560 crore over the past four years. More savings are expected as the reforms continue.
To read more about the report click here
(Visited 321 times, 1 visits today)