Howrah Station receives coveted CII-IGBC Silver Rating
In a major boost for the Indian Railways' green initiative, Howrah Railway station was awarded CII-IGBC Silver Rating under IGBC Green Factory Building Rating System.
Howrah railway station, which is the largest in the country in terms of number of platforms, was awarded for incorporating some of the finest green buildings and passenger-friendly features such as installation of solar rooftops at the station, water harvesting and management, mechanised cleaning, energy efficiency with programs to avoid all artificial lighting during daytime, solid waste management, fresh air ventilation, universal accessibility, pedestrian friendliness and first and last mile connectivity.
The IGBC Green Factory Buildings rating system evaluates certain credit points using a prescriptive approach and other credits on a performance based approach. The rating system is evolved so as to be comprehensive and at the same time user-friendly. The certification addresses national priorities like sustainability and quality of life for factory worker.
The tangible benefits of all certified buildings are 30-40% drop in energy costs and 20-30% increase in the water savings from sustainable water management techniques. The IGBC Green Factory Buildings rating is valid for a period of 3 years from the date of issue of the certification.
The Howrah Railway Station was recognised for its outstanding level of performance throughout the course of the certification which takes into account past performance and predicted future growth. Mr T K Sain, senior divisional environment and housekeeping manager, Howrah division, Eastern Railway, received the Silver Rating certification and plaque from Ms Shakuntala Ghosh, Chairperson, IGBC Kolkata chapter at an event organised at the station on 14th April. Rathin Chakraborty, Mayor of Howrah and Manu Goel, divisional railway manager, Howrah division were also present at the event.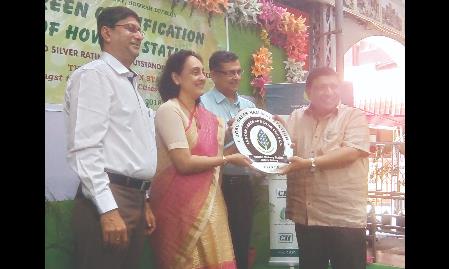 "Howrah Railway station's achievement will encourage other railway stations and PSUs to go green and in the process, build a greener and healthier India," Shakuntala Ghosh said, adding that the CII was working closely with Indian Railways in several green initiatives such as green buildings, GreenCo (Green companies) and energy efficiency. IGBC is a leading contributor to the green building movement in India.
"Today, India, with over 5.27 billion sq. ft. stands second in the world in terms of largest registered green building footprint. IGBC aspires to facilitate 10 billion sq. ft. of green building footprint by 2022," she said.

(Visited 1,729 times, 2 visits today)