Karnataka Temple Asks Devotees To Postpone Visit Due To Water Crisis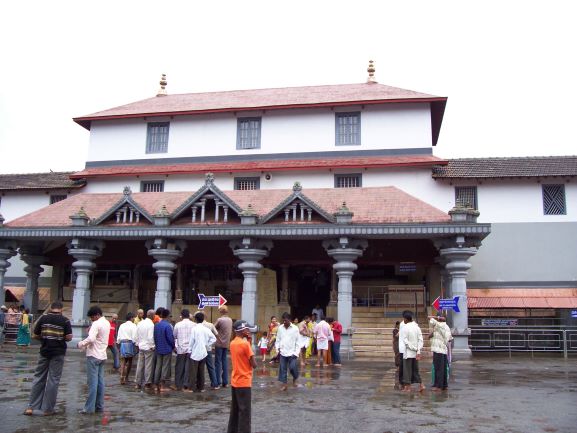 The rain gods have not been kind to Dakshina Kannada region where Manjunatheshwara temple is located. Water shortage has forced the temple authorities to ask devotees to defer visits.
The 800 years old Dharmasthala Temple, or Manjunatheshwara Temple in Dharmasthala has asked devotees to postpone their temple visits due to acute water shortage in the Dakshina Kannada region.
In a statement, Dharmasthala Dharmadhikari Veerendra Heggade said that the water scarcity crisis is worsening in Dakshina Kannada district, and the temple too is suffering from the effects of it.
"Water crisis in the temple is worsening every day as the flow in the Netravathi river has reduced drastically. There is a huge requirement of water as devotees keep visiting the temple. Hence, I request devotees to postpone their visit by a few days and cooperate," Veerendra Heggade said. The temple is a religious institution that was established more than 800 years ago.
Water scarcity has hit several parts of Karnataka's Dakshina Kannada district, which receives over 4000 mm of rainfall. With storage enough for about a fortnight at Thumbe dam across Netravathi, Mangaluru City Corporation has resorted to water rationing. However, the officials maintain that adequate precautions have been taken to ensure water supply to residents in Dakshina Kannada till the arrival of monsoon. Much to everyone's relief, Mangaluru received its first spell pre-monsoon showers yesterday.
More than 10,000 devotees visit Dharmasthala every day and the temple also provides free meals to all devotees daily, which requires huge amounts of water. Since water is being rationed in the district, the temple will not be able to serve all its devotees.
According to Karnataka State Natural Disaster Monitoring Centre (KSNDMC), freshwater flow has stopped in all major rivers in the coastal belt including Netravathi, Phalguni, Swarna, Chakra, Varahi, Sharavathi, Aghanashini and Kali – all of which are located in the coastal belt. Groundwater levels have depleted and reached 30-40 metres below ground level in Mangaluru. Water level has reached the dead-storage limit in Baje dam across the Swarna river, which is the main source of water for Udupi. Almost all major rivers in the region, and south India in particular, are rain fed rivers.
The KSNDMC officials further explained that the depletion of groundwater and the decreasing reservoir levels have resulted in water shortage in the coastal belt. The water crisis is also due to the depletion of groundwater with over 1,000 borewells in the district running dry, the official added.
The move by the temple authorities is certainly unusual, and very rare. To say it points to the water scarcity in the region is an understatement. One hopes authorities will take this as a divine warning to start fixing the issues, be it more aggressive water harvesting in the region or conservation.
(Visited 431 times, 1 visits today)