District Cooling Can Offer A Win-Win Solution For Government And Private Clients Alike
UAE based Tabreed has been a pioneer of district cooling, as it is called, in the middle east. Ideal for large areas, the concept of district cooling, and other innovations in the cooling space are vital for the future of the world itself some would say, considering the high need for cooling that is emerging due to climate change, and linked to that, energy to run the cooling efforts. In 2022, Tabreed has reported group H1 revenues of AED 975 million and net profits @AED 240 million. The firms claimed connected capacity of 1,241,331 Refrigeration Tons (RT).
We caught up with Sudheer Perla, Country Manager of Tabreed India, on the firm's plans and possibilities for India. An Oxford University management graduate and a chartered accountant by profession, his previous roles include with PriceWaterhouse Coopers (PwC) and Infosys in India as well as in financial restructuring roles with a boutique investment bank- Chescor Capital in the UAE.
Give us an overview of Tabreed?
Sudheer Perla: Tabreed is an international district cooling developer headquartered in Abu Dhabi, UAE that provides energy-efficient, cost-effective, and environmentally friendly cooling solutions. Since its inception 23 years ago, Tabreed has become a partner of choice for reliable outsourced cooling across the Middle-East. We currently deliver year-round sustainable cooling of over 1,241,331 refrigeration tons (RT) to over 400 million square feet of air-conditioned area across major residential, commercial, government and private developments from 86 district cooling plants, providing significant cost and operational efficiencies for meeting thermal comfort needs.
Tabreed designs, invests, develops and manages centralized cooling infrastructure in building masterplans to provide reliable and uninterrupted cooling through distribution of chilled water under long term concessions, while undertaking comprehensive Operations & Maintenance (O&M) to ensure continuity in service delivery. We are the first global district cooling developer (providing cooling as a service) to start operations in India through its country office set-up in 2019.
As the world warms up, cooling is acknowledged as one of the biggest users of energy in the future and there is an increase in the usage since more people can afford it today. Does district cooling offer sustainable solutions in this regard? 
Sudheer Perla: Air conditioners and electric fans account for nearly 20% of total electricity used in buildings worldwide today. Rising demand for space cooling is also putting enormous strain on many countries' electricity systems, as well as contributing to increasing greenhouse gas emissions. With rising ambient temperatures, accompanied by rapid population growth and an increasingly affluent middle-class, air-conditioning demand already contributes 40% and 60% of peak load in some Indian cities, which is projected to grow 18 times by 2050 across the country. In this regard, district cooling systems can prove to be advantageous by reducing peak power demand by lowering the required installed capacity and decreasing costs through incorporation of thermal energy storage tanks which can utilize preferential electricity tariffs. In terms of sustainability, district cooling is notably more efficient and effective as it reduces GHG emissions making the area eco-friendly while also operating on a significantly reduced carbon footprint.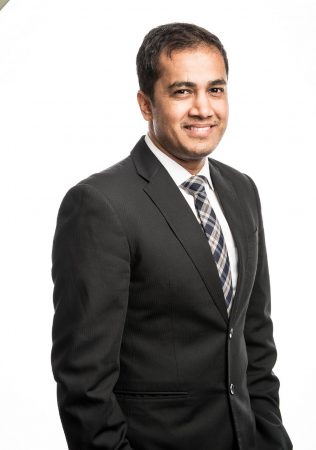 How does district cooling compare to other alternatives for cooling? Be it in terms of energy consumption, maintenance or costs? 
Sudheer Perla: Traditional cooling systems use harmful refrigerants that contribute to climate change and global warming apart from poor energy efficiency. District cooling systems, through more sustainable approaches to heat rejection, minimize the use of refrigerants that contribute to climate change. In addition, district cooling offers the possibility to reap significantly high diversity benefits through aggregation of cooling demand, which in turn results in lower energy consumption (typically 20-40% reduction) and decreased initial capital investments. With the help of industrial-grade equipment in its operations, the annual maintenance costs are reduced as well.
What is the minimum project size needed for a District cooling solution? What is the largest project Tabreed has executed till date? 
Sudheer Perla: Tabreed aims to become the partner of choice to developers for the cooling needs of their entire asset portfolio. However, to initiate a transaction, be it greenfield or acquisition, a central HVAC plant room serving a development area of at least 1 million sq. ft. is preferred. Lower plant room capacities may be discussed on a case-to-case basis considering future development potential within the campus or overall relationship on the developer's portfolio.
One of the largest projects executed by Tabreed is Downtown Dubai, which is a leading global business, leisure and residential district, and home to several landmark buildings including the Burj Khalifa, Dubai Mall and Dubai Opera. With a contracted capacity of 2,35,000RT, under a 30-year concession, Tabreed provides cooling services for all buildings within this 2 sq.km master plan to 50,000 end users and tenants. The key highlight of the site is that it has four interconnected District Cooling Plants through one chilled water distribution network, thus, achieving one of the highest energy efficiency standards in the world, reducing energy consumption and eliminating carbons emissions equivalent to 316 mn kWh and 170,000 tons, respectively, annually.
How do you see the market (overview) in India? 
Sudheer Perla: The penetration of Air Conditioners in Indian households is less than 10% currently but projected to grow 40X by 2050. Cooling is no longer a privilege but a necessity. To meet the projected growth, it is expected that 600 GW of new power generation capacity would be required, which is equivalent to the installation of 1,200 coal power plants of 500 MW each, demanding an investment of over USD 535 billion in infrastructure. Given this context, sustainable space cooling has immense growth potential. With cooling-as-a-service still in an embryonic stage in India, there is a need to address cooling requirements across sectors, as well as ways and means to provide access to sustainable cooling for all. District cooling can play a vital role in fostering sustainable development and meeting decarbonization goals India has set for itself. There is no doubt that demand for cooling is surging in India and district cooling can offer a win-win solution for government and private clients and end-users alike, generating sustainable and cost-efficient cooling solutions for the ever-growing needs of the country. Our proposition is to optimize cooling demand in India and meet the energy demands for our cooling assets through various green options that accelerate energy transition and enhance circularity in resource use. We are also currently approaching India through multiple fronts as an asset owner, developer, and operator with 20+ years of experience.
What sort of a role can policy play in ensuring sustainable district cooling at country level?
Sudheer Perla: Policy initiatives with stringent targets, coupled with possible incentivizing and disincentivizing schemes can assist in convergence of interests of various stakeholders in terms of sustainability and climate change, and promote adoption of newer technologies. Enforceability of the policy, along with a clear implementation roadmap can go a long way in development of a sustainable cooling market, with optimized demand and integration of energy efficiency through green options.
The India Cooling Action Plan (ICAP), released in 2019, prioritises cooling that is energy- and environmentally-friendly in the building, cold chain, and transportation sectors through initiatives including service sector training and certification, R&D for innovation, and domestic manufacturing of equipment and refrigerants. The key goals laid-out in ICAP including reduction in cooling demand across sectors by 20-25%, reduction in cooling energy requirements by 25-40% and reduction in refrigerant demand by 25-40% by 2037-38 have far-reaching implications for DCS. To achieve these goals, ICAP has identified multiple intervention pathways over the short, medium and long term, including the promotion of use of not-in-kind technologies such as trigeneration system, district cooling, thermal energy storage, etc. In addition, the Indian government's emphasis in the Union Budget on sustainable urban development through holistic and integrated approaches will serve as growth drivers for the sustainable cooling utility market in India. Having said that, the policy push in India leaves much to be desired. We look forward to interventions to mandate DCS at master planning levels, establishment of DCS code, pilots supported by govt. to showcase feasibility in the Indian context, and awareness and training programs for DCS.
How is district cooling measured? In area covered or tonnage? What are the temperature ranges it can work under, and deliver?
Sudheer Perla: Through a distribution network of insulated, underground pipes, a DCS distributes (supplies and collects back) cooling energy in the form of chilled water from a central district cooling plant to numerous buildings for space cooling. In the sense that individual customers do not need to install their own chillers or cooling towers, and can instead, purchase chilled water from the DCS operator for their own building, the measurement is in Refrigeration Tonnes (RT) which is the heat extraction capacity of the cooling equipment. Having said that, given the area that needs to be cooled, that is, from servicing a few buildings to a large metropolis, the size of DCS (in RT) will vary.
The intended difference between the chilled water supply and return temperatures is known as delta T. Delta T is a crucial element in the design and operation of DCSs and is a great indicator of the performance of the entire system. DCSs are usually designed with a delta T of 7.5 to 10°C, wherein chilled water supply temperature can usually come down to about 3-6°C, while high return water temperatures should not exceed the dew point temperatures necessary to achieve design conditions in buildings.
With a history of over 50 years, how has district cooling tech evolved? How do they compare to chilling units? 
Sudheer Perla: The DCS concept has been extended globally beyond cooling, with systems now being able to supply hot water and steam (for heating, hot water consumption, or industry) depending on local demands and electric power profile. Furthermore, to enable integrated energy grids that power low-carbon, energy-efficient heating and cooling systems and utilise local renewable resources, DCS in many parts of the world have also been connected with municipal services including water, power, sanitation, sewage treatment, transport, and garbage.
In comparison to independent chilling units (central air-cooled or water-cooled chillers), DCS has multiple inherent advantages. Firstly, DCS allows utilization of advanced technologies such as treated sewage effluent (TSE) water, sea water, thermal energy storage (TES), combined heating and power plant (CHP) driven by natural gas/biomass/waste-to-energy/renewable energy sources. Secondly, leveraging economies of scale and load diversity (not all buildings have their peak loads at the same time), several buildings can be reliably served with lower capacity, allowing for lower upfront capex and more optimized operations, as opposed to individual chillers for each building.
Can you cite examples of sites in India using district cooling methods? 
Sudheer Perla: GIFT City was the first in India to develop a merchant district cooling system on 886 acres of land. With DCS, GIFT City's total air-conditioning requirement of 270,000RT was met with only 180,000RR of chillers. DLF Cyber City is a great example of captive DCS of 78,000RT capacity, based on trigeneration, helping reduce power demand by 100 MW with annual savings of ~36,000 tonne CO2. According to the UNEP-EESL study, there is potential for 274 district cooling systems in India by 2038, meeting 9 million RT of cooling demand. This will reduce 6GW of energy demand and 6.6 million tonnes of CO2 emissions annually.
As an industry expert, what are the other cooling technologies that excite you for their sustainability and costs? What about Earth Air tunnels?
Sudheer Perla: As a cooling utility, Tabreed is both technology and OEM agonistic and generally considers investing in and implementing fit for purpose solutions basis the unique characteristics of each project. From that standpoint, innovation for us is across a number of areas:
Within our existing portfolio of assets, focus has been on a number of digitization initiatives with increasing AI adoption in enhancing plant room efficiencies, reliability of service and increasing longevity of asset life. Under our Future of Cooling Programme we are currently looking at new carbon nano tube technologies, weather and demand forecasting or having more assets automated for remote operations and management amongst others.
For new greenfield developments, and especially in India, we are increasingly looking at an end-to-end approach where initial focus is on working alongside real estate developers to right size the required cooling capacity by leveraging Tabreed's historical data for given end-use types, planning on-site low or secondary side cooling solutions, and thereafter considering best in class district cooling technologies for more optimal or right sized cooling demand. As already highlighted, we constantly look to implement alternative approaches for heat rejection including where possible through geo-thermal energy.
In parallel and in partnership with IFC's TechEmerge initiative we are now in the process of setting up a disruptive cooling technologies innovation accelerator for India to enable more rapid market adoption of global innovation across a variety of end use requirements.
(Visited 398 times, 1 visits today)