MNRE Approves Guidelines for PM-KUSUM Scheme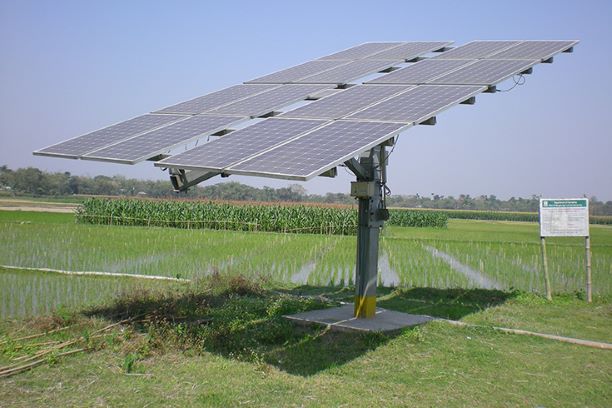 Can it be grow bigger ?
MNRE has issued norms for the solar scheme for farmers or KUSUM scheme to help in implementation and boost solar energy
The Ministry of New and Renewable Energy (MNRE) on Monday finally gave a go-ahead and issued guidelines for the rollout of the PM-KUSUM scheme, aimed to encourage farmers to generate solar power in their farms and use the clean energy to replace their diesel water pumps.
In March the Cabinet Committee on Economic Affairs approved the launch of Kisan Urja Suraksha evam Utthaan Mahabhiyan (KUSUM) with the objective of providing financial and water security to farmers. The scheme aims to add a solar capacity of 25,750 MW by 2022. The total central financial support provided under the scheme would be Rs. 34,422 crore. Lastly, the scheme is designed to provide solarisation of tube-wells and lift irrigation projects of the Government sector.
The New scheme has 3 Components:
Component-A: Setting up of 10,000 MW of Decentralized Ground/ Stilt Mounted Grid Connected Solar or other Renewable Energy-based Power Plants;
Component-B: Installation of 17.50 Lakh Stand-alone Solar Agriculture Pumps; and
Component-C: Solarisation of 10 Lakh Grid Connected Agriculture Pumps.
The guidelines issued by MNRE says that Component-A and Component-C will be implemented initially on a pilot mode for 1,000 megawatts (MW) capacity and one lakh grid-connected agriculture pumps, respectively, while the Component-B will be implemented in a full-fledged manner with total central government support of Rs 19,036.5 crore.
After the successful implementation of the pilot project of Components A and C, the government will scale up the projects with "necessary modifications based on the learning from the pilot phase" with the total central government support of Rs 15,385.5 crore, it added.
It said these guidelines have been formulated to provide broad implementation framework of the scheme. "The scheme also has direct employment potential. Besides increasing self-employment the proposal is likely to generate employment opportunity equivalent to 6.31 lakh job years for skilled and unskilled workers," said a government statement released earlier, it added, "the scheme will have substantial environmental impact in terms of savings of carbon dioxide emissions. The scheme combined together is likely to result in saving of about 27 million tonnes of carbon dioxide emission per annum. Further, standalone solar pumps may result in saving of 1.2 billion litre of diesel per annum and associated savings in the foreign exchange due to reduction of import of crude oil."
To read the guidelines click here
(Visited 510 times, 1 visits today)